Spot oil prices climbed to new highs last week even as the price of the December 2011
futures contract fell, steepening the backwardation I commented on href="http://www.econbrowser.com/archives/2005/06/oil_futures_and.html"> here and href="http://www.econbrowser.com/archives/2005/06/contango_backwa_1.html"> here. A look
back at what happened in the early 1980′s may give some insights into what the market may be
expecting next.
Last week's news was not encouraging. British Petroleum announced
that U.K. oil production was down 10% over the last year, suggesting that the decline in production that began in 1999
as North Sea fields are depleted may be accelerating. Concerns about possible turmoil in
Nigeria may have also worried markets. But the most important factor continues to be strong
world oil demand.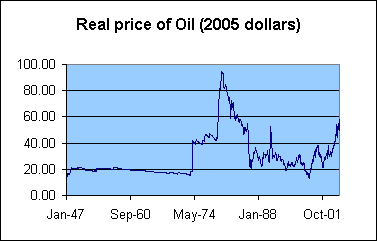 Why didn't the longer term futures prices, like that of the December 2011 contract, move up
with spot prices in response to the news? Some insight into this may come from looking back at
what happened to oil markets in the late 1970′s and early 1980′s. The graph at the right
displays the price of oil over the last half century quoted in current dollars, calculated by
dividing the price of West Texas Intermediate crude by the U.S. consumer price index. The
1970′s were a turbulent decade in which the OAPEC embargo, Iranian revolution, and Iran-Iraq war
resulted in supply shocks that more than quadrupled the real price of oil, driving it to a peak
in 1980 that would correspond to $95 dollars a barrel today.
World oil production fell over 10 million barrels a day between 1979 and 1982. But the
interesting thing to note is what happened to oil demand after these events, as oil use stayed
below 55 million barrels a day until 1985.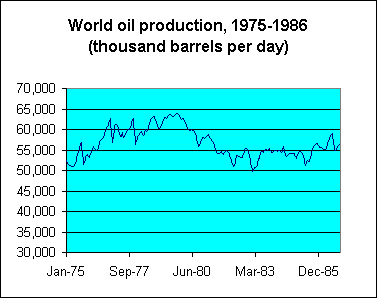 In part the drop in world petroleum demand was caused by the twin recessions of 1980 and
1982, which I'm
still hoping won't be repeated this time. But even after the economic recovery from these
recessions was well under way, oil use remained low well into the decade.
This episode illustrates one of the key features of the petroleum market, which helps us
understand both the current turbulence of the market and one source of potential longer run
stability. The short run demand curve is quite inelastic– huge price increases are necessary
if you want to cut oil use significantly over the next few months. When, as in the current
environment, there is limited excess capacity, supply is quite inelastic as well. The result is
that spot oil prices are going to be extremely volatile in response to any disturbances on
either the supply or demand side.
Given more time, however, as new vehicles and equipment get replaced, there are lots of
things that businesses and consumers can do to reduce oil use. Most of the demand response to
today's high oil prices will not be seen until several years down the road. Whether the price
increases so far will be sufficient to restore a longer run stability to oil markets without a
global recession is the big question we're all pondering at the moment.