Most pundits had one of two reactions to the recent analysis by Cambridge Energy Research Associates about the prospects for global oil supplies over the next five to fifteen years. Some analysts took the CERA report as confirmation that concerns about peaking world oil production have been misplaced. Others dismissed the CERA findings as completely without merit. I would urge anyone who had either of these two reactions to take a second look at some of the issues.
Daniel Yergin of Cambridge Energy Research Associates recently
reported the results of a field-by-field analysis of oil production capacity
which concluded:
CERA estimates for increased production. Source: Energy Stock Blog

| Country | Predicted capacity increase |
| --- | --- |
| Saudi Arabia | +3 mbd |
| Caspian Sea | +2.5 mbd |
| Angola | +1.35 mbd |
| Canada | +1.32 mbd |
| Nigera | +1.27 mbd |
| Brazil | +1.16 mbd |
| Russia | +1.15 mbd |
| Iran | +1.00 mbd |
| Iraq | +1.00 mbd |
| Mexico | -0.20 mbd |
| U.K. | -0.30 mbd |
| Norway | -0.33 mbd |
| U.S. | -0.47 mbd |
There will be a large, unprecedented buildup of oil supply in the next few years. Between 2004 and 2010, capacity to produce oil (not actual production) could grow by 16 million barrels a day — from 85 million barrels per day to 101 million barrels a day — a 20 percent increase. Such growth over the next few years would relieve the current pressure on supply and demand.

Where will this growth come from? It is pretty evenly divided between non-OPEC and OPEC. The largest non-OPEC growth is projected for Canada, Kazakhstan, Brazil, Azerbaijan, Angola and Russia. In the OPEC countries, significant growth is expected to occur in Saudi Arabia, Nigeria, Algeria and Libya, among others. Our estimate for growth in Iraq is quite modest — only 1 million barrels a day — reflecting the high degree of uncertainty there. In the forecast, the United States remains almost level, with development in the deep-water areas of the Gulf of Mexico compensating for declines elsewhere.

While questions can be raised about specific countries, this forecast is not speculative. It is based on what is already unfolding. The oil industry is governed by a "law of long lead times." Much of the new capacity that will become available between now and 2010 is under development. Many of the projects that embody this new capacity were approved in the 2001-03 period, based on price expectations much lower than current prices.
Further details about this study can be found at Energy Stock Blog and

Noise Filter.
The Oil Drum noted that a less exhaustive field-by-field count by the Oil Depletion Analysis Centre came up with a slightly more pessimistic 12.5 million barrel/day increase in new supply by 2010. The Oil Drum suggested that the reason that ODAC saw 12.5 mbd as implying an extremely tight market whereas CERA saw 16 mbd as overabundance might be due to different assumptions about the rate at which oil production would drop from existing fields due to depletion. Exxon-Mobil figures that a 4-5% drop on average in each year's production from existing fields might be reasonable to assume in the present environment, which would mean that more than 16 mbd in new sources would need to be found just to keep total production from falling. Arguing against the Oil Drum's interpretation is the fact that the production declines over the next five years assumed by CERA in the countries detailed in the table above appear to be consistent with the declines actually observed over the last five years, which are reported by the Energy Information Administration to have been -0.52 mbd for the U.K., -0.34 mbd for Norway, and -0.33 mbd for the U.S. However, the question of depletion rates would seem to be a critical issue. I have not seen a detailed analysis of it elsewhere, and would appreciate hearing from any readers who may have further information about this.
A second concern that has been raised about the CERA report is that 3 mbd of that 16 mbd in new production is imputed to increased production from Saudi Arabia. Even if you completely discount legitimate questions as to whether the facts on the ground in Saudi Arabia are as Aramco is reporting, it is far from clear that it would be in Saudi Arabia's financial interest to increase production if the global supply and demand situation otherwise remains as tight as it is presently. They repeatedly said they would increase production during the last year but so far have done little. Furthermore, as Yergin points out, regardless of the physical production possibilities, above-ground threats of a supply disruption owing to political factors are very real, and indeed, the market's concern that such factors could produce a decrease rather than an increase in Saudi production over the near term could be one reason why oil prices have been making new highs. Of course there are pressing above-ground concerns about other key producers including Iraq, Nigeria, and Russia.
A third question that has been raised about the CERA optimism has to do with the increasingly important role assigned to less conventional supply sources such as the Canadian oil sands and production from very deep water, whose contribution CERA projects to rise from the current 16% of global production to 30-35% by 2020. However, there is a reason that these sources are only now beginning to be tapped– they are far more difficult to extract, requiring much more in the way of both capital and energy to convert into usable oil. Via Oil Drum and Green Car Congress, Bloomberg reported that Shell Canada has raised the estimated capital cost of its 100,000 barrel/day capacity expansion for Alberta oil-sands production from C$4 billion to C$7.3 billion.
Peak Oil Optimist is hoping that alternatives to the intensive use of natural gas to produce oil from this resource will be developed, but the substantial energy requirements suggest that costs will continue to rise as energy prices go up and that the effective contribution to net energy supplies from this resource is significantly overstated by just calculating barrels of oil produced. Energy Outlook cautioned that development of the Canadian fields on this level may be inconsistent with that country's agreement to the Kyoto Protocol limiting carbon dioxide emissions.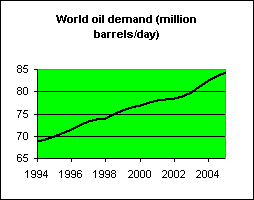 One thing that the CERA and ODAC reports have done is to shift the discussion of global oil depletion from an abstract theoretical calculation of how long "ultimately recoverable reserves" might last, a concept inherently difficult to evaluate and with a very poor predictive track record, to a more practical discussion of how much oil are we going to have available over the next five years. Interest in the latter is in turn prompted by the ultimate here-and-now question of why supply was not adequate to keep prices from shooting up so dramatically over the last two years. Part of the answer to the latter question is that the recent surge in demand has been quite impressive, and part of the answer is that global spending on oil exploration dropped $2 billion or 18% between 1997 and 2002. The explanation for this drop in exploration spending is in turn the collapse in oil prices in 1997, which I attribute to the dramatic reevaluation of expected global demand growth rates that followed the economic crises in southeast Asia. The subsequent experience has been that Asian demand in fact resumed its very strong growth. Given the long lead times of which Yergin speaks, that left us with today's very tight supply situation.
That leads me to highlight another very important claim that Yergin is making: CERA says that there will not be a sharp peak in oil production, but rather a series of undulating plateaus. As the reserves that are easiest to develop and in the politically most secure locations are exhausted, the price will rise, serving both to reduce demand and create the incentives necessary to develop more costly and riskier supplies, allowing production to rebound after an initial decline. I would not be at all surprised to see lower world oil consumption in 2006 than in 2005 as a result of the gradual changes in energy use that are already under way in response to the current prices, in other words, a production peak in 2005. I also would not be at all surprised to see demand subsequently rebound as world incomes continue to grow, met with supply coming on line from the factors identified by CERA. Nor would a sudden calamitous drop in that production, precipitated by above-ground events in the Middle East, be a surprising thing to see between now and 2010.
Sounds to me a whole lot like an undulating plateau, very much caused by the exhaustion of the easiest to obtain and least risky petroleum reservoirs. In other words, peak oil may be here right now. But not in the form that those who have popularized the expression have typically envisioned.