Oil prices have been coming down significantly this week. Is that good economic news?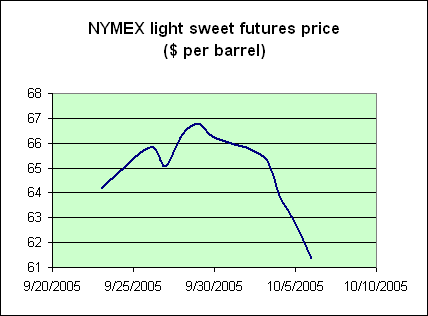 Minerals Management Service reports that 78% of Gulf of Mexico oil production remains shut in as a result of Hurricanes Katrina and Rita, and hurricane season is not yet over. Even so, the graph at the right (data source: EIA) reveals that oil prices have fallen almost 10% since Rita hit land. What gives?
A big part of the answer appears to be continuing indications that global energy demand is softening. Thirsty China showed only a 2.5% increase in petroleum consumption in the second quarter of 2005 compared with the second quarter of 2004 (more on China here). And new data confirm that the drop in U.S. gasoline consumption we saw in the first two weeks of September is for real (see the graph below from Calculated Risk).
There are also structural indications that even bigger drops in demand lie ahead. As the table below reveals, sales of the big gas-consuming vehicles in the U.S. plummeted in September. "http://www.billingsgazette.com/index.php?id=1&display=rednews/2005/10/06/build/business/58-delta.inc">
Elimination of airline routes will also reduce fuel consumption. Both of these may also mean layoffs and a slowing economy. That of course would be yet another reason to expect further declines in energy demand. But that concern could also explain why the S&P500 stock price index fell along with oil prices this week.
Source: Green Car Congress
Sales of Full-Size SUVs, Sep 04 vs. Sep 05
Company
Model
Sep 04
Sep 05
Change
% Change
GM
Buick Rainier
3,338
1,683
-1,655
-49.6%
Cadillac Escalade
5,424
3,864
-1,560
-28.8%
Cadillac SRX
2,439
1,624
-815
-33.4%
Chevy Suburban
12,987
5,640
-7,347
-56.6%
Chevy Avalanche
8,147
4,131
-4,016
-49.3%
Chevy Trailblazer
28,175
21,412
-6,763
-24.0%
Chevy Tahoe
20,905
9,151
-11,754
-56.2%
GMC Yukon
16,848
11,027
-5,821
-34.6%
GMC Envoy
14,792
6,157
-8,635
-58.4%
HUMMER H1
24
28
+4
+16.7%
HUMMER H2
2,524
1,724
-800
-31.7%
Ford
Ford Expedition
15,003
5,906
-9,097
-60.6%
Ford Excursion
1,498
1,740
+242
+16.7%
Ford Explorer
30,448
12,879
-17,569
-57.7%
Lincoln Navigator
3,514
1,559
-1,955
-55.6%
Lincoln Aviator
2,345
1,407
-938
-40.0%
Land Rover Range Rover
1,010
985
-25
-2.5%
Chrysler
Dodge Durango
10,828
9,656
-1,172
-10.8%
Toyota
Toyota Sequoia
4,388
2,334
-2,054
-46.8%
Toyota Land Cruiser
614
296
-318
-51.8%
Lexus LX470
768
764
-4
-0.5%
Nissan
Nissan Armada
3,104
2,459
-645
-20.8%
Infiniti QX56
1,265
1,213
-52
-4.1%
Isuzu
Ascender-7
753
449
-304
-40.4%
---
Technorati Tags: oil prices, oil, petroleum demand