U.S. automakers can't be very pleased about September sales figures.
Ford Expedition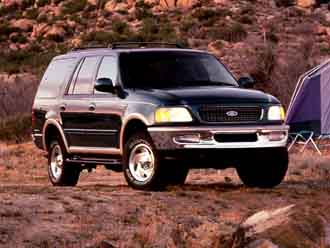 Automotive News reported today that GM sold 24% fewer light vehicles in September 2005 compared with September 2004, while Ford sold 20% fewer vehicles. SUV's led the retreat, with sales of Explorers, Expeditions, and Mountaineers each down more than 50%. Although Toyota's sales overall were up 10%, their SUV's (4Runner, Highlander, Land Cruiser and Sequoia) were all down as well.
U.S. car sales had been sagging earlier this year. With its summer employee discount program, GM was gambling that American consumers would return to their love affair with big cars, and all that was needed was a strategy to get past a temporary lovers' tiff. That gamble isn't looking so great at the moment. Although car sales temporarily went way up, GM's North American division lost $1.2 billion in the second quarter, and the gas guzzlers that consumers bought earlier this summer may look like albatrosses to them now each time they pull out a C-note to fill 'em up. Without those discounts, sales are falling like a rock.
Charles Wilson once famously remarked:
"We have a saying at General Motors: 'What's good for the United States is good for General Motors, and vice versa.'"
I would say that the employee discount program hasn't worked out very well either for GM or for the United States.
Meanwhile, U.S. consumers purchased more bicycles than cars during the last 12 months. Yahoo News reports that bicycle sales by Scooter Commuter in Bethesda, Maryland have quadrupled in the last two months. It's the market at work with consumers responding to the higher price of gas, Environmental Economics and Division of Labor both correctly noted.
But as I've emphasized many times, when such changes occur this suddenly, a drop in car sales and rise in bike sales do not add up to an economic wash. Because productive resources cannot quickly move from one sector to the other, the idled factors formerly devoted to automobile production will magnify the initial shock and can lead the economy into a recession.
Macroblog notes that some other good economic news today makes it hard to be completely gloomy about the overall economic prospects. Still, the latest data on autos, airlines, and housing seem to be confirming the pessimistic concerns I raised last June and July.
What, me worry? In a word, yes.