Is there statistical evidence for the "global savings glut"?
by Guest Blogger: Menzie Chinn
Fed Chair nominee Ben Bernanke's "global savings glut" speech
has gained renewed prominence here, here,
and here . In current work, Hiro Ito and I have been examining this question. Using a large panel of 117 countries over the past 30 years, we
find that (1) the impact of budget deficits on current account deficits is about 0.20 (with an impact as high as 0.40 if statistical uncertainty is taken into account), and (2) the U.S. current account deficits behavior over the 2001-03 period is only
barely anomalous, by statistical criteria. [A footnote: budget deficits are always statistically significant in all the specifications] The analysis focuses on the medium term determinants of current account deficits (taking
exchange rates as endogenous). The right hand side variables in the regressions, in addition to budget deficits, are demographic variables, financial and
trade openness, and financial development. The figure below shows the actual, predicted and 2 standard error bounds.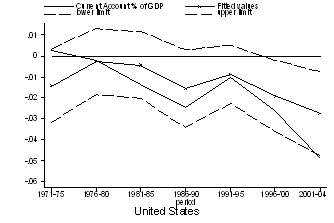 To the extent that there is mis-prediction, a lot of it seems to be correlated with equity market developments.

Interestingly, China's behavior in this latest 2001-03 period was not out of the range of ordinary behavior, as shown in
the figure below: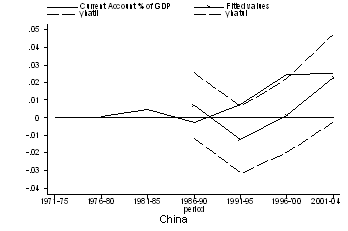 This is not to deny that there may be a global savings glut. Maybe excess savings in East Asia — due to either savings glut or investment drought –
are important in causing the U.S. current deficit. But these empirical results do show it's dangerous to argue on the basis of identities (as
Brad DeLong has argued).
It's also a cautionary note for those would assert that the world is obeying radically new rules.
The statistical evidence on that count is weak.