More evidence that yes, rising prices change consumers' behavior.
The Oil Drum notes that hourly traffic count data compiled by the Federal Highway Administration suggest that the August gas price increases held U.S. highway travel in August 2005 to the same level as in the corresponding month of 2004, while the September price spikes led to a significant drop in car travel:
This is very similar to the conclusion drawn from the gasoline demand figures provided by the EIA: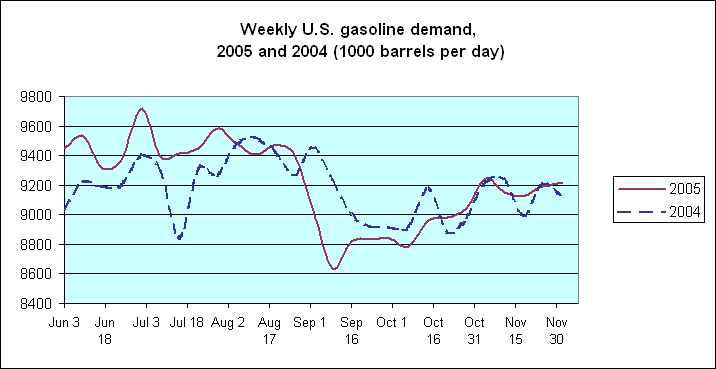 All of this reinforces the conclusion that gasoline demand certainly does respond to the incentives of higher prices. The Oil Drum goes on to provide further evidence of this:
Finally, the most interesting question. Did the hurricanes mainly reduce VMT [vehicle miles traveled] by direct effects on travel in the affected region, or by price? Turns out to be price: absolutely no doubt about it. Louisiana and Mississippi saw a huge increase in VMT, but the rest of the country reduced VMT. The North East was hit hardest, and the West was affected the least.
---
Technorati Tags: gas prices,
gasoline prices, gasoline demand