How good is the news, really?


The November trade deficit came in at $64.2 billion, less than the $66.0 billion consensus reported by Bloomberg. From Bloomberg:


Jan. 12 (Bloomberg) — The U.S. trade deficit narrowed more than forecast in November on record exports, suggesting stronger growth overseas will bolster American manufacturing.






The gap narrowed to $64.2 billion during the month from a record $68.1 billion in October, the Commerce Department reported in Washington. Overseas sales of Boeing Co. aircraft, machinery and consumer goods rose. The deficit with China shrank for the first time in eight months…


A portion of this improvement was due to the decline in oil prices, rather than a quantity adjustment:


Cheaper crude oil helped reduce America's import bill, the Commerce Department report showed. The value of petroleum product imports, which include crude oil and refined products, fell to $24.6 billion from a record $25.4 billion.






The price of a barrel of crude oil averaged $58.34 in November, down from $62.27 in October. The U.S. imported 10 million more barrels of crude oil in November than in October.


Of course, since then oil futures prices have again risen to about $64 per barrel.


This figure shows the evolution of both the trade balance and the trade balance excluding oil imports, placing in context these new figures. In fact, the rebound in both balances is from very low levels.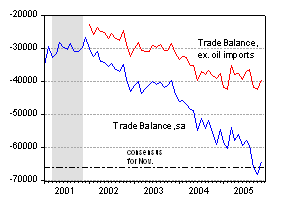 Source: BEA, US International Trade Release for November 2005 (Jan. 12, 2006).
Data are seasonally adjusted, in millions of dollars.


The prospects for continued improvement do not look altogether strong, despite accelerating growth in Europe and Japan.


The good news on the trade balance may be temporary, some economists said. The gap for 2005 is still headed for an all- time high of more than $700 billion and may widen this year as U.S. consumers demand low-cost goods from countries such as China and Mexico.


Evidence that is consistent with this view is provided by the trends in goods trade, at least indicated by three month moving averages. These suggest that we're still on a downtrend. (red and black lines are 3 month moving averages corresponding to blue and green lines.)


Source: BEA, US International Trade Release for November 2005 (Jan. 12, 2006).
Data are seasonally adjusted, in millions of dollars. Moving average series calculated on logs of underlying series,
then exponentiated to generate levels; may differ from BEA reported moving average series.


Of course, ever expanding trade — and hence current account — deficits of this magnitude can't go on foreover, if the past is any guide. In this vein, a paper by myself and Jaewoo Lee indicates that over time the current account balance must fall to between 2.5% and 3% of GDP, based upon historical correlations between current account imbalances and the dollar's value. That means the economy is eventually headed toward a deficit of around $30 billion per month, rather than the $64.2 billion, suggesting we still have a lot of adjustment to do (our results suggest that a couple percentage points of adjustment will be associated with dollar depreciation, so expect a reversal of recent dollar trends).