Judgment, theory and correlations in exchange rate modeling.

Where is the dollar/euro exchange rate going? Given uncertainty over the proper model governing the world economy, I thought it might be interesting to compare what different approaches implied. In the first figure are the predictions from a purely statistical model, where it is assumed that the log exchange follows a random walk with drift. In this case the estimated drift is about +0.4% per annum (red line, labelled "Random walk with drift"). The plus/minus 2 standard errors bands are very large, which is not surprising given the imprecision of the point estimate.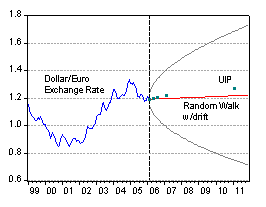 Predictions of the dollar/euro exchange rate based on random walk model and uncovered interest parity. Source: Author's calculations.

Since pure time-series approaches are relatively uninformative, it might be useful to appeal to theory. One of the building blocks of international finance is uncovered interest parity (UIP), which states the expected returns in common currency terms are equalized, or alternatively expected depreciation equals the interest differential. UIP implies depreciation as well (green squares, labelled "UIP"), both over the short and long term. At the 5 year horizon, depreciation of 1.3% is implied by bond yields with 5 years remaining to redemption.


Since ex post uncovered interest parity (average actual depreciation equals interest differentials) doesn't hold statistically, it is of interest to consider what the empirical correlations imply. Using estimates reported in Chinn (2005), I show what current interest differentials indicate the exchange rate will be in the future (keeping in mind the low R-squared of the regressions that underly these calculations). This prediction is in red, labelled "Biased IRP". At horizons up to a year, slight appreciation is implied (consistent with the view that higher interest rates in the US relative to Europe will induce a strengthening dollar). But over the longer horizon, it will depreciate. In contrast, subjective forecasts from Deutsche Bank indicate appreciation 3 months hence, but fairly rapid depreciation thereafter (green triangles). The JP Morgan forecasts are not substantially different (see Economist's survey).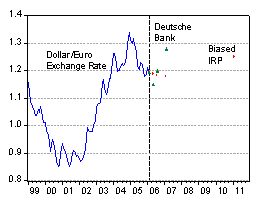 Interest rate implied changes and Deutsche Bank forecasts. Source: Author's calculations and Deutsche Bank February Exchange Rate Perspectives


---
Technorati Tags: href="http://www.technorati.com/tags/exchange+rate">exchange rate,
euro,
uncovered interest parity,
random walk