Some other possible consequences of monetary tightening.

I've been reading several books on the financial crisis literature, among them Nouriel Roubini and Brad Setser's Bailouts or Bail-ins? (IIE, 2004) and Peter Isard's Globalization and the International Financial System (Cambridge, 2005). Upon first reflection, it struck me that the books didn't appear particularly timely, given our current concerns with global rebalancing, and the role of China. But then, I recalled this picture relating capital flows to emerging markets and US real interest rates.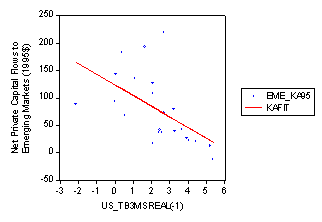 Capital flows to emerging markets and real US interest rates. Source:
Chinn (2005)
, based on
WEO 2003 data
.

A one percentage point increase in the US real rate decreases capital flows in the subsequent year by about 20 billion 1995 constant dollars, 26 billion current dollars. This correlation is consistent with Frankel and Roubini's (2003) finding that the IFC Global index of equities declines by 17 ppts for each one ppt increase in the real G-7 interest rate, while the Emerging Markets Bond Index (EMBI) declines by 34 percent (similar magnitudes are obtained if one uses the real Fed Funds rate instead of the G-7 real rate).


Now the recent moves in the US short term rate can be viewed along a new dimension. In the figure below, the US three month T-bill rate (secondary market) adjusted by the lagged annualized 3 month core CPI inflation rate, is plotted.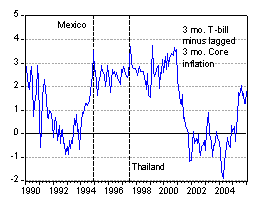 US real 3 month T-bill rate. Source: St. Louis Fed.

Recent crisis coincide with upward movements in the real rate. While the current rate is fairly low, the swing of 4 percentage points is comparable to the one preceding the 1994 Mexican peso crisis.


So, expect some surprises in places expected and unexpected.

Technorati Tags: href="http://www.technorati.com/tags/financial+crises">financial crises,
real interest rates,
emerging markets,