A (semi-) Positive Surprise on the trade balance

The February trade figures were released today. The $65.7 billion deficit was an upside surprise relative to the Bloomberg consensus figure of $67 billion. Bloomberg reports:

April 12 (Bloomberg) — The U.S. trade deficit shrank more in February than economists expected, to $65.7 billion, led by a decline in Chinese imports that may be temporary and do little to ease demands for sanctions.

The gap narrowed by 4.1 percent from a record $68.6 billion in January, the Commerce Department said today in Washington. Imports fell 2.3 percent and exports dropped 1.2 percent. The deficit with China was the smallest in almost a year and may reflect business shutdowns during the lunar New Year holiday.

A jump in oil costs to near-record highs and growing demand for Chinese goods suggest U.S. imports will again head higher and cause the deficit to swell. Chinese President Hu Jintao will meet President George W. Bush next week amid congressional efforts to penalize the Chinese for currency policies that lawmakers say help widen the trade gap.

The shortfall "is going to remain very large and perhaps get bigger this year," said Jay Bryson, a global economist at Wachovia Corp. in Charlotte, North Carolina. "Part of that increase has got to come from China. This year, our deficit with China is probably going to be bigger than last year."

The trends are depicted in the following graph: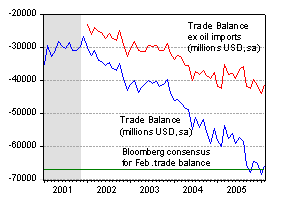 Figure 1: Trade Balance and Non-Oil Trade Balance. Source: BEA, Feb. 2006 release.

What is perhaps interesting is the trends in the real magnitudes, particularly in terms of oil and non-oil imports. Using the BLS's end use deflators yields the following graphs.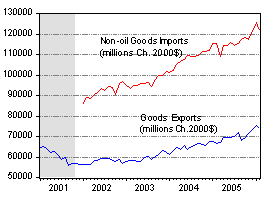 Figure 2: Real Goods Exports and Real Non-Oil Goods Imports, in millions Ch.2000$. Sources: BEA, Feb. 2006 release, BLS Feb. 2006 release, author's calculations.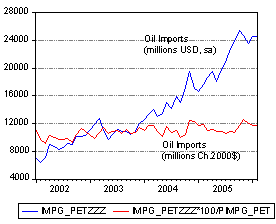 Figure 3: Nominal and Real Oil Imports, in millions. Sources: BEA, Feb. 2006 release, BLS Feb. 2006 release, author's calculations.



I find it interesting that non-oil goods imports declined, as did exports. Since there is much month to month variation, I wouldn't ascribe too much to this comovement, though. On the other hand, the diverging trends in nominal versus real oil imports are definitely there. Given that oil prices have surged in March and now April, this means that despite stable quantity, oil import values are likely to continue to rise.

Technorati Tags: href="http://www.technorati.com/tags/trade+deficits">trade deficits,
oil imports,
oil prices