The expected strong 2006:Q1 GDP growth included encouraging numbers for investment and exports, and warranted a slight drop in the recession probability index.
The Commerce Department announced today that U.S. real GDP grew at an annual rate of 4.8% in the first quarter of 2006. By any measure, this is a good performance. The average U.S. growth rate during quarters of economic expansion over the last sixty years has been 4.6%, and the average across all quarters (including economic recessions) has been 3.5%. The most recent 4.8% growth is a most welcome improvement over the 2005:Q4 growth of 1.7%.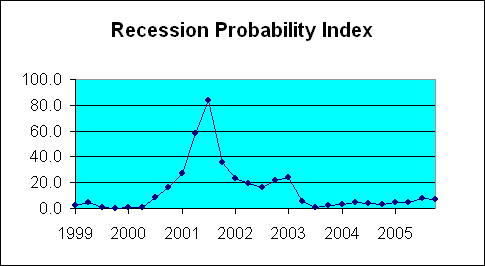 The new figures resulted in a slight drop in the GDP-based recession probability index from its 2005:Q3 value of 7.4% to a reading for 2005:Q4 of 7.1%. This index is not a forecast of where the economy will be later this year, but is a backward-looking assessment of where the economy was as of 2005:Q4, using the latest data to form that assessment. The robust 2006:Q1 growth thus should alleviate any concerns that the anemic 2005:Q4 figures might have signaled that an economic recession could already have started. Background on how the recession probability index is constructed and a review of its historical performance is available
here
.
Much of the seesaw between 2005:Q4 and 2006:Q1 came from autos, which contributed -1.9% to the 2005:Q4 total and +0.6% to 2006:Q1. Auto sales were not great, but even mediocre looks wonderful when compared with the dismal 2005:Q4 performance. Another measure is to compare the number of vehicles sold in the first 3 months of 2006 with the first 3 months of 2005, on which basis DaimlerChrysler was up 3.9%, Ford was down 2.8%, and GM was down 5.2%. We'll see what $3 gasoline does to these numbers.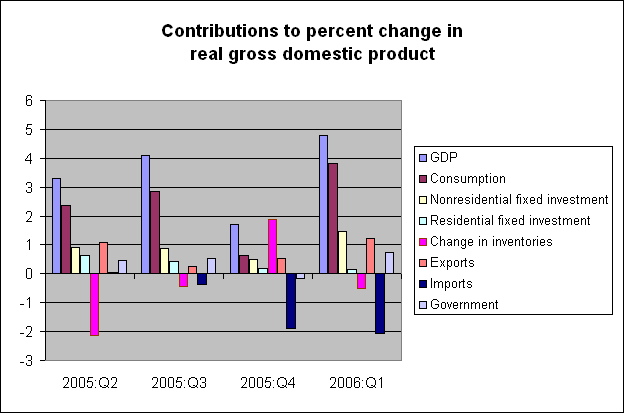 >
On the other hand, I was particularly encouraged by two key components of the first-quarter growth.
Exports contributed
1.2% of the 2006:Q1 4.8% growth, more than double their 0.5% contribution of 2005:Q4, and enough to take a significant bite out of the -2% contribution of imports. Nonresidential investment also contributed 1.5% to 2006:Q1, triple its 0.5% contribution of the previous quarter. This component is the key to future growth, and
sustainability
requires higher investment spending and exports to replace some of the demand that's currently coming from domestic consumption.
Overall, excellent news. But, like the current Fed Chair, I'll be surprised if the next installment is as rosy.