More talk this week of war with Iran, and the price of oil jumps right up. Maybe the two are related, and maybe not.
Oil price (May 2006 futures contract). Source: TFC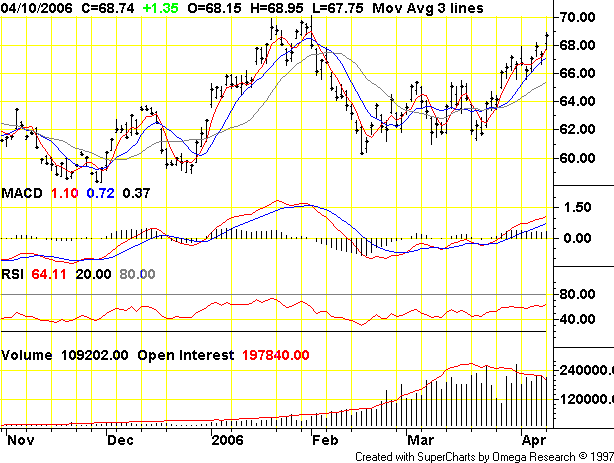 >
As war talk and oil prices both escalate, it's easy to start thinking we've been here before. The graph at the right, taken from a recent paper by
Justin Wolfers at the University of Pennsylvania and Eric Zitzewitz at Stanford, reminds us of what happened in 2002-03. The graph tracks the price of oil, experts' assessments of the probability of war, and the probability of war as implied by the price of a contract that would pay $100 if Saddam were ousted by June 2003. Fast forward to 2006, with oil prices as shown in the graph above and talking heads discussing the possibility that the U.S. might use nuclear weapons against Iran, and it seems a bit too close to deja vu for comfort.
Price of contract paying $100 if U.S./Israel airstrike on Iran by March 2007. Source: Tradesports
Except one detail– the prediction markets aren't playing along with all the war talk this time. The price for which you could purchase a contract through Tradesports that will pay you $100 if there is an airstrike against Iran within the next year has been going down, even as the talk has escalated. That's consistent with Tyler Cowen's conjecture that war-plan leaks are being used intentionally to try to achieve a diplomatic objective.
But while the price of a Tradesports contract has been moving against the price of oil, I can think of at least three things that have been moving right in step with oil: gold, copper, and zinc. Would risk of war raise the price of copper? I'm thinking not. Would strong commodity demand drive up the price of all four? I'm thinking it could.
At least it's a cheerier story than that of Seymour Hersh. But if you prefer to take the gloomy interpretation, by all means, be my guest. Just buy yourself a few of those Tradesports contracts on your way out. Might as well be rich and gloomy rather than poor and gloomy.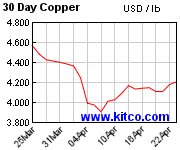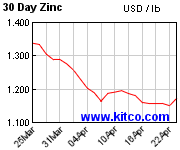 ---
Technorati Tags: oil prices,
oil, Iran