What if we had not cut taxes for the richest and increased discretionary spending faster than the rate of inflation?
This diagram shows what could have been.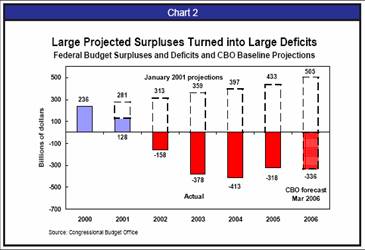 Source:
Joint Economic Committee, "We'll be forever in their debt."
Before people start bringing up recession (which is long over) and GWOT, note the Congressional Research Service, in a report based upon CBO data, concluded that of the 3.7 percentage points of GDP deterioration in the standardized budget balance between FY2000 and FY2004, 2.8 percentage points were accounted for by a reduction in (standardized) receipts, and 1.1 percentage points by quasi-standardized policy changes in spending. Perhaps old news, but useful to remember when you hear various pundits babble about increased revenues from tax cuts.
Technorati Tags: budget deficits,
full employment budget surplus, and
tax cuts