Certainly the recent inflation data have been– Dave Altig says
insert something negative here, so I'll just say "unwelcome". But when Fed Chair Ben Bernanke declared that's exactly the way he sees it, too, markets stood up and took notice. Let's review some of the dramatic market adjustments that have occurred since Bernanke's June 5 remarks.
For starters, we should all be clear that the Fed has no power to control the month-to-month gyrations in inflation measures on which the financial press likes to focus. Furthermore, anything the Fed does now likely will not have much effect on inflation until a few years down the road. In my mind, the key question is therefore, what has been the effect of recent data and Fed statements on markets' perceptions of the Fed's ability and commitment to keep inflation contained over the next decade? Here I agree with long, long time Fed watcher and inflation hawk Allan Meltzer that: "the best measure of Mr. Bernanke's credibility is the bond market, and there is no sign there that traders expect big inflation or even much inflation."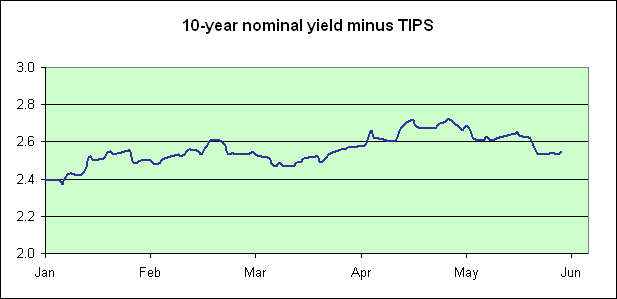 The above graph plots the difference in yield between nominal 10-year Treasuries and 10-year Treasury Inflation-Protected Securities, whose coupon and redemption value are both indexed to increase with the consumer price index. This difference might be interpreted as the average inflation rate that markets are anticipating over the next 10 years, as it will be measured by the "headline CPI". This spread did edge up slightly this spring. But note the scale– this measure moved all the way from 2.5% in March to 2.7% in May. Even at its worst, markets had a lot of faith that the Fed was not about to let recent inflation rates continue. Moreover, that 20-basis-point bump in May has by now been entirely erased.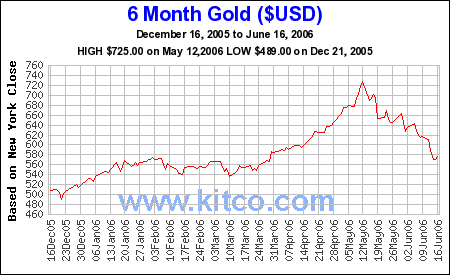 It's also worth commenting on the phenomenal collapse in gold prices. The above graph from Kitco shows that all of the run-up in gold prices since March has unraveled since Bernanke's remarks. Although I do not share the view of many that gold prices are a signal of investors' inflation expectations, I do take the gold price dive as confirmation that the market believes that the Fed will slow output growth and raise real interest rates as far as needed to keep inflation contained, since both slower real output growth and higher real interest rates should reduce the relative price of sensitive commodities. The gold collapse might also be interpreted as exonerating in part Jeff Frankel's view that real interest rates are the big drivers of commodity prices. Copper and zinc have also plunged over the last month.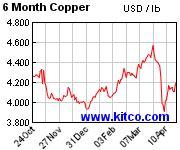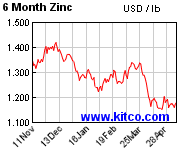 And let's not forget the whackage (that colorful term introduced by Barry Ritholtz) in equity markets. Once again I dispute the popular interpretation that inflation itself is the cause of the market's decline. In a pure inflation, prices, wages, profits, and everything else one buys with dollars are all going up, and nominal equity prices should rise, not fall. There is, to be sure, a strong empirical suggestion that historical inflationary episodes have been harmful to real stock prices, which some analysts have attributed to the possibility that investors may discount future earnings with nominal rather than real yields (e.g., Ritter and Warr, Journal of Financial and Quantitative Analysis, 2002) or to the interaction between the tax code and inflation (e.g., Feldstein, American Economic Review, 1980). However, any such accounts would operate through an effect of inflation on increasing nominal interest rates, and the 10-year Treasury rate is right where it was before any of the recent whackage began.
Paul Krugman and Robert Reich also have trouble seeing a resurgence of a wage-price spiral without the "wage" part, though see also Greg Mankiw's discussion. But even without getting into the compensation issue, the most natural interpretation to me is the one that fits all the data– TIPS yields, nominal yields, commodity prices, stocks, and wages– with the same basic story. Investors responded to the unwelcome inflation numbers and recent Fed statements not because they believe that a resurgence of long-run inflation is now imminent, but instead because they knew that this meant the Fed is basically forced to raise real interest rates further, necessarily causing the incipient slowdown in economic growth to become even more dramatic and worrisome.
Steve Liesman writing at The Big Picture provides an analogy to the biblical account of Abraham, who had to prove his commitment to God by his willingness to sacrifice his son Isaac. Liesman argues that similarly, markets required Fed Chair Bernanke to establish his credentials by being willing to bring the U.S. economy to the brink of recession, if need be, to stop inflation.
Of course, it's worth remembering how that particular story ended up. Isaac, seeing the preparations for a sacrifice, was understandably curious:
"The fire and wood are here," Isaac said, "but where is the lamb for the burnt offering?"
Abraham answered, "God himself will provide the lamb…"
It remains to be seen what God may have in mind for getting us out of our current predicament.
---
Technorati Tags: Federal Reserve,
Bernanke,
macroeconomics,
inflation