Quantification is the first step in assessing the proper course of action
In some previous posts (e.g., here), I have argued that the energy policy (or lack of policy) pursued by particularly this Administration has worsened the trade deficit.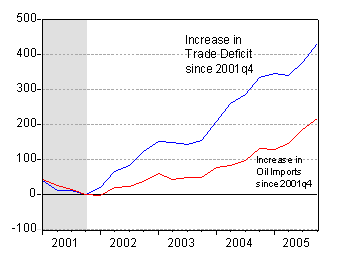 Source: Author's calculations based on Jan 2006 NIPA release.
A more comprehensive, wide-ranging, quantitative assessment of the costs of energy dependence is complicated by the fact that there is some dispute over key parameters (substitubability of capital for energy, price rigidities, etc.). Nonetheless, the Oak Ridge Laboratories have undertaken a study (Costs of U.S. Oil Dependence: 2005 Update) assessing the output, potential GDP, and wealth transfer costs. The document's summary states:

"[T]his report focuses on its direct economic costs. These costs are the transfer of wealth from the United States to oil producing countries, the loss of economic potential due to oil prices elevated above competitive market levels, and disruption costs caused by sudden and large oil price movements. Several enhancements have been made to methods used in past studies to estimate these costs, and estimates of key parameters have been updated based on the most recent literature. It is estimated that oil dependence has cost the U.S. economy $3.6 trillion (constant 2000 dollars) since 1970, with the bulk of the losses occurring between 1979 and 1986. However, if oil prices in 2005 average $35-$45/bbl, as recently predicted by the U.S. Energy Information Administration, oil dependence costs in 2005 will be in the range of $150-$250 billion. Costs are relatively evenly divided between the three components. A sensitivity analysis reflecting uncertainty about all the key parameters required to estimate oil dependence costs suggests that a reasonable range of uncertainty for the total costs of U.S. oil dependence over the past 30 years is $2-$6 trillion (constant 2000 dollars). Reckoned in terms of present value using a discount rate of 4.5%, the costs of U.S. oil dependence since 1970 are $8 trillion, with a reasonable range of uncertainty of $5 to $13 trillion."

Under a wide number of assumptions, the costs of energy dependence in 2005, given a price of oil of $45.50 per barrel, is estimated to be about 250 billion 2000 dollars.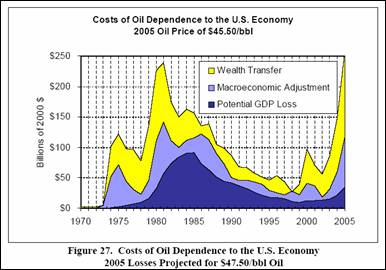 Figure 27 from
Greene and Ahmad, "Costs of U.S. Oil Dependence: 2005 Update," Oak Ridge National Laboratories.

The actual average price in 2005 for WTI was $56.5 so this is an understatement (at least based on these assumptions). For perspective, the US real GDP in 2005 was 11.1 trillion 2000Ch. dollars.

Of these costs, the ones that rely least on contentious parameters is the wealth transfer — essentially how much is transferred to foreign oil producers (although a guess about the competitive price needs to be assumed). Here, the figure is about 150 billion 2000Ch., or about 1.4% of GDP.
I found the survey of price elasticities interesting in their own right. The report presents two tables.


Table 3 from
Greene and Ahmad, "Costs of U.S. Oil Dependence: 2005 Update," Oak Ridge National Laboratories.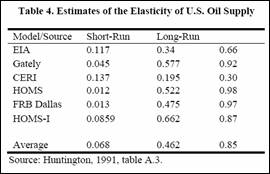 Table 4 from Greene and Ahmad, "Costs of U.S. Oil Dependence: 2005 Update," Oak Ridge National Laboratories.


What I found most interesting is the relatively high (at least compared to what some people think) long run price elasticities of oil demand, combined with relatively low long run supply elasticities (the typically cited figure is slightly lower than the average here, 0.3, which is close to the EIA figure). This suggests to me that there is considerable scope for reducing demand via taxes, while attempting to increase domestic supply by way of subsidies would be more difficult (note that the average rate of convergence to the long run is lower on the supply side).


Obviously, this doesn't mean we should seek to set oil imports to zero. But it does mean that there is a cost to relying upon energy, and additionally (my focus here) to relying upon imported energy. We should seek to reduce energy imports using as a guide economic principles — namely investing in conservation R&D, and implementing taxes, up to the point that the combination of instruments leads to the internalization of negative externalities. Here we have not only the environmental ones, but also those associated with additional variability in income (after all, in a Taylor rule world, variability is a bad thing). And then there is the question of whether we would need to be so monomaniacally obsessed with oil supplies — and hence need to sacrifice so many resources to maintaining large ground forces in the MidEast — if we were not so susceptible to such large terms of trade shocks.

Technorati Tags: href="http://www.technorati.com/tags/energy+dependence">energy dependence,
oil price elasticity