The White House released its midterm forecast on Tuesday. Some thoughts on forecasts around turning points.
The announcement can be found here, with CEA Chair Lazear's discussion here. The forecast is summarized in this table: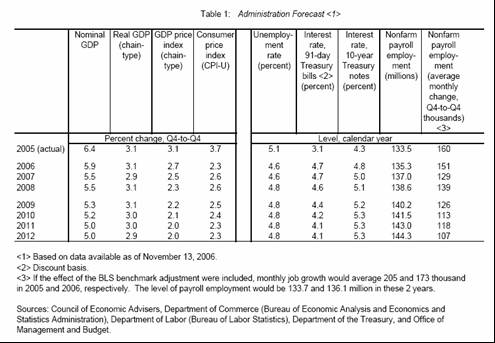 From the press conference:


CHAIRMAN LAZEAR: Thanks a lot. I appreciate you all joining us on this call. Today we're releasing the administration's economic forecast that will be used for the President's fiscal year 2008 budget.



These forecasts are developed semi-annually by the Council of Economic Advisers, the Treasury Department, and the Office of Management and Budget. And we do these together.



The updated forecast is similar to private sector forecasts, and it's also similar to the administration's past forecast. I should point out that this is a routine process. As I mentioned earlier, it's done twice a year, and it is done by a professional staff. These are career employees who tend to be long-term individuals, who have been in the government for a while, and they are not specific to any one or the other administration.



Let me give you some of the details that are associated with this particular forecast. We are projecting real GDP to grow at 3.1 percent in 2006, and that's on a Q4, quarter four to quarter four basis. And we're projecting 2.9 percent for 2007. These growth rates are similar to the U.S. historic average. And they are also similar to the ones that the market is giving us in terms of the blue chip forecast.

To investigate further the implications, I've plotted log real GDP in 2000 billions of Chained dollars (blue), the CEA forecast (red squares), the forecast from the Society of Professional Forecasters (black), and the Deutsche Bank forecast (green).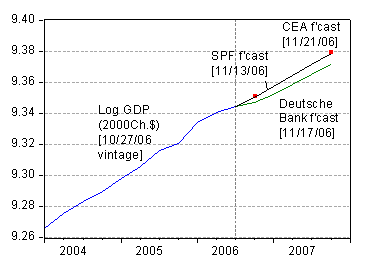 Figure 1:
Log real GDP (October 27 release, blue line), CEA forecast (11/21, red squares), SPF forecast (11/13, black line), and Deustch Bank forecast (11/17, green line). Sources:
BEA
,
CEA
,
Philadelphia Fed
, and DB.
The graph confirms the high level of agreement between the CEA and consensus forecasts. Doubts are raised by several observers, inlcuding by Calculated Risk, but these doubts apply to many of the extant forecasts. The issue is that these types of forecasts can go grieviously wrong around turning points. In this context, I thought it would be of some use to see how the consensus forecast performed around the last turning point. In Figure 2 below, I plot the 1/31 vintage of log GDP in 1996 billions of Chained dollars (blue), the Society of Professional Forecasters forecast of 2/10 (red), and the last vintage (11/25/03) of the GDP data available in 1996 Chained dollars (green).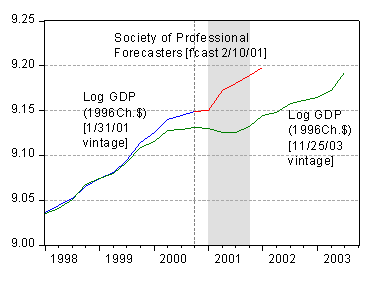 Figure 2:
Log real GDP (1/31/01 release), SPF forecast (2/10/01), and log real GDP (11/25/03 release). NBER recession dates in gray. Sources: BEA via
St. Louis Fed ALFRED
,
Philadelphia Fed
and
NBER
.
What's interesting is that even on the eve of the recession, the mean forecast was for resumed growth in 2001q2. However, the actual revised data that came out over two and a half years afterward (the November 2003 vintage) indicates that, not only was the level of real GDP in 2000q4 1.7 ppts lower than that perceived at the time, but that output was actually decreasing in 2001q1, rather than rising by 0.8 ppts (annualized) as forecasters thought in February of 2001. Whether you believe or disbelieve the consensus forecasts thus depends upon whether you think we're near a turning point or not. On that, reasonable people can disagree.

Technorati Tags: href="http://www.technorati.com/tags/recession">recession,
GDP, and
forecasts.