Data on October new home sales released yesterday by the Census Bureau suggest that I may be proved to have been wrong in thinking that new home sales had already hit bottom.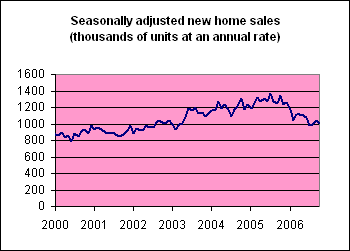 Almost all of the 3.7% month-to-month increase in seasonally adjusted new home sales in September was reversed by a 3.2% drop for October. The October figures are still above those now reported for August and July, though in part that is because the latter have been revised downward, continuing the recent trend that the revised numbers are worse than those originally reported.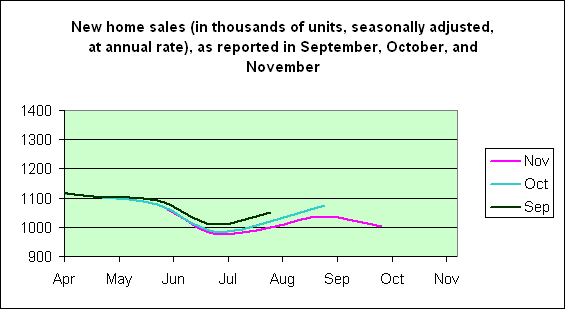 On a seasonally unadjusted basis, the number of homes sold in October was significantly below the level of last December. Given the usual seasonal pattern, at this time in a typical year we'd still be selling 20% more than in the dead December market, or in a really bad year, October sales would just match December.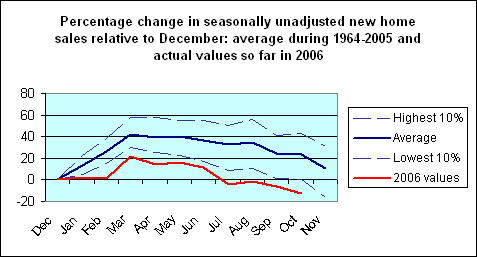 This was enough also to reverse the previous favorable decline in the ratio of unsold new homes to monthly sales.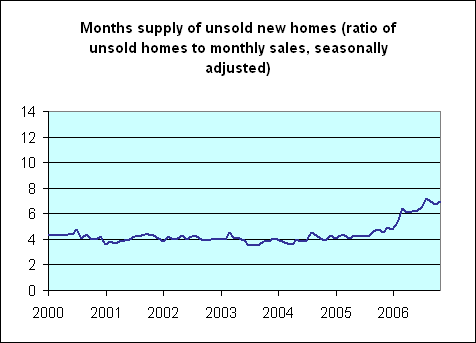 Looking at a longer time series to put the latter in perspective, that leaves the inventory of unsold new homes at about its peak during the "soft landing" in 1994-95.
To interpret those numbers, you can't do better than Fed Chair Ben Bernanke's analysis:
[I]nventories of both new and existing homes for sale have increased markedly this year. For example, according to the most recent data, homebuilders currently have about 550,000 new homes for sale, roughly half again the number that has been typical during the past decade. Moreover, the official statistics likely understate the full extent of the inventory buildup, as many homebuilders have reported a sharp increase this year in the number of buyers canceling signed contracts. A home for which the sales contract is cancelled becomes available for sale once again but is not included in the official data on the inventory of unsold new homes. To reduce this inventory overhang, builders are likely to continue to limit the number of new homes under construction….

[W]e should keep in mind that even if demand stabilizes in its current range, reducing the inventory of unsold homes to more normal levels will likely involve further adjustments in production. The slowing pace of residential construction is likely to be a drag on economic growth into next year.
The quite negative recent numbers for housing starts and permits further strengthen the inference that a significant decline in construction employment lies ahead.
Also yesterday, the Bureau of Economic Analysis revised its estimate for 2006:Q3 real GDP growth up from the "advance" estimate of 1.6% growth that was released last month, to a new "preliminary" figure of 2.2%. Given the latest housing numbers, we should count ourselves lucky if 2006:Q4 GDP growth remains as high as 2.2%.
---
Technorati Tags: macroeconomics,
housing