Auto sales data released today look just great, as long as your name is Toyota.
The W$J reports that Toyota sold 12% more vehicles in December 2006 compared with December 2005, while GM and Ford were both down 13%. That's an acceleration of a long-run trend which is going to make an unfavorable contribution to our current short-run problem of keeping U.S. GDP growth positive. Long-term issues aside, what matters for short-run GDP and employment is cars made in the U.S.
Sales of domestically manufactured cars were down 0.6% from December 2005. That's enough to give 2006 the worst fourth-quarter performance for domestic car sales of the last four years.
<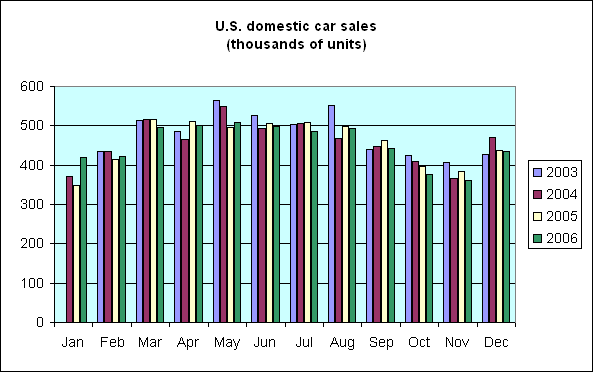 Domestic light trucks, the key money-maker for Detroit, plunged 13.2% from December 2005:
And don't forget how bad those 2005 numbers were with respect to which we're making the comparison: motor vehicles and parts all by themselves contributed -1.5% to the 2005:Q4 reported real GDP growth rate, (see BEA Table 1.5.2), so last year's sales are a depressingly low hurdle to fall below. The Michigan Business Activity Index compiled by Comerica Bank is now at its lowest level since the recession of 2001.
My perspective on this continues to be that if the problems were just confined to autos, the U.S. as a whole would be ok. But we also have plenty to worry about with the housing sector.
I still believe that the most likely outcome is for U.S. GDP growth to remain positive. But the prediction for the first half of 2007 of 2.5% GDP growth from the median W$J forecaster (discussed also by Macroblog and the Big Picture) strikes me as overoptimistic.
---
Technorati Tags: macroeconomics,
autos,
recession