The Treasury Department reported a steady rate of purchases of Treasuries by foreigners (see the Bloomberg account here). Let's hope that continues — although we should be cognizant of the ramifications: increasing debt and interest payments to foreigners.
In the old days (i.e., during the Reagan deficits), macroeconomists often argued that the burden of the national debt, and the associated interest payments, was somewhat mitigated to the extent that we owed the debt to ourselves. In other words, the national debt was largely an intergenerational transfer.
Well, to quote one of Jim Hamilton's favorite artists, "The times they are a-changin'…". As shown in Figure 1, the massive debt incurred over the last six years, combined with rising interest rates, has led to increasing Federal interest payments to GDP ratio. Furthermore, as illustrated in Figure 2, a larger portion of those interest payments — roughly half — are now to foreigners. Hence, we are now in the process of conducting a massive inter-national transfer on top of an intergenerational one.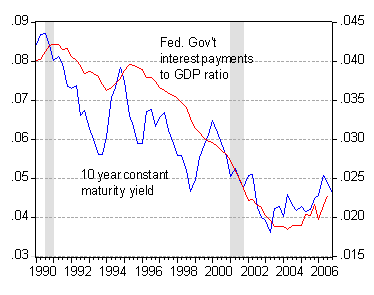 Figure 1:
Yield on 10 year constant maturity Treasurys (average of daily data), and Federal interest payments as a share of nominal GDP. Source:
FRED II
and BEA NIPA, December 2006 release.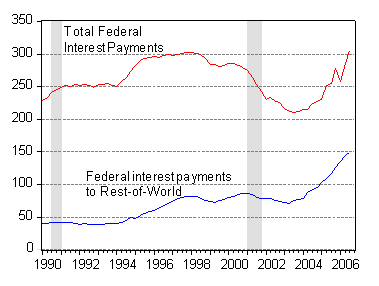 Figure 2:
Total Federal interest payments and interest payments to foreign holders, in billions of dollars, SAAR. Source: BEA NIPA, December 2006 release.
Looking more broadly at what U.S. residents (so not just the U.S. Government) will have to pay on net, what does the future hold? Maybe continued valuation effects will cushion the U.S. economy from sharp adjustments. Or maybe not. In an updated, alternate version of his Sharecropper's paper, John Kitchen posits a number of future paths for U.S. net income payments. Most are pretty benign; some (associated with some admittedly unlikely scenarios) not so benign.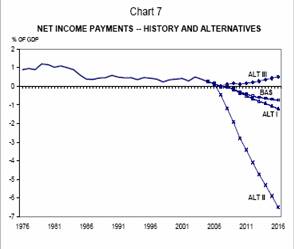 Figure 3:
Net income payments as a share of GDP, under a variety of assumptions. Source:
Kitchen (2006)
.

[Brad Setser has has some caveats regarding the TIC data.].

Technorati Tags: href="http://www.technorati.com/tags/net+income+payments">net income payments,
interest payments,
national debt,
valuation effects