What with next Monday apparently having been declared Milton Friedman Day, I thought I might try to contribute to the festivities with some thoughts on how recent U.S. monetary policy might be evaluated from a Friedmanesque perspective.
Throughout his career, Friedman had advanced the view that variations in the rate of growth of the money supply were a key determinant of fluctuations in both inflation and real economic activity. Certainly it is a well established fact that those countries that have allowed very high rates of money growth, sustained over a number of years, are invariably the ones that experience high and sustained inflation. For example, the graph below is taken from a study of 110 different countries by George McCandless and Warren Weber. Each dot summarizes the data for a single country. The height of the dot measures the average rate of inflation in that country during 1960-1990, whereas the horizontal coordinate corresponds to the average rate of growth of the money supply (as measured by M2) for that country. These averages fall pretty neatly along a 45 degree line, whose negative intercept reflects the fact that, in an economy with positive real economic growth, it is possible to increase the money supply by a modest amount each year without experiencing any inflation.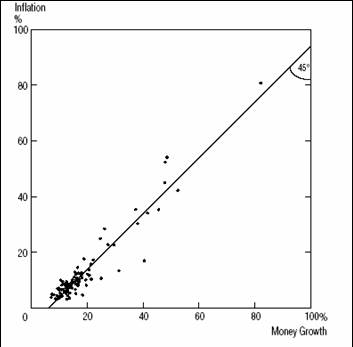 It's also the case that the long-run average growth rates of nominal GDP and the money supply tracked each other pretty closely for the U.S. up until 1990. The graph below, taken from a study by William Dewald, shows the historical average 10-year growth rates of the two series: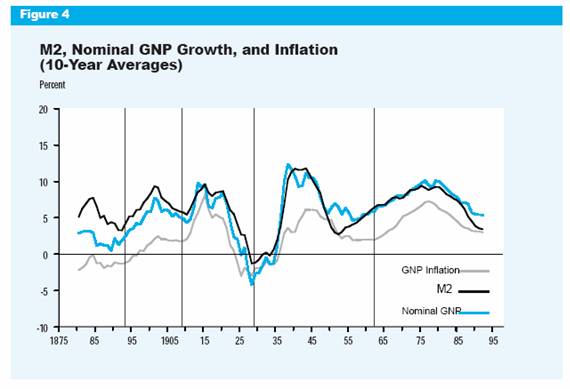 But, if you update that relation using the data through 2006:Q3, it is a lot less convincing for the most recent data: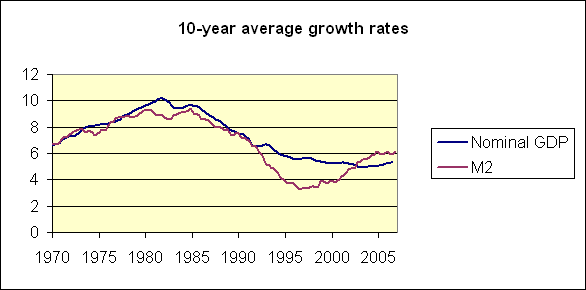 Ultimately, Friedman's thesis boiled down to the empirical claim that shifts of the money demand function were quantitatively not that big. It's certainly possible that this could have been an accurate characterization of the earlier data but not of the more recent experience. That's not at all hard to imagine, insofar as the most recent decade has been characterized by substantial innovations in the way payments are made, assets are held, and money and its substitutes get used. This empirical breakdown of the traditional Friedman correlations is a large part of why this approach has lost favor among many academic economists.
If there is a substantial shift of the money demand function, that would indeed reduce the usefulness of money for predicting nominal GDP growth over the period when the changes are taking place. But unless there continue to be new and quite different disturbances to money demand each year, the long-run relation would eventually return. In fact, since 2000, the two series have reverted to the historical tendency to track each other reasonably closely.
Econbrowser readers know that I hate to throw out data, particularly something that seems to have been useful for so many other countries and sample periods. I also am persuaded that academic economists like everybody else are prone to fashions and fads, with the current pendulum having swung too far in the direction of ignoring monetary aggregates altogether. I don't advocate looking solely at money growth as a guide to monetary policy, to be sure, but think it is worth consulting as one more indicator we watch, albeit with a smaller weight than might be given to most of the other relevant series.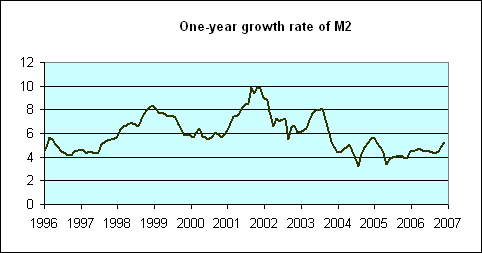 Looking at the annual growth rate of M2 alone, what would this indicator have told us in recent years? Since real GDP typically grows by more than 3% per year, M2 growth of 5% should be consistent with maintaining an acceptably low level of inflation. The graph above shows that we got well above that during 2001-2003. This indicator would have warned us that monetary policy was going too far, setting the stage for a possible resurgence of inflation. In retrospect, I think we'd have to say that such an inference would have been dead-on.
And what about right at the moment? Friedman was concerned not just that excessively rapid money growth would cause inflation, but also that decreases in the money supply were often the cause of an economic recession. By that standard, if M2 had been growing less than 1 or 2% over the last year, the Friedman perspective would lead me to have additional concerns that the Fed had gone to far in the recent tightening episode. But instead, M2 growth over the last year has come in at 5.2%– exactly where it should be to avoid an economic recession but at the same time keep inflation from accelerating.
WWMD? I think he'd say that the Fed blew it in 2001-2003, but is now back on track.
---
Technorati Tags: macroeconomics,
money supply,
Federal Reserve,
Milton Friedman,
inflation,
recession,
M2