According to former Secretary of Treasury Paul O'Neill, Dick Cheney is reputed to have said: "…deficits don't matter."
(see Suskind's The Price of Loyalty, and online here). What's the (updated) evidence?

Updating an earlier paper (discussed here), Jeffrey Frankel and I gathered data on ten year Treasury yields over the 1988-2006 period, as well as the debt to GDP ratio expected two years hence, as projected
by the OECD. In order to control for other factors, We include the inflation rate over the previous year, as well as the output gap. We then estimate the following regression:

il = β0 + β1Ed + β2π + β3gap + u

Where:


il is the ten year Treasury yield;

Ed is the debt to GDP ratio projected two years ahead;

π is the y/y CPI inflation rate;

gap is the output gap in percentage points.

OLS yields an adjusted R-squared of 0.48, DW of 0.72. Using robust
(Newey-West) standard errors, one obtains a coefficient on Ed
of 0.076 (t-stat of 2.43) — each one percentage point increase in the debt-to-GDP ratio projected two
years hence induces a 0.08 increase in the long term yield. The inflation coefficient is
0.92 (t-stat of 4.05), and the output gap coefficient is is 0.26 (t-stat 1.00).

I conclude from this that debt matters. At the same time, I would not claim
that the estimates are terribly robust. One interesting result is that the prediction
errors are quite large and negative beginning in 2004 (the dashed lines are plus/minus one
standard error of regression residual).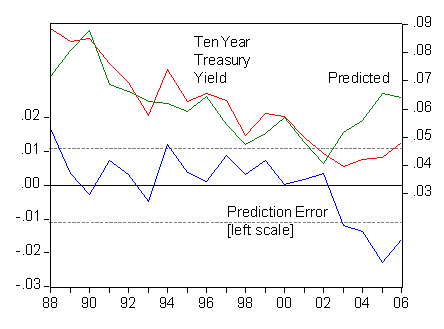 Figure 1:
Actual ten year benchmark bond yields, predicted values, and residuals (with plus/minus one standard error).
Source: OECD,
Economic Outlook
(various December issues) for debt-to-GDP ratios, output gaps, and IMF,
IFS
for interest and
inflation rates; and author's calculations.
The gap might be due to the influence of capital inflows, as argued by Warnock and Warnock, as well as Frankel and myself (who focus on official inflows).
Interestingly, the prediction error is shrinking in 2006.
[Late Addition 10:20 am, per Brad Setser's request]
Figure 2:
Prediction error (blue) and gross purchases of Treasuries as share of GDP (red). 2006 data for first three quarters. Source: Chinn and Frankel (forthcoming), author's calculations.
Technorati Tags: href="http://www.technorati.com/tags/deficits">deficits, href="http://www.technorati.com/tags/debt">debt,
interest rates,
inflation rate, output gap.