Let's admit it– the other shoe is not yet dropping.
Yes, I know that yesterday's announcement that sales of existing homes fell 8.4% in March alarmed a number of observers, including Socratic Gadfly and the Agonist. But the drop in existing home sales was pretty much what I had been expecting, for reasons we discussed last month. The existing home sales data that were released yesterday refer to deals whose escrow closed in March. Many of those March escrows represented the consummation of contracts that were likely signed back in January or February. Since the separate series on new home sales that was released today is based on contracts that were signed in March, the existing home sales series would be expected to follow the new home series by one to two months. We already knew back in February that January contracts on new homes had plunged dramatically. Yesterday's release of March existing home sales numbers is really just telling us the same thing we already knew.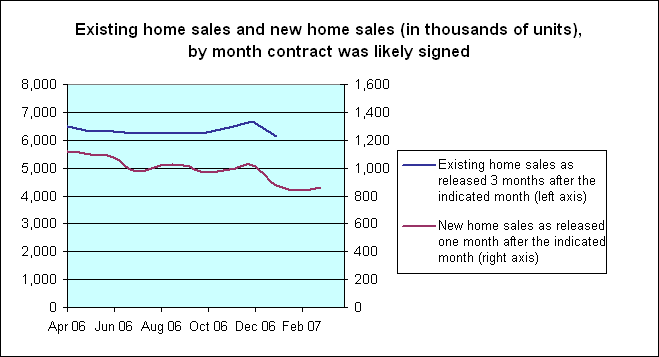 I therefore take some comfort in the fact that new home sales for contracts signed in March are up 2.6% relative to February, though still down 1.7% from January. Admittedly, the new home sales figures could easily be revised either way, and the existing home sales data that we'll see in May and June will give us a more reliable read. But I do not see an indication in the latest data of any worsening in the housing market relative to what we already knew was there.
My main concern had been some of the indicators of weakness outside of housing, and here I see clear signs of improvement. Seasonally adjusted new orders for nondefense capital goods (excluding aircraft) had worried me greatly when they fell 6.2% in January and a further 2.3% in February. But today we learned that these regained 4.7% in March. New orders for durable goods, which had dropped an alarming 8.8% in January, were up 2.4% January to February and up another 3.4% February to March.
The series that originally prompted my bearish turn was the 6-month decline in industrial production through January. But industrial production then went on to an all-time high in February, and fell only a little below this in March:
As usual, the stock market seems to be well ahead of me in picking up on these hints of improvement:
Let's be clear. I fully expect the recession in housing to continue, and I remain worried about the potential for widespread mortgage defaults. I'm also anticipating anemic growth rates for GDP for the first half of 2007, which will doubtless be pushing our recession probability index up. But the Econbrowser Emoticon summarizes the data in hand rather than fears in the mind, and I think we have enough now to warrant moving the little face back into neutral

.
Besides, if we never changed the little guy's countenance, it wouldn't be nearly as exciting to watch, now would it?
---
Technorati Tags: macroeconomics,
housing