I have been detailing concerns about meeting the pension and health care obligations of the city and county of San Diego. Although these challenges arise at the level of our local government, the problem appears to be national in scope, as a sampling of stories from PensionWatch makes clear.

Los Angeles County's retiree health care shortfall may be as high as $14 billion:
Los Angeles County officials on Monday proposed a $21.2 billion budget for next year that pours money into public safety and health care and sets aside $400 million to help pay retirees' soaring medical costs.

Chief Administrative Officer David Janssen said early estimates put the county's retiree health care deficit as high as $14 billion, some $5 billion more than previous estimates. Officials plan to release official estimates next month and are working with employee unions to develop strategies to address long-range costs.
Contra Costa County has no plan for $2.6 billion health benefit shortfall:
Contra Costa County plans to spend no money this coming fiscal year on its skyrocketing future retiree health care bills, further increasing an obligation that now stands at $2.6 billion….

"We can't just throw money at it, because that has to come out of other programs," said board Chairwoman Mary Piepho, a supervisor from Discovery Bay. "Which pegs do you use to plug the holes? We need more information on how to solve this and we'll have a plan within the next six months."

Nashville $3.2 billion short on health benefit promises:
Metro eventually will have to pay $3.2 billion for retiree health benefits– money it hasn't set aside– unless it changes the way it pays benefits, according to insurance industry statistics reports….

The $3.2 billion estimate is 60 percent more than a $2 billion projection the city was working with before the new report came in.
New Jersey pension shortfall at $25 billion:
[S]tate officials detailed how years of accounting shifts and a lack of funding helped create an estimated $25 billion deficit for public workers' pensions…

Actuaries have recommended a $2.3 billion payment this year, equal to 7 percent of the entire state budget and twice what Gov. Corzine has recommended….

Accounting changes in the early 1990s and a $2.75 billion borrowing plan in 1997, along with a surging stock market, gave the state's pension system excess funds for a time. With the system flush with cash, the state did not make annual payments and lawmakers increased retirement benefits. After stocks plummeted, state officials, who faced a budget constrained by the slumping economy, balked at the sharply increased contribution requirements. Since then, the state has paid only a small fraction of its annual obligations.
At the federal level, Exhibit A would be the extrapolation of the current promises for Medicare, which is a rolling freight train anybody can see: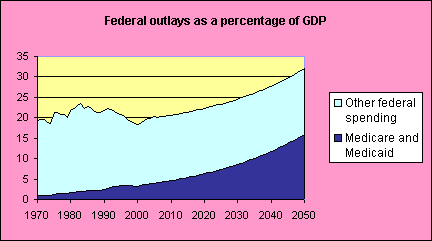 If there were just one or two such stories, one might regard it as a mistake here or a miscalculation there. But the phenomenon is too widespread to be dismissed as accidental. I am forced to conclude that a pervasive feature of modern American politics is for elected officials to lavish benefits on their current power base, promising or in many cases legally obligating the government to make future payments that will prove to be extraordinarily costly to deliver. I conclude that the reason elected officials keep doing this is because that is what voters want.
I have not read Bryan Caplan's new book, but I must say the cover does a nice job of conveying what the issue may be: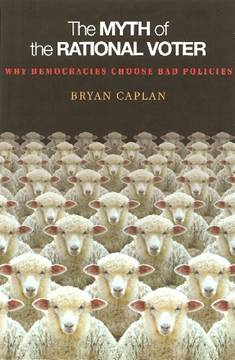 ---
Technorati Tags:
pensions,
health care