Are OPEC's recent decisions responsible for the current price of oil? I'm not persuaded that they are, and here's why.
Econbrowser reader GT points us (in comments #6 and #13 here) to a graph at an anonymous website called Saudi oil production which relates crude production from the Kingdom to the production quotas set by OPEC. I was able to reproduce this graph (as shown below), using for production quotas from 2004 to October 2006 the "crude oil production ceiling allocations" from OPEC's website, and for the most recent data subtracting from those ceilings the production cuts from the last two columns in that document to calculate the quota series displayed. The production data (per GT's instructions) are from Table T12 from the Energy Information Administration, which excludes lease condensate. Units are in thousand barrels per day.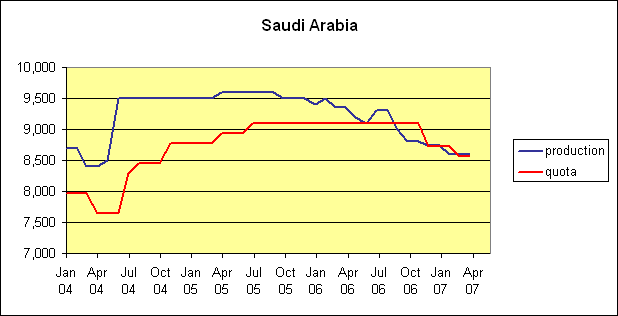 Here is GT's interpretation of the graph:
I am continually amazed by the absence of any discussion of OPEC's role in reduced Saudi production and the Kingdom's need to meet its quota if it is to maintain its leadership position in the group….

Prior to 2006, it had been the economic consensus that price spikes of the magnitude seen since 2003 never fail to cause recession and massive demand destruction of the type Saudi obviously doesn't want to see. But through 2005, I think the Saudis became convinced that the world, or at least the US could withstand quite high prices….

But why did the Saudis start cutting production 6 to 12 months previous to the OPEC cuts? Because they knew that a) the "fundamentals" showed the market to be oversupplied and b) that the geopolitical effects the situation in Nigeria, tension with Iran, and the war in Lebanon were having would blow over. When the hype perpetuated by the speculators went away, the bubble would burst.

They had already successfully tested $77. Why settle for anything less than that? They could safely send out signals that they were defending $60. My guess is that they are aiming for $90. But there was no way $50 was going to fly.

But they had a problem. OPEC works as a group (in theory, cheating is another issue). For a number of years critics have opined that the cartel has no effective power. I don't believe this. I sometimes ask myself why a country like Angola would join the group when it will likely result in limits placed on their production at some point. Besides, the Saudis have as much incentive to have the others share the burden of any cuts as the others have for a floor being put under prices.

The problem was that if cuts were necessary, Saudi Arabia was overproducing by 500,000 bpd over its official quota. They would have no credibility trying to convince the others to cut with this being the case. So they eliminated the excess 500,000 barrels, dropping from 9.6 to about (depending on whether you accept the IEA or EIA's numbers on this, see 2nd chart) 9.1 mbpd (their quota) by September. When OPEC met to discuss cuts they were in a credible leadership position.
From the standpoint of economic theory, GT is quite correct to reason that the response of a monopolist to a decrease in the perceived elasticity of demand should be to restrict production and increase the price. Data also support the view that the price elasticity of petroleum demand may have decreased in recent years, and that oil price increases seem less likely to lead the developed world into recession than many of us believed a few years ago. So, this part of GT's explanation makes perfect sense to me.
I was curious to construct analogous graphs for the other major OPEC producers. Iranian production, like Saudi Arabia's, was clearly in decline well before the OPEC cuts, possibly due to underinvestment in supportive infrastructure. I would not want to attribute the decline that began in Iran in November of 2005 to a strategy for influencing the decision that OPEC announced in October of 2006.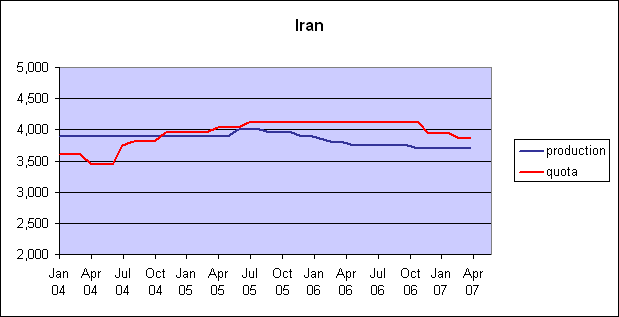 Nigeria's production decline also began a full year before the announced OPEC cuts. Local rebels rather than OPEC ministers are surely the most important part of the story there.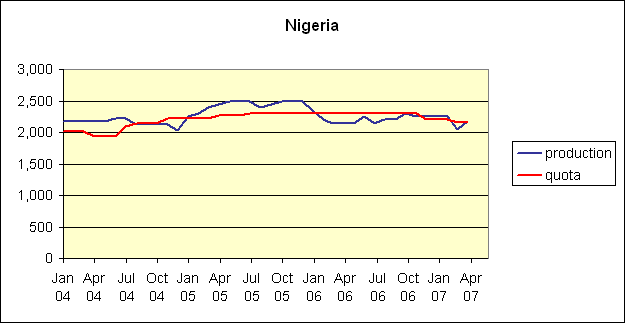 Perhaps you could argue that the very small drop we've seen in Venezuela production is a response to OPEC's announced new goals, though their production today remains 600 thousand barrels per day (kb/d) below their quota.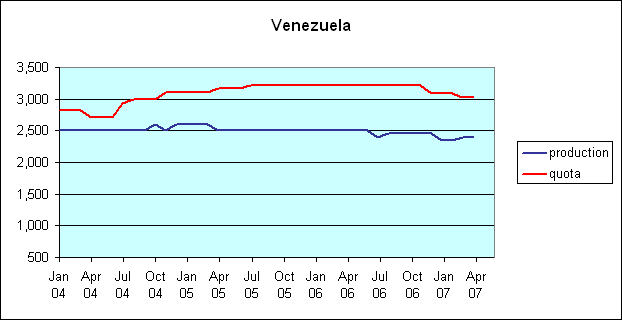 I think the best case you could make for an OPEC effect is Kuwait, though here too there clearly are other issues as well. The supergiant Burgan oilfield is as important to Kuwait as Ghawar is for Saudi Arabia. Burgan appears to have passed peak production, and there is currently a heated political debate within Kuwait about whether the country has been depleting its national resource too quickly. There was a proposal by some in the Kuwaiti parliament to limit annual production to 1% of total reserves,
in order to ensure that enough oil is left to support future generations. With reserves officially claimed at 99 billion barrels, that would imply a ceiling of 2,700 kb/d, well above the current 2,400 kb/d production. However, Petroleum Intelligence Weekly claimed in January 2006 that it had seen internal documents estimating total Kuwaiti reserves at only 48 billion barrels, for which the 1% rule would suggest a desired annual production rate of only 1,300 kb/d. The decline in the OPEC quota may well have given Kuwait an excuse to move in a direction it already wanted.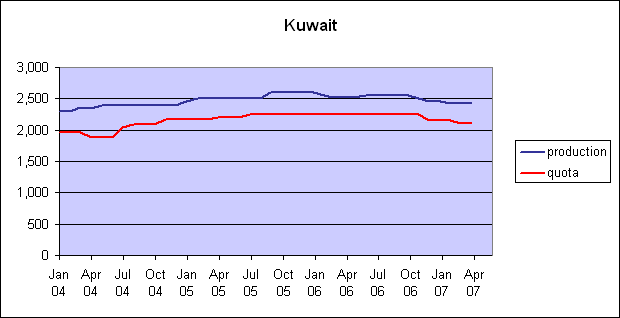 The United Arab Emirates also cut production following the OPEC agreement, though the cut just puts it back to the 2,500 kb/d level it had been maintaining for the last year and a half.
What OPEC actually agreed to at these meetings was a cut in production rather than new quotas, and if you compare October 2006 (right before the first announced OPEC cut) with April, you do see some reductions in every one of the participating countries, though usually significantly less than was agreed to.
Cuts in production ceiling determined by OPEC on October 20 and December 14, and actual cumulative production decline between October 2006 and April 2007, in thousand barrels per day

Country
Oct
announced
Dec
announced
Total
announced
Actual
decline
Algeria
59
25
84
30
Indonesia
39
16
55
10
Iran
176
73
249
50
Kuwait
100
42
142
130
Libya
72
30
102
20
Nigeria
100
42
142
130
Qatar
35
15
50
60
Saudi
380
158
538
200
U.A.E.
101
42
143
100
Venezuela
138
57
195
50
Total
1200
500
1700
780

Another clear conclusion from economic theory is that if the OPEC members were indeed functioning as an effective cartel, reducing output so as to raise the price above that which would prevail in a competitive environment, there would be a very powerful incentive for individual members to "cheat" on the agreement, by producing more than they had individually pledged. From this perspective, when you look at the very loose way in which OPEC defines and monitors what each country is allowed to produce, and the wide and persistent discrepancies between the quota and what each country actually appears to be producing, one is tempted to view OPEC not as an effective cartel but instead as a loose collection of producers occasionally announcing new rough goals that essentially specify what each individual would want to do if left entirely on its own. Thus for example OPEC member Angola, whose current national interest is best served by increasing its production, was not a party to either the October or the December agreements, and has in fact increased its production by 300 kb/d since October.
But is there any reason why, in a perfectly competitive market, most of the OPEC members would have decided in October that it was not in their interests to be pumping so much oil? I think there is indeed an excellent reason. Many analysts have revised up their forecasts for the growth of global petroleum demand over the next few years, as evidenced for example by the recent International Energy Agency and pending National Petroleum Council reports. Put this together with the apparent indication that peak production has been passed for the world's most important oil fields– Saudi's Ghawar, Kuwait's Burgan and Mexico's Cantarell– one is led to the conclusion that, despite the many new promising developments in Angola and elsewhere, it today makes sense for the price of oil to command the scarcity rent that economic theory has always predicted it should. Regardless of what the other members of OPEC might choose to do, I am not sure that it is in Kuwait's national interest to be pumping 2,700 b/d today, for exactly the reasons currently being debated in that country.
But why have these big OPEC meetings and declarations at all, if they simply ratify what each country wants to do anyway? The OPEC quotas do serve an important purpose, providing countries like Kuwait and Saudi Arabia some political cover from criticism for cutting output from consumers like the United States, and may likewise give the rulers of Iran and Venezuela a different kind of political cover.
The irony is that, if that indeed is why Kuwait has decided to reduce production, that ultimately will prove to be in the best interests of consuming countries. If we are indeed facing a significant crunch in meeting demand for petroleum in the coming decade, it is vital to hold back more of the production today, in order to have more in the future when we really need it. A price jump today would help us to conserve what is used now and begin the process of spurring the development of alternatives.
But what is not at all in the interests of consuming countries is to be kept in the dark as to the true geological status of the oilfields in locations like Saudi Arabia and Kuwait, and to be left guessing and speculating as to what is really going on.
---
Technorati Tags: oil,
oil prices,
Saudi Arabia,
Kuwait,
oil supply,
energy economics,
economics,
peak oil,
OPEC