One interpretation of recent global capital flows is that the collapse in investment in East Asia post-crisis, combined with stable saving rates in ex-China developing Asia, led to an excess of saving in that region (so really the term of "investment drought" is better). Note that there was no excess saving until the collapse of unsustainable lending associated with bubbles, or crony capitalism, or — in other models — behavior of investors implicitly "insured" against losses. While this is a voluminous literature, it's interesting to me that few analysts have observed that a similar occurence can not be ruled out in the current unfolding drama in the ever expanding but always containable subprime mortgage crisis.
First a refresher on theories regarding the origins of the East Asian crises: McKinnon and Pil (see their 1999 survey) was an earlier contributor to the argument that implicit government guarantees could induce overborrowing fated for an unhappy ending. In the post-crisis period, Corsetti, Pesenti and Roubini (1998) and Dooley (EJ, 2000) presented moral hazard interpretations — in the former, it's primarily internal guarantees, while in the latter, implicit guarantees by extra-national entities take on an important role.
Borrowing pushed up investment to high levels, driving down the efficiency of physical capital (see e.g. Chinn and Kletzer for documentation).
Second, B. Algieri and T. Bracke (2007) have uncovered some interesting diversity in current account adjustment in developed economies. From the nontechnical summary of "Patterns of Current Account Adjustment
Insights from Past Experience", ECB WP 762 (June 2007):

The paper reviews the experience with current account adjustment in industrial and systemically important emerging market economies. It looks at episodes where individual countries recorded an improvement in their current account position that was relatively rapid (within 4 years), substantial (exceeding a predefined, country-specific threshold) and sustained (no subsequent deterioration). We identify 71 episodes that meet these criteria since the mid-1970s.



A review of such episodes can help address important questions about current account corrections, for instance on the occurrence of economic slowdowns or large currency movements as drivers of such
corrections. This allows to verify empirically some of the main results from the theoretical literature, such as Obstfeld and Rogoff's (2005) findings on the need of a real effective exchange rate depreciation. General interest in these questions is intricately linked with the widening global imbalances, in particular the current
account deficit of the United States, which rose to 6.5% of GDP in 2006. Although today's global imbalances are unique in many respects (e.g. unprecedented scale, unique financial dimensions, importance
of structural factors in surplus countries), empirical regularities from the past may still be informative to understand the likely adjustment mechanism of the US current account deficit.



Looking across the 71 episodes, we find that adjustment was on average accompanied by some slowdown in real GDP growth and some real effective depreciation in the deficit country. This finding is not new. It is in line with a large body of empirical literature on current account reversals. However, these average trends mask an unusually large degree of heterogeneity. In roughly one-third of the cases, economic growth accelerated, rather than decelerating, and also in one-third of the cases, the real effective exchange rate
appreciated, rather than depreciating. The paper argues that this diversity makes any meaningful inference difficult.



To enhance inference, we classify episodes into groups, based on the main adjustment characteristics. This is done with cluster analysis, a technique based on numerical optimisation that requires minimal judgement on the part of the user. The analysis leads to a classification in three groups, which we find to be robust and to
exhibit significantly different macroeconomic and financial trends. In a first group of "internal adjustment" cases, there is a slowdown of real GDP growth but not much change in the real exchange rate (even on average a slight appreciation). In a second group of "external adjustment" cases, the real exchange rate depreciated but there is not much movement in real GDP growth (even on average a slight increase). In a third group of "mixed adjustment", the adjustment is characterised by a combination of slower economic
growth and a depreciating exchange rate. Developments in this group are more pronounced than in the two other groups, pointing to the crisis-like character of this third group. Besides these different real GDP and exchange rate characteristics, the three groups also exhibit different developments in terms of imports and exports, domestic demand components, financial variables, and global variables.



Taking the results one step further, we analyse what explains the type of adjustment. An important finding is that the three adjustment types are rather evenly spread across countries, suggesting that the type of adjustment is not a function of the size of the country, its degree of openness, its degree of industrialisation, or the region to which it belongs. Instead, results from a multinomial logit model, estimating the likelihood of the three types of adjustment, suggest that adjustment patterns are mainly a function of the underlying
economic problems in the deficit country. Internal adjustment seems to be common among countries that are at an advanced stage of the cycle and that are experiencing buoyant domestic demand growth, external adjustment is more likely when the exchange rate is overvalued, and mixed adjustments are typically signalled by a combination of on overvalued exchange rate and indications of an overheating economy.
These adjustment paths are illustrated for some variables of key interest (to me): trade balance to GDP; investment, and saving to GDP ratios; and real investment.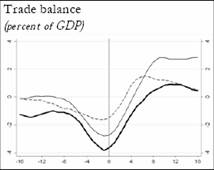 Trade balance to GDP ratio in adjustment episodes.
Thick is internal adjustment, thin is mixed adjustment, dashed is external. Source: Appendix F,
B. Algieri and T. Bracke (2007)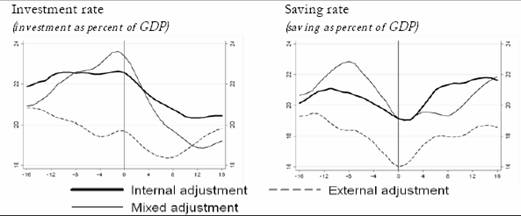 Investment to GDP, Saving to GDP ratio, in adjustment episodes. Thick is internal adjustment, thin is mixed adjustment, dashed is external. Source: Appendix F, B. Algieri and T. Bracke (2007)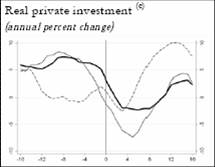 Real investment in adjustment episodes. Thick is internal adjustment, thin is mixed adjustment, dashed is external. Source: Appendix F, B. Algieri and T. Bracke (2007)


Note the pronounced decline in investment-to-GDP and real investment in the "internal" and "mixed" adjustment episodes. Now consider the trajectory of U.S. investment (in logs, total fixed in blue, nonresidential in red, residential in green).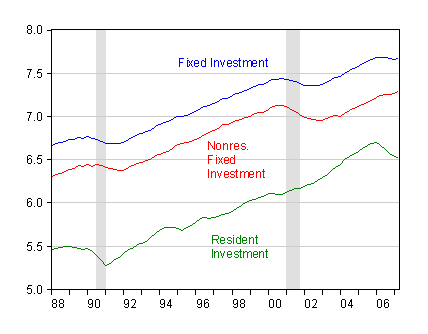 Figure 1:
Log real fixed investment (blue), nonresidential fixed investment (red), and residential investment (green), in billions of 2000Ch.$, SAAR. Source: BEA, NIPA, July 27 release.
Even with 07Q2, we already see deceleration in total fixed investment. Higher real interest rates for households (think of the jump in jumbo loan rates) and credit rationing (think of households that can no longer access credit) should mean further residential investment decline. To the extent that corporations are sitting on loads of cash, one shouldn't expect a deceleration in investment; on the other hand, we've already heard about the puzzle of why business fixed investment is so low. I see no reason to expect a reversal of this phenomenon, given greater uncertainty about the future. And for smaller firms wherein financing heirarchy constraints are binding, a generalized slowdown in economic activity with further depress investment (by crimping cash-flow which drives their investment behavior).
So, investment decline wouldn't have been the way in which I would have envisioned the adjustment in the U.S. trade balance (and I certainly wouldn't have tapped it as a preferred outcome). But thinking about it more and more, it seems like a plausible scenario.
One is tempted to ask if this outcome is avoidable. With little information — we are early in the stages of the unfolding drama — it's hard to say. But I'd say that much is already "cooked into the cake", to the extent that you can't go backwards in time and undo the distortions of the economy introduced by "looting" behavior (see Akerlof and Roemer). Greater prudential oversight in the past might have helped (alas, too much deregulatory zeal ruled that out); tighter regulation now will not mitigate the current problem. And while monetary policy can do much to avoid a liquidity or a banking crisis, it will have a much more difficult time spurring investment against the background of a big housing stock overhang (for residential), and an uncertain business outlook (for nonresidential). (We'll skip fiscal, for the obvious reasons.)
I'm the first to admit this is sheer conjecture. Maybe the rest-of-the-world will remain buoyant, decoupling will occur, and rebalancing proceeds smoothly with a compression of consumption in the U.S. Then again, maybe not.
Technorati Tags: href="http://www.technorati.com/tags/global+saving+glut">global saving glut,
investment drought,
investment,
housing,
subprime mortgages,
recession.