How bad can things be with almost a 5% growth rate of the real economy?
The Commerce Department yesterday revised up its estimate of 2007:Q3 GDP. They now report that U.S. real GDP grew at a 4.9% annual rate during the quarter, up from the 3.9% figure in last month's "advance" 2007:Q3 estimate. The key factors in the upward revision were higher estimates of inventory accumulation and U.S. exports.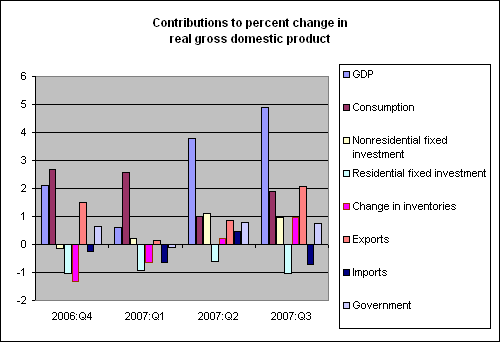 A higher level of inventories brings little reason to cheer, and 1% of the 4.9% total growth now claimed comes from this source. But the higher level of exports is unambiguously welcome news. One benefit of the weaker dollar is that it makes our exports more competitive. The export gains were led by a surge in the volatile commercial aircraft component, with exports of civilian aircraft, engines, and parts up 80% at an annual rate in the quarter, accounting by themselves for 18% of the total gains in exports of goods and services. But substantial gains were seen across a broad category of other exported goods:
Annual growth rates for 2007:Q3 for various components of real exports and percent of contribution to total export growth. Data source: BEA Tables 4.2.1 and 4.2.2.

| Category | growth rate | percent of total |
| --- | --- | --- |
| Foods, feeds, and beverages | 41.1 | 10.3 |
| Industrial supplies and materials | 19.6 | 19.2 |
| Capital goods, except automotive | 27.8 | 38.4 |
| Automotive vehicles, engines, and parts | 40.7 | 14.8 |
| Consumer goods, except automotive | 21.3 | 10.0 |
| Other goods | 2.9 | 0.5 |
| Services | 4 | 6.8 |
Stronger exports help not just to support domestic production and employment, but also bring some relief for our international borrowing needs. But we still have a long way to go. Despite these export gains, the U.S. nominal trade deficit for 2007:Q3 stood at a $694 billion annual rate. That's $105 billion less than 2006:Q3, but still represents a vast sum of money. To update Brad Setser's metric, the $7.5 billion chunk of Citigroup sold off to Abu Dhabi would cover us for about half a week before we'd need to raise some more funds to finance the ongoing negative net exports.
I also share Menzie's doubts about whether net export growth alone could sustain the expansion. The ongoing housing recession has continued to subtract 1% from GDP growth each quarter, and has been counterbalanced by a 1% positive contribution from nonresidential fixed investment and 2% from consumption growth. But initial indications are that consumption growth slowed in October ( "http://www.bloomberg.com/apps/news?pid=20601103&sid=awnw40Mk8toU&refer=news">[1],[2]) while commercial construction spending has turned negative ([3],[4]).
So yes, the third quarter now looks pretty good, but offers us little assurance that the numbers are not about to turn distinctly less favorable.
---
Technorati Tags: GDP,
macroeconomics,
economics