We're finally starting to see signs of gains in global oil production.
As Econbrowser readers are well aware, the big story on world oil markets over the last year has been Saudi Arabia, whose production in August was a million barrels a day below the level seen in 2005. On September 12 I wrote:
I doubt very much that OPEC would have made an announcement such as the one yesterday unless the kingdom intended to boost production by several hundred thousand barrels a day beginning in November. The interpretation that I have been favoring for why Saudi production fell by a million barrels per day over the last two years is that production from northern Ghawar, their most important oil field, has peaked. Furthermore, the recognition that higher oil prices have not led to as big a reduction in demand as we might have expected historically leads them to want to extract the remaining reserves more slowly. The Saudis have made big investments in developing other sources such as southern Ghawar and Qatif. I take the OPEC announcement as confirmation that these other sources are producing enough that the Saudis feel they can comfortably increase production by a few hundred thousand barrels per day.
We're now receiving confirmation that this is exactly what happened. The most recent data from the U.S. Energy Information Administration only go through August, at which point Saudi Arabian oil production was still estimated to be at 8.6 million barrels per day. But the latest report from the International Energy Agency estimates that production climbed to 8.75 mb/d in September and 8.85 mb/d in October. And today Reuters quotes Saudi Oil Minister Ali al-Naimi as claiming that November production is up to 9 mb/d. Reuters also reports that the private tanker tracker Petrologistics estimates November Saudi production at 9.15 mb/d.
Data source: 2004 through August 2007: EIA; Sept and Oct: IEA; Nov: press statement by al-Naimi.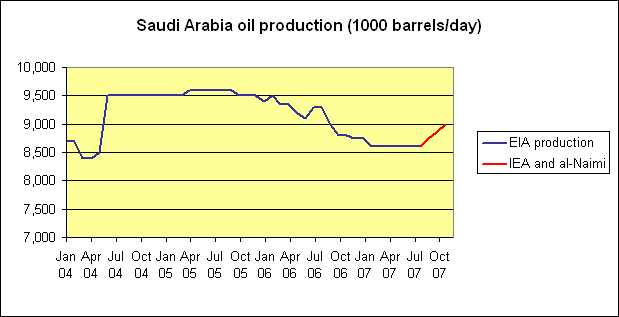 I continue to favor the interpretation of these developments that I offered in September. The best evidence suggests to me that the northern part of the Ghawar oil field in Saudi Arabia is in decline. On the other hand, the new Haradh project in southern Ghawar likely began contributing an additional 300,000 b/d in 2006:Q2, and
Chris Skrebowski's megaprojects database lists the Saudi Abu Hadriya/Khursaniyah/Fadhili oil and Khursaniyah natural gas liquids projects as coming onstream in 2007 with a combined peak flow of 750,000 b/d. The basic concern raised by Stuart Staniford is that total Saudi production is still down from its 2005 peak despite these new projects. Yet Skrebowski also anticipates new Saudi projects onstream in 2008 adding 560,000 b/d, in 2009 adding 1.3 million b/d, in 2010 adding 250,000 b/d, and in 2011 adding yet another 1.2 million b/d. Of course, it takes a lot of these to replace the perhaps 3 million b/d that had been coming from northern Ghawar. I take the latest Saudi production estimates as confirming that the Kingdom has the ability and the intention to boost production substantially above the 8.6 million b/d low we saw for most of the last year.
The IEA report has promising news on a number of other fronts as well, estimating for example that Iraqi oil production may have reached 2.3 million b/d in October (up from the 2 million figure we were seeing for the first half of this year). Overall the IEA estimates that global production increased 1.4 million b/d in October compared to September.
Moreover, the accumulating evidence of a weakening U.S. economy (on which I'll write more later this week) has to be a drag on global oil demand. With supply up and demand down, it's hard to see the run-up in crude oil prices continuing over the near future.
Predicting oil prices is a pretty risky business. But my best guess is that, for the time being at least, they have peaked.
---
Technorati Tags: oil,
oil prices,
Saudi Arabia,
oil supply,
energy economics,
economics,
OPEC