The interesting aspects of the survey of forecasts conducted by the Wall Street Journal (data here) are not in the means (or medians), but in the tails.
First, it's of interest to note that forecasts of 2007Q4 growth have been revised downward over time.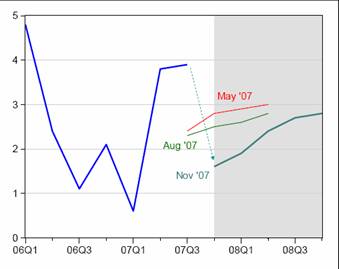 Figure 1: Actual growth, SAAR(blue) and average of forecasts of growth from May 2007 (red), August (green) and November (teal). Source: Wall Street Journal, November 15.
However, I think the most interesting aspects of the data are not in the mesures of central tendency, but rather in the dispersion of forecasts.

Figure 2: Histogram of 2007Q4 growth forecasts. Source: Wall Street Journal, November 15.
This histogram of the forecasts for 2007Q4 illustrates the lows (0% growth from Paul Ashworth of Capital Economics) to 3.7% (James F. Smith of Western Carolina University and Parsec Financial Management). The summary statistics indicate that the distribution is not Normal, as shown by the Jarque-Bera statistic; rather the distibution is particularly leptokurtic (fat-tailed).
The distribution becomes much more Normal in the subsequent quarters; Figure 3 illustrates this fact. I think this reflects reversion to (trend) mean growth rates in the forecasts.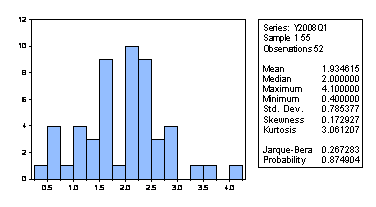 Figure 3: Histogram of 2008Q1 growth forecasts. Source: Wall Street Journal, November 15.
Returning to the 2007Q4 forecasts, another interesting aspect of this distribution is that there seems to be a dichotomy between forecasters associated with investment banks, other financial services firms, or trade association, versus university and consulting firms with an econometric modeling component (e.g., firms that absorbed DRI, WEFA, etc., or are known for their models, such as Macroeconomic Advisers).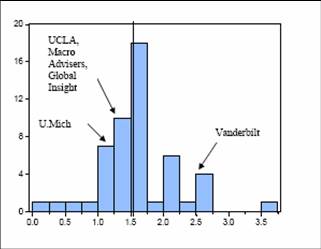 Figure 4: Histogram of 2007Q4 growth forecasts. Source: Wall Street Journal, November 15.
As shown in Figure 4, RSQE at University of Michigan and Leamer at UCLA are on the left side of the distribution (along with Global Insight and Macro Advisers). On the right side is Daane at Vanderbilt U.; the only other forecaster in this category is Allen Sinai of Decision Economics (at 1.6%, just slightly over the mean).
Coding university and non-financial sector econometric-oriented forecasters with a dummy variable, I find using a cross-section regression (n=52) that these forecasters forecast a slower growth rate — by 0.19 percentage points. The difference is statistically significant at the 5% MSL using White heteroskedasticity robust standard errors. (I coded the following as dummy=1: Capital Economics, Global Insight, Vanderbilt U., U. Mich., UCLA, Moody's, Macroeconomic Advisers, High Frequency Economics, Decision Economics, Standard and Poors).
What about recession probabilities. As one might anticipate, the average growth rate forecasted for the 07Q4-08Q3 period is highly (negatively) correlated (adjusted R-squared = 0.39).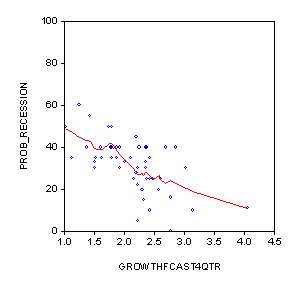 Figure 5: Scatterplot of average growth over 07Q4-08Q3 against probabilty of recession; Nearest Neighbor Fit, bandwidth = 0.3, Tricube weighting. Source: Wall Street Journal, November 15, and author's calculations.
Interestingly, there does not seem to be a correlation between forecaster affiliation and recession probability — at least not a statistically significant one. The difference is about 3 percentage points. (And note that there are a lot of forecasts with very low growth rates from investment banks (e.g., Merrill Lynch at 0.7% in 07Q4.)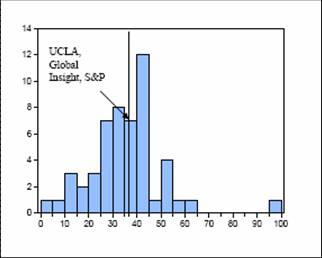 Figure 6: Histogram of recession probabilies. Source: Wall Street Journal, November 15.
It's important to recognize that the analysis here is really a "snapshot", at what might very well be a turning point in the business cycle. It's unclear whether the attributes that have been highlighted persist over the business cycle. In other words, I don't know if the result:
Batchelor and Dua (1990) do find that some forecasters seek to distinguish their forecasts from each other, taking a position of optimist or pessimist within a panel of forecasters, although the magnitude of this effect is very small relative to noise present in the forecasts.
holds (quote from Gregory and Yetman (International Journal of Forecasting, 2004))). I'm also not addressing a series of other questions highlighted by Batchelor (2007). Eisenbeis, Waggoner and Zha (Business Economics, 2002) discuss some of the attributes of forecasters in the WSJ survey, over time.
One last point to remember when examining the consensus forecasts from this survey: the survey was conducted before Friday's data releases on the CPI and industrial production.
Technorati Tags: href="http://www.technorati.com/tags/forecasts">forecasts,
GDP,
recession.