More confirmation that the slowdown in housing has spilled over to manufacturing.
The Federal Reserve Board announced this week that its index of industrial production fell 0.5% between January and February, putting it about back to the level we saw last June.
The separate Business Outlook Survey from the Federal Reserve Bank of Philadelphia continued to be strongly negative, meaning that more firms in the northeast reported that March was worse than February compared with the number reporting improvements. I don't take much comfort in the fact that fewer firms reported a drop from February to March than had reported a drop from January to February.
Source: Calculated Risk. The shaded recession for most recent observations represents the assessment of CR, and not a declaration from NBER.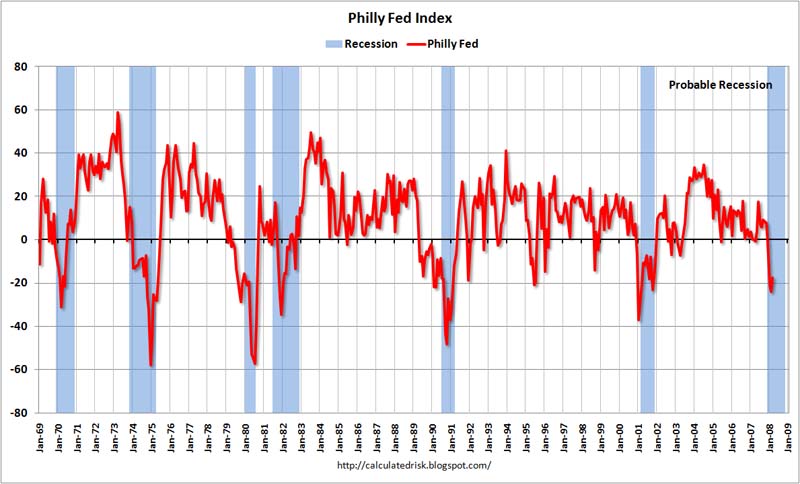 The discussion is increasingly shifting from "are we in a recession" to "how long will the recession last?" The latter question is one that I'm very hesitant to answer. Historically, the average postwar U.S. recession has lasted 10 months, with the longest being 16 months. However, current developments do not look to me like a typical recession, but instead seem to be something without clear precedent in the last 50 years.
Credit markets at the moment are profoundly insecure. The mortgage securitization model looks broken, and it is not clear what is going to replace it. No one is sure how to evaluate the creditworthiness of a huge volume of assets and the institutions that hold them, or what would be the fallout of further big drops in real estate prices and increases in default rates.
There are those who argue that first we need to avert the immediate crisis, namely preventing widespread financial defaults, before we can turn our eyes to needed regulatory reforms. But it may be that until we can establish adequate equity cushions and more transparent accounting standards for financial institutions, the economy will continue to languish.
---
Technorati Tags: macroeconomics,
economics,
recession,
credit crunch