Some of the explanations for the dollar jump rely upon the perceived weakness in the dollar's value (and hence, by extension, Fed policy). Does this make sense?
As I've remarked before [1], there is likely two way causality between the dollar's value and the price of oil denominated in dollars. One way of taking out some of the numeraire issue is to see how a price of a barrel of oil would be, expressed in other currencies. In the figure below, I compare the dollar price against that in euros, and against that in the Special Drawing Rights (SDR).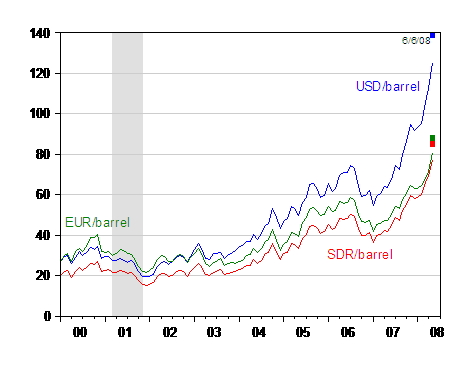 Figure 1:
Price ber barrel of oil (WTI), in USD (blue), in SDR (red), and in EUR (green). Squares indicate values for June 6. NBER defined recession dates shaded gray. Sources: St. Louis Fed FREDII; IMF
International Financial Statistics
; Pacific Exchange Services; and author's calculations.
The weights for the USD, EUR, JPY and GBP in the SDR are 0.44, 0.34, 0.11 and 0.11, respectively.
What the figure highlights is that while USD weakness is associated with higher dollar prices for oil, upward trends in all prices are evident. The wedge between the dollar increase and the SDR increase since January 2008 to 6/6 is only 2.8% (in log terms; 4.2% in level terms). It's a bit bigger for the dollar/euro comparison, at 6.7% (in log terms; 9.6% in level terms)
So the dollar's exchange rate "matters" (keeping in mind two-way causality), but for the bulk of the movement in oil prices, look here.
Technorati Tags: oil prices,
exchange rates
.