The OECD has just released its forecasts. This follows the recent updated IMF forecasts. Growth is evaporating the industrial countries. What is to be done?


Figure 1: From visualization of OECD Economic Outlook 84 [link]. Blue is negative growth (for 2009), darkest blue is -9.335%; orange is positive growth, most orange is +9.335%. White is zero; gray is "no forecast".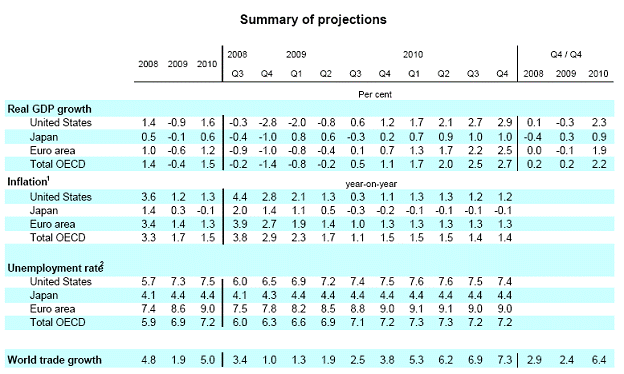 Table from press conference for the release of OECD Economic Outlook 84 (25 November 2008).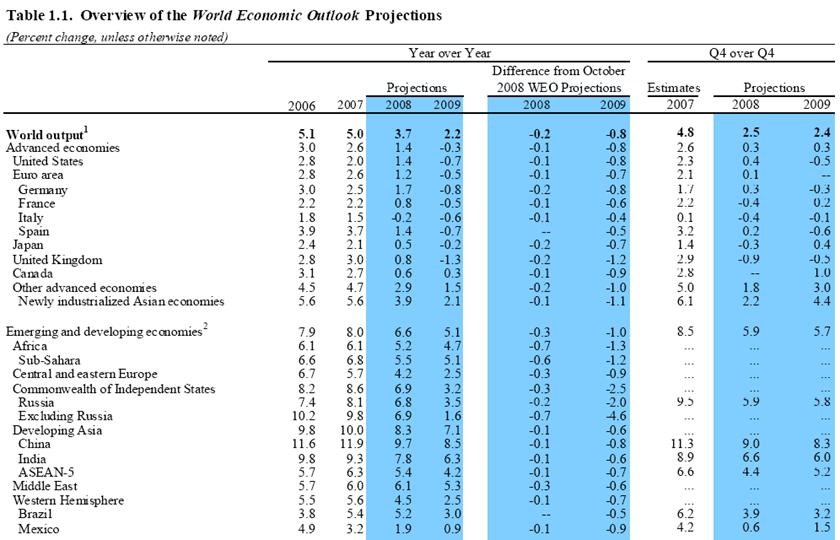 Table from IMF WEO Update (November 6, 2008).

With the industrial economies, representing a very large chunk of world GDP, all colored varying shades of blue and entering a period of slowdown, it seems like we need to think not only about macro policy in the US, but also abroad (and what those policies mean for the US).
There is a distinct advantage to the United States advocating expansionary fiscal policy in our trading partners. The way to think about this is to contrast the closed economy multiplier with the open economy multiplier. Consider the closed economy multiplier first:


ΔY/ΔG = 1/(1-c(1-t))

where
c
is the marginal propensity to consume,
t
is the marginal tax rate. I assume no transactions or portfolio crowding out of investment and hence output.
As I've noted before, when there are slack resources available in the economy, a dollar's worth of government expenditure is "multiplied" by repeated rounds of income-spending-income-spending, so that the end impact is greater than that initial dollar's worth of government spending.
However in an open economy, that multiplier effect is diminished by the fact that some spending "leaks out" in the form of imports. That is, some of the incremental spending is on imports, which then become income for our trading partners since their exports rise. There is some repercussion effect since then our trading partners income will rise pulling along their imports — our exports to a certain extent. So now consider the open economy multiplier in a small economy:
ΔY/ΔG = 1/(1-c(1-t)+m)
Where m is the marginal propensity to import. A naive regression tells me this number is around 0.2. Allowing a repercussion effect (as discussed in this post — so assuming a large economy) pulls up the multiplier a bit:
ΔY/ΔG = 1/(1-c(1-t)+[(m*m)/(1-c*(1-t*))])
Where m*, c*, t* are the corresponding foreign country parameters, if one can think of the economies as symmetric (e.g., US vs. euro area).
The OECD multipliers I discussed in this post assume this repercussion effect.
Table A1:
"Government Spending" from
Thomas Dalsgaard, Christophe Andre and Pete Richardson, "Standard Shocks in the OECD Interlink Model," OECD Economics Dept. Working Paper No. 306
.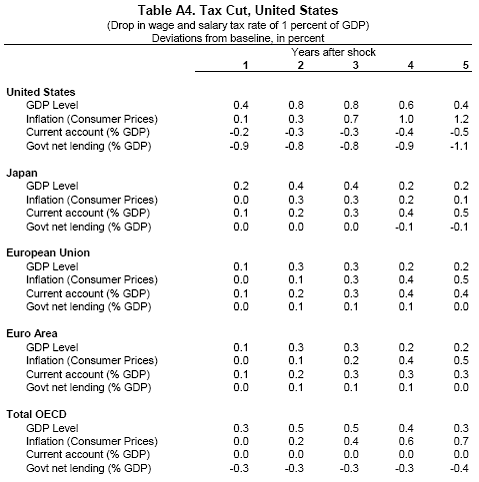 Table A4: "Tax Cut" from Thomas Dalsgaard, Christophe Andre and Pete Richardson, "Standard Shocks in the OECD Interlink Model," OECD Economics Dept. Working Paper No. 306.

In the OECD's Interlink model, they don't look altogether that large. However, recall that while the multiplier is 1.1 in the 1st year out for a fiscal impulse of 1 ppt of GDP, it's 1 in the first year and still positive in the 3rd and 4th years out. So the sum effect is substantially greater than unity.
Now, if all the countries (or all the relevant countries) were to stimulate simultaneously, then the aggregate world economy would look a lot more like a closed economy, and the multiplier would be larger yet again.
I suspect that policymakers do not need to much additional encouragement. After all, stimulus packages have been announced in Europe [1], UK [2], Japan as well as China (summary see [3]). On the other hand, there might be some anxiety about expanding government debt given long term entitlement/pension/health care funding issues in Europe and Japan, as well as in the US. I think there's good reason to worry, but those are longer term concerns, and as long as we can anchor expectations about long term deficit reduction, then deficit spending now is less problematic (although, as I mentioned in my discussion on MPR today, we are more constrained exactly because of the profligacy of the Bush '01 and '03 tax cuts). We are aided in a sense by the likelihood that all the industrial countries are likely to engage in substantial deficit spending, thereby mitigating the negative portfolio balance effects I've outlined before.
Hence, to the extent that these are "real" stimulus packages (for instance, there is substantial discussion that the fiscal element in China's package is not anywhere as big as appears from first reading [4]), the impact of a synchronized fiscal expansion will be bigger than the one would expect from the standard estimates.
What about expansionary monetary policy? Here I have two observations. The first is that as we (in the US) have come to effectively zero policy rates, we have the odd situation that many of the recently estimated multipliers are no longer applicable. As a consequence, I've started looking at old-style monetary policy multipliers that relate output changes to changes in money stock (these are the kind that we used to teach in intermediate macro, but have been out of favor since at least the first sighting of the "Taylor rule". Those interested in some open economy monetary policy multipliers can see this insightful article from Frankel and Rockett (1986). The second observation is that expansionary monetary policy (in usual times) would tend to depreciate currencies, but has ambiguous impacts on the current account. Hence, I would not make too big of an issue about competitive devaluations as a means toward expenditure switching.
By the way, conceptually, protectionism is a way to increase the size of the multipliers, if one focuses on the single-country open economy multipliers — just think about how protectionism could reduce the parameter m. But once one thinks about retaliation — in the context of the two-country multiplier, one can see this is a truly counter-productive policy.
What does the foregoing imply for policy? First, assume the forecasters from the Wall Street Journal survey are (on average) correct, then the US output gap in 09Q4 will be about 5.5% in log terms.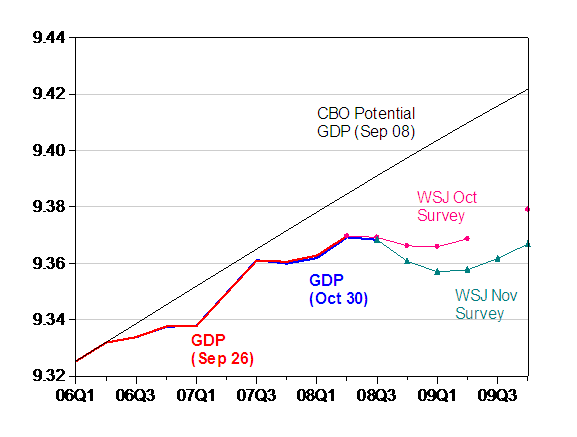 Figure 2:
Log real GDP, from 26 Sep 08 final release (red), and from 30 Oct 08 advance release (blue), potential GDP (black), WSJ mean forecast from October survey (pink circle), from November survey (teal triangle). Source: BEA NIPA releases
[link]
, CBO estimates of 9 Sep 08
[xls]
, WSJ survey of forecasters from October and November
[link]
.
Second, assume the multipliers are somewhere between those in Table A1 and Economy.com's infrastructure multipliers shown in this post (say about 1.35 one year out).
Then a stimulus of about 4 ppts of GDP — roughly $580 billion — will bring output up to about potential. The bigger the tax cut element skewed toward higher income deciles, the larger the required stimulus. (However, I'm optimistic that with the new economic team of Summers, Orszag, Romer and Geithner that's been selected, the package will indeed hew to the idea of maximizing the stimulative impact, which is consistent with targeting the lowest and middle income groups for tax cuts/rebates [5], [6].)
And if stimulus across countries can be synchronized, then so much the better (especially since it would be hard to spend at $580 billion in one year).
By the way, the reason why I don't say "coordinated fiscal policy" is because, in the lexicon of academic economists, this would mean commitment to some sort of rules so that Nash outcomes can be avoided. See Frankel and Rockett (1986). In this discussion, I have in mind a more modest, one-shot, event, since I'm not sure a coordination is feasible over the longer term.
On a side note, I've just been watching Nancy Pfotenhauer on Larry King characterizing the new Obama economic team as "not change" because they are centrists. I think she misses the point entirely (not surprising). The "change" is not a matter of the economic ideology of the new team members — rather the "change" is bringing in people who value expertise and evidence-based policymaking over ideology and dogma. That is, the end of PoMo Macro policymaking.
Technorati Tags: multipliers, fiscal stimulus,
fiscal policy, recession, infrastructure, tax cuts, output gap,
and portfolio balance.