The BEA released its preliminary numbers for 2008Q4 GDP. There was little good news in it, as many have observed. [0], [1], [2], [3] Consumption fell even further than first estimated. In an accounting sense, support from exports collapsed. Even the downward revision in inventories, which might have suggested a production rebound in this quarter, seems to incorporate more of a signal of further anticipated declines in demand, at least given the high inventory to sales ratios. And while declining imports add, in a mechanical sense, to output, it certainly hints at a sustained decrease in anticipated economic activity. Figure 1 shows these GDP components.


Figure 1: Real GDP growth (blue bars), and accounting contributions to GDP growth. NBER defined peak at dashed gray line. All in Ch.2000$ SAAR. Source: BEA GDP preliminary release of 27 February 2009.

This is "news", insofar as the announcement came in below expectations (-6.2% vs. Bloomberg consensus of -5.4%, and outside the range of forecasts, -3.8 to -6.1). Hence, I think it is of interest to re-consider exactly how "massive" that stimulus bill was in the context of the implied output gap. In this post I argued the stimulus was, in relative terms, anything but massive. Now, I think that argument has even more force (Brad Delong concurs.) Using the CBO estimates, the output gap in 2008Q4 was 4.4 (versus the 3.8% implied by the earlier advance estimate).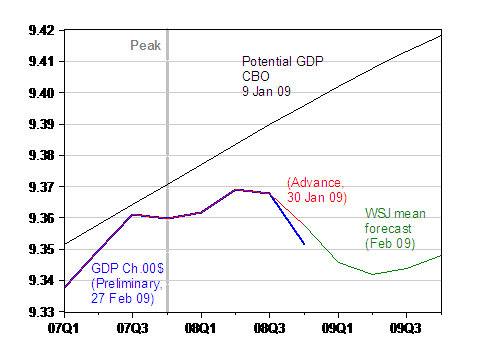 Figure 2:
Log real GDP, preliminary release (thick blue), advance release (red), mean forecast from February 2009 WSJ survey (green), and potential GDP (black), all in Ch.2000$ SAAR. NBER defined peak at dashed gray line. Source: BEA GDP preliminary and advance releases, CBO estimate of 9 January 2009, and NBER.
It is unusual, in my experience, to be able to easily discern the impact of a revision on the path of GDP in graphs of this type…
My guess is that in a few months as the full import of the recession becomes obvious, a lot fewer people will be characterizing the stimulus as "massive".