…and a Rejoinder to Posner.
The CEA Analysis of ARRA's Impact
Yesterday, the Council of Economic Advisers released the first of its mandated reports on the impact of the ARRA on economic activity. Based upon a variety of approaches (VAR, multiplier based), it concludes:
"…our multiplier analysis and estimates from a wide range of private and public sector forecasters confirm the estimates from the statistical projection analysis. There is broad agreement that the ARRA has added between 2 and 3 percentage points to baseline real GDP growth in the second quarter of 2009 and around 3 percentage points in the third quarter.
There is also broad agreement that it has likely added between 600,000 and 1.1 million to employment (again, relative to what would have happened without stimulus) as of the third quarter."
The CEA actually conducted a series of analyses. The first is an informal approach, examining the contributions of components of GDP to overall growth over time, in an accounting exercise, and then correlating changes in component trajectories that might have reasonably been expected to impacted by the stimulus bill (e.g., state and local government spending on goods and services). The second is a bivariate (in levels) VAR in GDP and employment, and attributing the difference between out-of-sample forecast values for 2009Q2 and actual to the stimulus package, as well as financial interventions (both positive) and an unprecedented credit crunch (negative). The third is a multiplier analysis, that applies multipliers to various injections into the economy. (There is also a cross-country analysis, which yields suggestive results, but I will not discuss at length.)
The second (VAR or "projection") approach yields Figure 8 from the report.

Figure 8 from CEA, The Economic Impact of the American Recovery and Reinvestment Act of 2009: First Quarterly Report, September 10, 2009. Estimates from "VAR approach".
The difference between the projected and actual is given by the darker color in the bars in 2009Q2 and 2009Q3. For 2009Q2, that difference is 2.3 percentage points, at annualized rates.
In the third approach (the multiplier approach), the CEA estimates a 3.1 percentage points (at annualized rates) increment to growth in 2009Q2, and 3.6 ppts in 2009Q3. How does this compare to other estimates? This is addressed in the document's Table 7.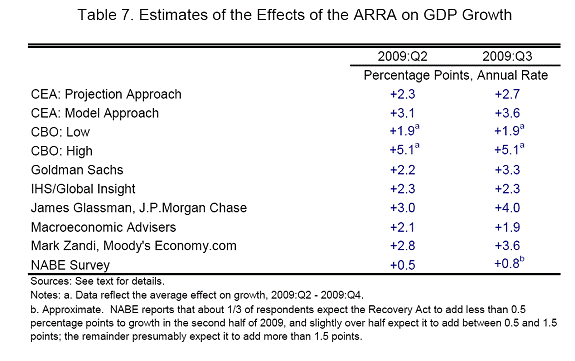 Table 7 from CEA, The Economic Impact of the American Recovery and Reinvestment Act of 2009: First Quarterly Report, September 10, 2009. "CEA Model Approach" is a multiplier approach.
I think it's interesting to see the remarkable coherence in estimates (aside from the guesstimates of the NABE survey).
Actual Data, and Posner's Assertions of Negligible Impacts
What is particularly of interest is the updated information regarding what funds have been disbursed. There are two ways to report the data — the first by administrative category, and the second by function category. The relevant information (cumulative, not annualized) is reported in Tables 1 and 2.

Table 1 from CEA, The Economic Impact of the American Recovery and Reinvestment Act of 2009: First Quarterly Report, September 10, 2009.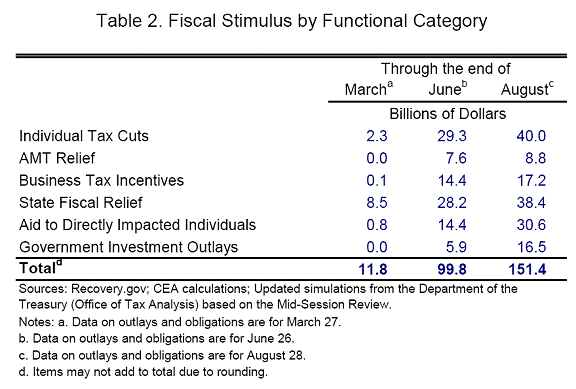 Table 2 from CEA, The Economic Impact of the American Recovery and Reinvestment Act of 2009: First Quarterly Report, September 10, 2009.
From the report:
We divide the total dollars of stimulus expended to date into six categories: individual tax cuts and similar payments; the tax cut associated with the adjustment of the Alternative Minimum Tax (AMT); business tax incentives; state fiscal relief; aid to those most directly hurt by the recession; and direct government investment spending. The first three are tax changes of some kind and were established at passage to be roughly one-third of the total package; the second two represent emergency measures and were again estimated to be roughly one-third of the total; the last encompasses a range of direct spending and covers the remaining one-third of the total. At passage, it was anticipated that the tax changes and emergency measures would occur more quickly and direct government spending would be a larger fraction of later expenditures.
We divide the outlays and tax reduction data into these functional categories as follows. Individual tax cuts include the Making Work Pay tax credit, the child tax credit, and a number of smaller individual tax reductions. We also include direct payments (from Recovery.gov) that were made in lieu of a tax cut to certain groups. These include payments of $250 distributed to individuals who receive Social Security and Supplemental Security Income, Railroad Retirement benefits, or veterans' benefits. The business tax incentives and AMT relief are calculated directly by the IRS as part of their simulation process.

We define state fiscal relief to include just the two main programs in this category: a substantial increase in the Federal government's matching percentage for Medicaid spending (FMAP), and formula grants to state governments for education through the State Fiscal Stabilization Fund. Aid to those directly impacted by the recession includes the increase and extension of unemployment benefits, increased funds for nutritional assistance, and increases in the Temporary Aid to Needy Families (TANF) program. It also includes the government's substantial subsidy of continuing health insurance benefits (COBRA), which is technically treated as a tax cut.

Government investment outlays include everything else. The obvious components are spending on infrastructure, health information technology, research on renewable energy, and other forms of direct spending excluding transfers. Also included here are tax credits for particular types of private spending, such as weatherization or research and experimentation, since these credits are functionally similar to the direct government spending.
These points are of particular salience in the context of Mr. Posner's post yesterday, in which he states:
No one seems to know how much of the $40 billion was actually received by taxpayers, as opposed to reducing their future tax payments; and of the amount actually received by them, no one seems to know how much they spent rather than saved.
In response to my assertion that he had accused Dr. Romer of making up statistics:
I never accused her of lying about the figure…
This is actually a "revised and extended" version of the argument posed in Mr. Posner's first posting (August 18) on Romer's speech. Reviewing that statement is illuminating:
Romer argues in her talk that by the end of the second quarter of this year, $100 billion of stimulus money had been spent. That is a suspiciously round number, and it is unclear how it was arrived at; but let us assume it is accurate. She then argues that this small expenditure–about two-thirds of one percent of the Gross Domestic Product–is responsible for the fact that the decline in GDP fell (on an annualized basis) from 6.2 percent in the first quarter of the year to 1 percent in the second quarter (though the latter figure is likely to be readjusted upwards).

This assertion is groundless. No one has the faintest idea what effect the stimulus has had. [emphasis added – mdc]
I'll ignore the fact there's a footnote 4 in the Romer speech that tells one how the number was arrived at; further I'll let readers decide what the reference to the "suspiciously round number" is meant to insinuate and focus on the math mistake. Let me reiterate, the emphasized text constitutes a math mistake. $100 billion, divided by quarterly GDP of $ 3535.8 billion is 2.8 percent.
Now, Posner responds on August 21:
Critics have been particularly unsparing of my having expressed the so-called $100 billlion in stimulus disbursements as a percentage of annual GDP. I think it's a fair criticism–and so it is amusing to note the identical procedure in the second sentence of Romer's speech, where she states that the $787 billion is "roughly 5 percent of GDP." It is roughly 5 percent of this year's GDP. But it is to be spent over at least two years.
A couple of observations First, the $787 billion is to be spent over five years (this was, after all, the chief complaint of stimulus critics), although most is to be spent within 18 months of the passage of ARRA. One can see a graph of projected spending (as estimated by CBO) here. However, on Mr. Posner's source of amusement, when Dr. Romer indicated the share of GDP, she was placing the total stimulus package in context, and not conjoining that calculation to a statement that the entire $787 billion would have an impact within a given year. That sort of calculation only Mr. Posner has made.
Let's return to Posner's assertion that we don't know anything about the $40 billion on the tax side. Table 1 provides the less "round number" of $43.5 billion cumulative in tax reductions through end-June. I agree that it's hard to say whether any of those tax reductions were "spent" by the recipient households and firms. That's why the functional breakdown in Table 2 is very helpful. We can then consider what is likely to have been spent, on both the tax and expenditures sides.
First, let's take the conservative approach and assume absolutely none of the individual tax refunds, the AMT relief, and the business investment incentives are spent. Second, we have government investment outlays at $5.9 billion; well, that's G in national income accounting-speak, so GDP has to go up there. Third is aid to directly impacted individuals (unemployment insurance, TANF, food stamps) at $14.4 billion. I suspect that these components have a pretty high marginal propensity to consume. Finally, there is state fiscal relief, which is mostly matching for Medicaid, and for education, at $28.2. Here one could argue that the spending is less than dollar for dollar of transfers — although with a majority of states emplacing furloughs on state workers, I bet this is pretty high. In addition, the turnaround in state and local spending in 2009Q2 is suggestive that the spend-out of these funds is pretty high.
Let's set MPC to zero for all functional tax components, and set it for unity for government investment and for UI/TANF/food stamps, and 0.5 for state fiscal relief. Write this out in plain mathematical terms:
(29.3 × 0) + (7.6 × 0) + (14.4 × 0) + (5.9 × 1) + (14.4 × 1) + (28.2 × 0.5) = 34.4
Convert to Ch.2005$ by dividing by 1.10: 34.4/1.10 = 31.27
Divide by 2009Q2 GDP in Ch.2005$: 31.27/ 3232 = 0.0097
Annualize the quarterly increment: (1.0097)4 = 1.039
Convert to percent: (1.039 – 1) × 100% = 3.9%
Let me reiterate, in these calculations I've assume zero consumer and investment spending out of the tax-related provisions, and yet one obtains a 3.9 ppt increment (annualized q/q) growth in 2009Q2.
Now, in his latest post, Mr. Posner has made a new, bewildering statement:
"A neglected point is brought out in an article by Michael Cooper in the September 5 New York Times. The article points out that federal stimulus spending can be nullified by state cutbacks. For example, a federal grant of stimulus money for mass transit has been nullified by reductions in state expenditures on mass transit. The question then becomes what was the consequence of those reductions? Maybe they enabled a state to rescind a tax increase, in which event state taxpayers would have more money in their pockets."
The nullification point is an odd assertion. The state cutbacks presumably would have occurred in the absence of the transfers from the Federal government, so in the absence of the stimulus package, state and local spending would have been even lower. In other words, Mr. Posner is asserting a state and local government spending reaction function that implies each dollar of spending transferred from the Federal government induces and equal and offsetting spending reduction. I'm open to this possibility, but I'd appreciate seeing some data (i.e., not anecdotes) to that effect, rather than mere conjecture.
In addition, Mr. Posner sets forth an alternative scenario, where tax increases are rescinded as a consequence of transfers to the states. On this count, CEA has investigated this hypothesis. Figure 7 from The Effects of State Fiscal Relief is illuminating: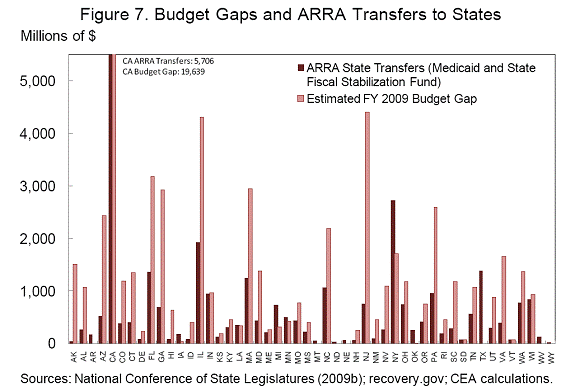 Figure 7 from CEA, The Effects of State Fiscal Relief, September 10, 2009.
Figure 7 compares the size of total funds from these programs that had been transferred to each state through July 3 with the state's maximum reported fiscal 2009 budget gap.22 While these transfers were sizeable in magnitude, in 35 states they are smaller than the reported budget gap. This means that states could have used the funds to increase their rainy day funds only if they reduced expenditures or increased taxes in the same fiscal year. Given that states underwent deep expenditure cuts in 2009 (42 states cutting their fiscal year 2009 budgets by $31.6 billion through June 2009), it seems unlikely that this would have occurred.
In conclusion, it appears to me that we have several pieces of information, from a variety of sources, that suggest a positive impact on 2009Q2 q/q growth stemming from the ARRA. In addition, if one were to do a meta-analysis of estimated impacts, it would seem to me likely that the mean impact would be in range estimated by CEA.
Let end on a note of agreement. Mr. Posner wrote yesterday:
My lefty critics don't believe me when I say I support the stimulus.
Since Mr. Posner is referring to me (among others), let me say I understand that Mr. Posner is a Keynesian and supports the stimulus. My disagreement is with his nihilistic proposition that we can't know anything about whether there was an impact of the ARRA in 2009Q2. (Personally, I don't count myself a "lefty", but that's another debate.)