From the abstract to Why are we in a recession? The Financial Crisis is the Symptom not the Disease!, by Ravi Jagannathan, Mudit Kapoor, and Ernst Schaumburg:
…We argue that the large increase in the developed world's labor supply, triggered by geo-political
events and technological innovations, is the major underlying cause of the global macro economic
imbalances that led to the great recession. …
… The inability of existing institutions in the US and the rest
of the world to cope with this shock set the stage for the great recession: The inability of emerging
economies to absorb savings through domestic investment and consumption due to inadequate national
financial markets and difficulties in enforcing financial contracts; the currency controls motivated
by immediate national objectives; and the inability of the US economy to adjust to the perverse incentives
caused by huge money inflows leading to a breakdown of checks and balances at various financial
institutions. …
The paper concludes:
While there is plenty of blame to go around for mistakes, the macro forces triggered by
the labor shock is like a tidal wave that needed to wash ashore no matter what. History
might have taken an entirely different path with better risk management controls in place
in the US but then again, financial innovation might just have found a different way of
getting highly leveraged deals done off-shore or through creative accounting. The root
cause of the excess liquidity in the global financial system must be addressed, otherwise we
are just squeezing the proverbial balloon only to see it bulge out somewhere else. However,
this does not negate the need for the development of improved risk management in the
broadest sense in order to ensure financial stability and prosperity going forward.



China and India will continue to need to bring tens of millions of rural laborers into the
productive workforce in the coming decades and the world economy must find a sustainable
way of dealing with this influx. Clearly China's export led growth strategy of the past cannot
continue indefinitely and domestic consumption will have to grow as a share of GDP. At
the same time, Western economies will necessarily have to adjust to a new equilibrium in
which commodities are scarcer and households face stiffer competition for jobs.
This is a long paper (38 pages of text and graphs), and there's lots to digest. It's interesting that US budget deficits and tax policies make not a single appearance in the text (well, not quite — "low taxes" are made possible by the saving glut, on page 6; and the budget balance shows up as a figure on page 16). Pretty remarkable; below is the latest version of a picture I've presented many times on this blog.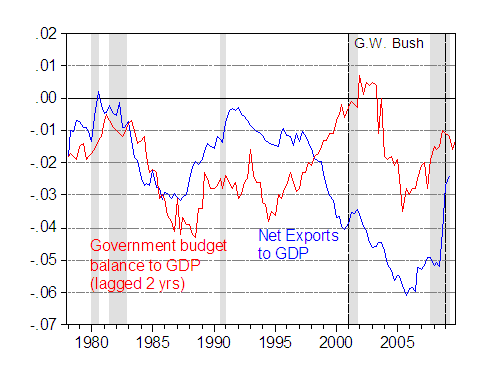 Figure 1:
Net exports to GDP ratio (blue), and cyclically adjusted government budget balance to GDP ratio, lagged 2 years (red). NBER defined recessions shaded gray, assumes last recession ended in 09Q2. Source: BEA, 2009Q2 3rd release,
CBO, Measuring the Effects of the Business Cycle on the Federal Budget: An Update, September 1, 2009
, NBER and author's calculations.
In any case, my reasons for looking askance at the the "Blame It on Beijing" view are laid out here:
…while I won't say that the idea of saving flows coming from East Asia had some role in the financial crisis we're now undergoing is completely without content, I'd say one has to think about how those flows came about, as much as how big they are. We don't usually think of the rest-of-the-world driving macroeconomic events in the US (here's my take: [10]), and I still don't think it's time to start.
For my money, I think a more plausible worldview is provided by Maurice Obsteld and Ken Rogoff (h/t Mark Thoma). In the intro to "Global Imbalances and the Financial Crisis: Products of Common Causes," they write:
We too believe that the global imbalances and the financial crisis are intimately
connected, but we take a more nuanced stance on the nature of the connections. In our
view, both of these phenomena have their origins primarily in economic policies
followed in a number of countries in the 2000s (including the United States) and in
distortions that influenced the transmission of these policies through financial markets.
The United States' ability to finance macroeconomic imbalances through easy foreign
borrowing allowed it to postpone tough policy choices (something that was of course true
in many other deficit countries as well). Not only was the U.S. able to borrow in dollars
at nominal interest rates kept low by a loose monetary policy. Also, until around the
autumn of 2008, exchange-rate and other asset-price movements kept U.S. net foreign liabilities growing at a rate far below the cumulative U.S. current account deficit. On the
lending side, China's ability to sterilize the immense reserve purchases it placed in U.S.
markets allowed it to maintain an undervalued currency and postpone rebalancing its own
economy. Had seemingly easy postponement options not been available, the subsequent
crisis might well have been mitigated, if not contained.


We certainly do not agree with the many commentators and scholars who argued
that the global imbalances were an essentially benign phenomenon, a natural and
inevitable corollary of backward financial development in emerging markets. These
commentators, including Cooper (2007) and Dooley, Folkerts-Landau, and Garber
(2005), as well as Caballero, Farhi, and Gourinchas (2008) and Mendoza, Quadrini, and
Rios-Rull (2007), advanced frameworks in which the global imbalances were essentially
a "win-win" phenomenon, with developing countries' residents (including governments)
enjoying safety and liquidity for their savings, while rich countries (especially the dollarissuing
United States) benefited from easier borrowing terms. The fundamental flaw in
these analyses, of course, was the assumption that advanced-country capital markets,
especially those of the United States, were fundamentally perfect, and so able to take on
ever-increasing leverage risklessly. In our 2001 paper we ourselves underscored this
point, identifying the rapid evolution of financial markets as posing new, untested
hazards that might be triggered by a rapid change in the underlying equilibrium.
Obstfeld and Rogoff are pre-eminent economists working in the international finance field (as opposed to domestic macro and monetary economics). As Paul Krugman has pointed out, international finance types have typically been less enthralled about untramelled financial deregulation, and the self-regulating abilities of financial markets (currency and financial crises being a topic we discuss). So far, such skepticism seems to have been validated by recent events.
See also this discussion of an earlier presentation by Obstfeld and the Chinn and Frieden view.
Update 10/15/09, 10:40am: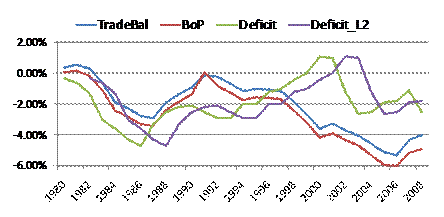 Figure 2:
Net exports (blue), trade balance on BoP basis (red), budget deficit (green), and budget deficit lagged 2 years (purple), all expressed as ratio to GDP. Source: R. Jagannathan.