I was wondering why the Reuters website wasn't loading on my computer. Then I got a phone call from a reporter asking about the US stock market meltdown in response to Greece…which struck me as an odd linkage. It still strikes me as an odd linkage.
Here is a graph of the intraday movement in the SP500: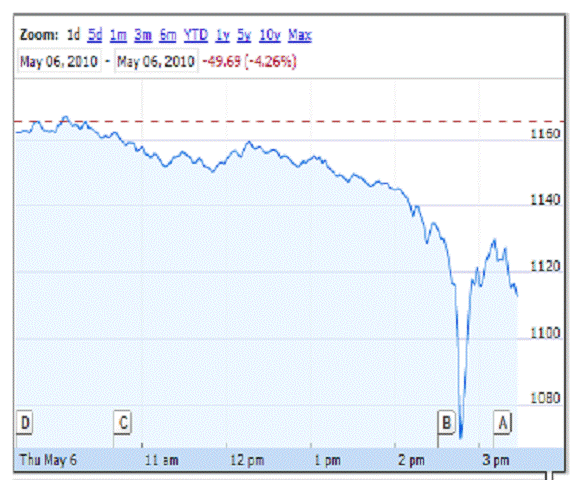 finance.google.com accessed at 3:25 Eastern.
I understand that European stock markets should experience re-pricing in response to the uncertainty surrounding sovereign debt. Higher interest rates should induce lower equity prices, in line with standard asset pricing models (simplified example here). In addition, I know there's a lot of academic research documenting the linkages between stock markets (see Engle, Ito and Lin (Econometrica, 1990) on "meteor showers and heat waves").
Nonetheless, the sharp downward spike in US equity indices, and then upward rebound, doesn't make sense. In addition, with the flight to safety in US Treasuries, you'd think that the US equity market would have enjoyed support.
Here's a choice quote from Bloomberg:
"It's panic selling," said Burt White, chief investment officer at LPL Financial in Boston, which oversees $379 billion. "There's concern that the European situation might cool down global growth and freeze the credit markets."
So maybe the explanation is in the word "panic".
On the other hand, a downward revision in the level of US equity prices (but not necessarily as big 9% as in one point for the Nasdaq), does seem reasonable. Higher interest rates and higher uncertainty, slower — if not stagnant — GDP growth, are all negatives for the US. We should expect some impact. How much? Some of the answers are in this paper (coauthored with Kristin Forbes), in which we identify the determinants of the linkages between financial asset markets.
Update, 1pm Pacific: Reuters presents some "instant views". This quote resonates:
DAVID ADER, HEAD OF GOVERNMENT BOND STRATEGY AT CRT CAPITAL GROUP IN STAMFORD, CONNECTICUT



"Electronic systems are down. It's complete panic because you're getting these violent moves, extremely poor liquidity not very good prints on the screens because of all the electronic issues that are going forth, presumably because things are changing so much.



"As we see now the Dow break at one point under 10,000 you trigger a lot of the types of buying programs and other shifts in allocations that they wreak of panic.



It's no longer a fundamental story. We can't talk about value…we're talking about position. And here what you're seeing and I think we've seen it in Europe is simply the pain trade, 'I'm long stocks, get me out at any cost.'"



"Levels are not important. Prices are not important. Liquidity is as much a victim, I think, as anyone's, my in particular, portfolio.



"There has been no news this afternoon, the type of thing that would normally you would say this justifies the price action…It's positions being forced out, prices driving those position shifts, forcing people's hands. And, a problem with systems in general. I think that comes into play. Put it all together, that's what's going on."

Update, 2:50pm Pacific: Jeff Frankel weighs in on the stock market plunge.