In today's VoxEU, Kati Suominen asks "Did global imbalances cause the crisis?, and surveys the arguments. I recently wrote a survey on the same topic for the forthcoming Encyclopedia of Financial Globalization. Here's my take:
First, to place things in perspective, here is Chart 1.6 from the April WEO: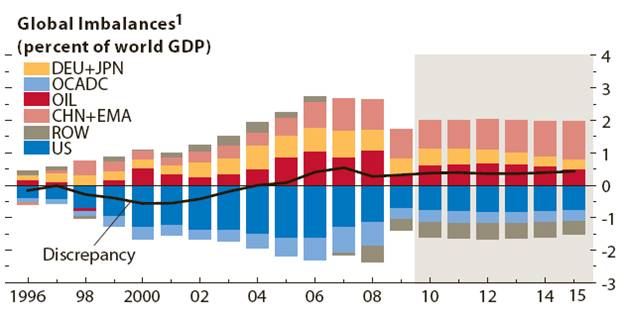 Excerpt from
Chart 1.6
,
IMF, World Economic Outlook, April 2010
.
From the Introduction to the paper:
In the years from 1998-2008, economists focused their attention on the causes and consequences of the expanding current account deficits and surpluses. The pattern of current account balances was interesting from an economic standpoint, in that it did not appear to conform to what would be predicted by standard economic theories. They were troubling from a policy standpoint in that they were unprecedentedly large by post-war standards.



Throughout the first decade after 2000, the United States ran enormous current account deficits. China, the rest of East Asia, and the oil exporting countries ran correspondingly large current account surpluses. In 2008-09, these current account balances drastically reversed, albeit incompletely, as a global financial crisis engulfed the world economy. The proximity of the two events naturally leads to the question whether the two phenomena are related, or causal in nature.



In this chapter, the various explanations for the rise of global imbalances, defined as large current account balances, are reviewed. These explanations include (1) trends in saving and investment balances, (2) the intertemporal approach, (3) mercantilist behavior, (4) the global saving glut, and (5) distortions in financial markets. Note that the explanations are not mutually exclusive.



The first approach relies upon the definition of the current account as the difference between national saving and investment. The second approach is the standard economist's explanation for lending and borrowing — namely the tendency to smooth consumption in the face of time variation in output. The third approach relies upon the export oriented development path undertaken by East Asian countries as an explanation for the pattern of deficits and surpluses. The fourth approach assumes there is a distortion in less developed country financial markets, in so far as they are not able to channel capital from savers to borrowers domestically. The financial intermediation activity is thus outsourced to developed countries. The fifth approach takes the key distortion as lying in the financial markets of the United States, and to a lesser extent, other developed countries.

The entire paper is here [pdf].
For my preferred interpretation, see [1] [2].
Update 1:35PM Pacific Ryan Avent/Free Exchange also comments.