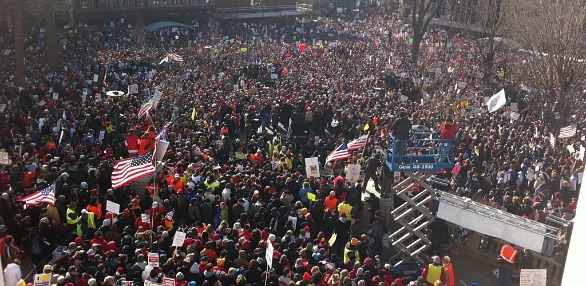 Source: "Capitol Square overflows in largest Wisconsin labor solidarity demonstration yet," The Isthmus (3/12/2011).

From USA Today:
By 3 p.m., tens of thousands of people crowded the Capitol Square. There is a big discrepancy in the crowd estimates compiled by Capitol Police and the Madison Police Department. Capitol Police estimated about 49,500 at 2 p.m. while Madison police said the crowd was about 85,000.
Latest Reuters estimate at up to 100,000.
I thought this episode, recounted in The Milwaukee Sentinel Journal was emblematic:
Walker signed the bill privately in the morning and held a separate, ceremonial bill-signing in front of reporters later in the day. He was joined by his cabinet and four Republican lawmakers.
This article indicates that the bill passed had passed muster, in terms of having no fiscal provisions. I am no lawyer, so I will merely observe that there are many provisions with implications for the budget in the bill, as noted here by the Legislative Fiscal Bureau. In a TIME article, intriguingly titled "Wisconsin's Governor Wins But Is He Still Dead Man Walker?", constitutional challenges are assessed more circumspectly:

The anger and activism may also propel legal challenges regarding the way Republicans may have violated open meetings law and internal procedures to get the bill passed without a necessary quorum (Democratic senators had fled to Illinois specifically to prevent this). [UW Political Science Professor Kenneth] Mayer says, however, that such claims are unlikely to succeed because "there is case law where the state courts have declined to get involved and force a legislature to enforce its own rule." A constitutional challenge — based on whether the Republican reclassification of the bill from fiscal to non-fiscal was legal — may have a better chance but, says Mayer, "it's not a slam dunk."