From the House Appropriations Committee (Republican), courtesy of TPM:
First, relating to this post on the early plans for cuts take a look at the hit to NOAA. (First column is relative to FY2010 budget enacted, and second column relative to FY2011 request.)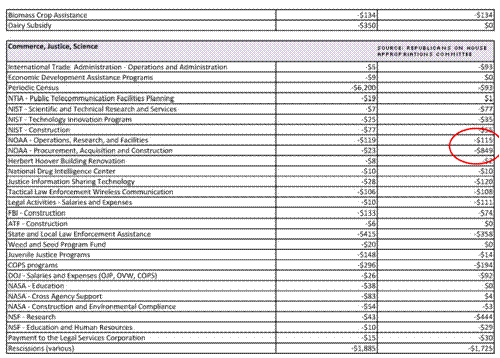 Page 2 from House Appropriations Committee via TPM.
Given the small likelihood of tsunamis and the fact that we don't need to worry about global warming [0] [1], this makes a lot of sense. (By the way, record highs of 80 degrees in Madison on Sunday!).
On a different note, I find it incredibly interesting to see where other large cuts are placed.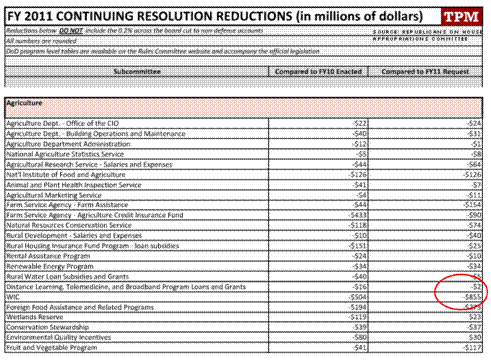 Page 2 from House Appropriations Committee via TPM.
WIC stands for "Women, infants and children", and is described here:
WIC provides Federal grants to States for supplemental foods, health care referrals, and nutrition education for low-income pregnant, breastfeeding, and non-breastfeeding postpartum women, and to infants and children up to age five who are found to be at nutritional risk.
Page 6 is also illuminating.
I understand the need for fiscal retrenchment, sometime in the future, in the big ticket items. But one needs to ask oneself if this is where the cuts should come.
Update, 12:20pm Pacific: Reuters elaborates.