(With updates)
From WSJ Washington Wire:
Mark Zandi, chief economist of Moody's Analytics, said the market impact of failing to raise the $14.29 trillion debt ceiling by Aug. 2 could become severe by late July.
At a breakfast hosted by the Christian Science Monitor, here's how Mr. Zandi told reporters things could play out.

"I think if we get on the other side of July, particularly as we move to the second and third week of July and nothing is happening, if the world looks like it is today, I think people are going to start getting nervous one investor at a time. And it's going to start showing up in rising bond yields, a weakening equity market. Then all of the sudden we're going to get to a day when we're going to get a critical mass of investors saying, 'You know what, this may not happen, we better attach a probability to an Aug. 2 misstep.' And markets are going to start going south. And of course the rating agencies are going to start responding too…so if, we get to the end of July, I think the policy makers will see it quite clearly."

He said if the ceiling isn't raised by Aug. 2, "it's going to be a TARP moment," referring to the day in late 2008 when the House of Representatives voted down the creation of the $700 billion Troubled Asset Relief Program and stock markets plummeted.
And then what?

"The dark scenario is so dark I can't imagine it," he said.
As Republican leaders indicate tax revenues are off the table, so that all deficit reductions have to be derived from spending cuts [EK], this scenario seems ever more plausible.
I think the TARP analogy is particularly apt. Just to remind readers, here is an excerpt from Lost Decades (coauthored with Jeffry Frieden), coming out in September:
By the end of the day of the vote, the Dow Jones had
214 dropped over 770 points, its largest ever one-day drop in points — wiping out about $1.2 trillion dollars worth of stock value. … The TED spread [which] was hovering around 1 percent … rocketed above 3 percent, and it kept going, to an unprecedented
maximum of 3.87 percent. …"
Here's a graphical depiction of the drop in equity prices.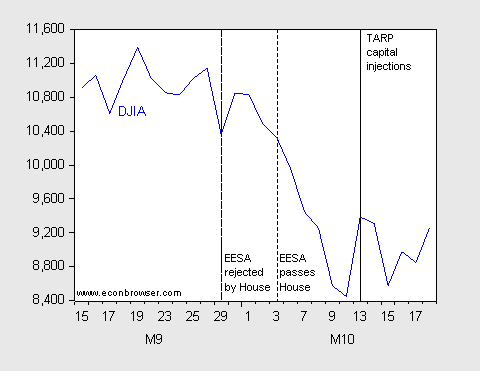 Figure 1: Dow Jones Industrial Averages, 9/15/2008-10/20/2008. Source: St. Louis Fed FREDII.
I thought it is of interest to see what the Kauffman survey of bloggers thought should be done, with respect to the debt ceiling.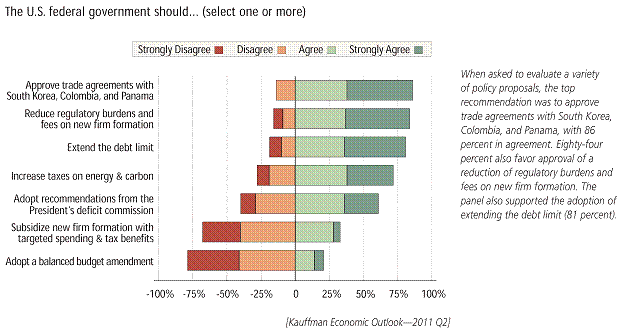 Figure 2: from Kauffman Economic Outlook: A Quarterly Survey of Leading Economics Bloggers, Second Quarter 2011

In any case, I agree with Jim, for the sake of the country, the debt ceiling is the wrong place to draw a line in the sand. Saying that all deficit reduction must come from spending reductions, and none from tax revenue increases is the heighth of irresponsibility. (Others agree, even if even the default is "small" — see here. Some estimates of the impact on spreads here).
Update: 7pm Pacific More from Stan Collender at Capital Gains and Games.
Update: 10:45am Pacific 6/29: From Reuters, "Report predicts chaos if U.S. prioritizes payments":
Any attempt to prioritize federal payments if Congress fails to raise the U.S. debt limit and the country defaults would rapidly descend into chaos, according to an independent study released Tuesday.
If the U.S. government cannot borrow more money to meet its obligations past Aug. 2 — the Treasury's deadline for raising the federal borrowing limit — it will be unable to pay between 40 to 45 percent of the 80 million payments it makes every month, the report says.
After analyzing thousands of publicly available documents, including the Treasury's daily cash outlays, the Washington-based Bipartisan Policy Center concludes that prioritizing payments to avoid default — which some conservative Republican lawmakers advocate — is essentially impossible.

…
For example, in one scenario, the center used projected August revenues to fully fund six major programs or obligations: interest on government debt; Social Security payments; Medicare and Medicaid; unemployment insurance benefits, and defense vendor payments.
Those six would eat up the entire month's revenues, leaving other obligations, including active-duty troops, the Justice Department and the Education Department, entirely unfunded.
"So to fund any of the unfunded items, you would have to cut from the six major programs," Powell said. "It would be chaotic and unfair. Treasury would be picking winners and losers. There would be public uproar."
Powell said the Treasury makes 3 million payments each day. Trying to override government computer systems, which are programmed to make payments as they fall due, would be a Herculean task, he said.

…
The report is here. It makes sobering reading. Of course, those who don't believe in models and are innumerate are unlikely to be convinced, so for those readers, please feel free to skip. Here is a graph showing the BPC's estimate of the "X-date"…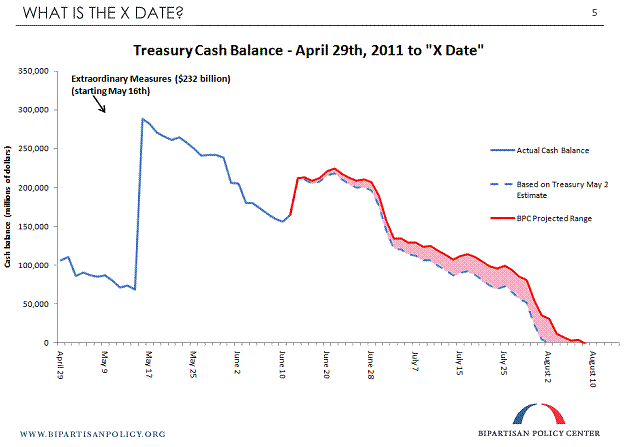 Figure 3, date at which default occurs, from Bipartisan Policy Center.
Update: 2:21pm Pacific: Given that Ezra Klein has concluded the talks on lifting the debt ceiling have failed, and the parties are positioning themselves for the default (technical or more-than-technical), I have been wondering what a person with no direct holdings of Treasurys should do. Really, my question is, if my bank goes belly-up, then are my savings and checking accounts really guaranteed, if the government cannot borrow (and FDIC reserves are insufficient). Inquiring minds would like to know.
Update: 8:14pm Pacific: Reader JWG provides a higher frequency graph demonstrating how the sell off on Wall Street coincides with the EESA/TARP rejection (and provides a counter to reader Dick Ricardo's bizarre assertion that investors had little time "to digest the news":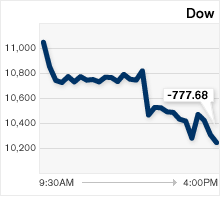 Figure from CNN Money "Stocks Crushed".