Or, a weblog post for the benefit of those unable to read beyond a technical paper's abstract, a clarification of what exactly Romer and Romer (2010) found regarding the impact of tax increases on tax revenues. This note is inspired by Econbrowser reader Ricardo (who also goes under the monikers of RicardoZ, Dick, and DickF) who inaccurately (but with inexplicable confidence) characterizes the Romer and Romer findings regarding tax changes in my last post's comments:
… we all know — because Christina has told us so — that raising tax rates reduces tax revenue. … Christina has also told us that reducing tax rates will increase tax revenue and growth.
(I don't know why he uses Dr. Romer's first name, and drops the name of the other co-author — he uses last names or full names for Taylor and Mundell and Friedman and other economists he cites.)
Now, one can misread a paper once, and be forgiven for mischaracterizing it. But, Ricardo/RicardoZ/Dick/DickF has mischaracterized the paper despite having read (but perhaps not comprehended) and commented on Jim's 2007 exposition of the paper (you can read his comments there as well). In order to obviate the need for me to correct him and others over and over again, let me cite the actual econometric results from the paper (published in the profession's flagship journal, The American Economic Review, in 2010). In particular, the paper's conclusions are differentiated with respect to the reason the tax cut is implemented; that is, these are conditional statements. The acceptance of the results are also conditioned on the usefulness of the narrative approach (and of course, the usefulness of VARs, but it doesn't seem that these issues come up very often in blogospheric debates).
… the output effect of a long-run tax increase of one percent of GDP is
virtually identical to that of a generic exogenous tax increase of the same size. The maximum
cumulative effect is a decline in GDP of 2.99 percent (t = −2.92) after ten quarters. As with all
exogenous tax changes, the output declines occur rapidly and are only moderately undone by five years after the change.


…


Panel D shows that the point estimates for the effect of a deficit-driven tax increase of one percent of GDP on GDP are consistently positive. However, there are too few tax changes of this type for the effects to be estimated precisely. The maximum impact is a rise in GDP of 2.48
percent (t = 1.03). While one should be very cautious in reading anything into such imprecise
estimates, the results are suggestive that tax increases to reduce an inherited deficit may be less costly than other tax increases.
Below, I reproduce panels C and D from Figure 9 from the paper.

Figure 9, panels C and D
from
Romer and Romer (AER, 2010)
.
These impulse response functions indicate that for exogenous tax increases not directed at reducing an inherited budget deficit, there is a negative and statistically significant impact. For exogenous tax increases directed at reducing an inherited deficit, the impact is positive but not statistically significant, using the plus/minus one standard error bands.
This seems like old news, but I think it useful to know what this paper actually says, as the debate goes on about how to reduce the budget deficit going forward. These points might even be more important, if as Ezra Klein argues, we are irrevocably slouching toward default (technical or not), and if as S&P argues the costs will be massive in terms of loss of value in US Treasurys ($100 billion). (A double conditional statement!).
By the way, for those who believe that default is a Administration exercise in disinformation, here is a reprise of the Bipartisan Policy Center's estimate of the date at which default will occur. If someone who disbelieves can cite a methodological error (the methodology is laid out here), I would be much obliged if they would convey the nature of the error to me.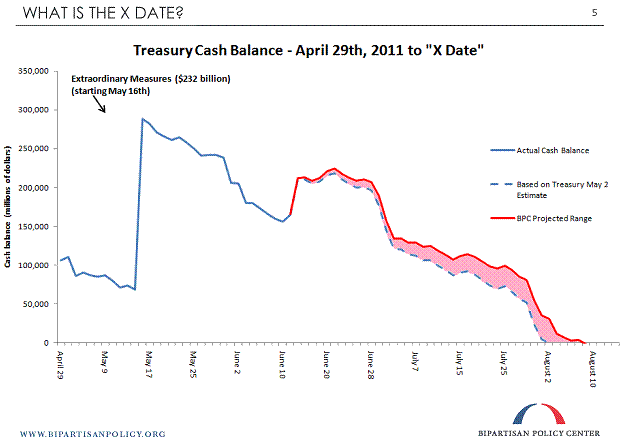 Figure 2
, date at which default occurs, from
Bipartisan Policy Center
.
Concluding Plea
I think it was in my first couple of weeks at the CEA that one of my inside-the-beltway colleagues observed that economic analysis was all too often used as nothing more than "ammunition" in policy debates, without regard to nuance or methodology. Being the naive academic, I thought that was too cynical. Well, I am willing to admit when I am wrong. And in particular, as a blogger, it has been a learning experience to see how often people are willing to cite papers having not read (or not comprehended) the content, as supportive of a given position. Sometimes, the audacity is just breathtaking.
So, here is my simple plea: If you are going to cite a paper in an argument on Econbrowser, read beyond the abstract. If the paper incorporates a VAR, you should understand what the VAR does. If the paper has a test of statistical significance, that might be useful to understand as relevant to the argument. And, perhaps it might be best not to rely on the WSJ editorial page for summaries of econometric analysis.
Update: 9am Pacific, 7/1: Reader Ricardo asserts:
…That old canard about defense spending during the Reagan years is still laughable. Obama has stimulus greater than any in history and he is engaged in six wars at the same time (Iraq, Afghanistan, Pakistan, Libya, Yemen, and Somalia). We should be experiencing the mythical collectivist WWII recovery plus the mythical Keynesian Reagan stimulus from military build up recovery….
He should acquaint himself with something called "the National Income and Product Accounts", to touch bases with reality. Here are the contributions to GDP growth of defense spending on goods and services.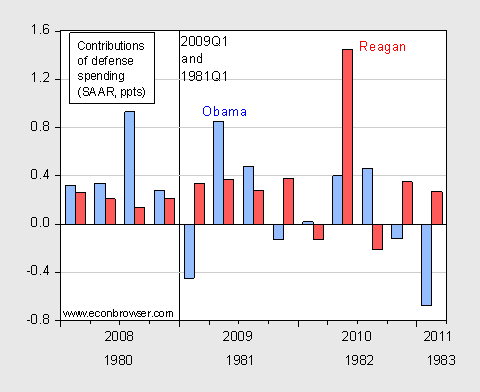 Figure 2:
Contributions to GDP real GDP growth (SAAR, Ch.2005$) of defense spending on goods and services, 2008Q1-2011Q1 (blue bars), and 1980Q1-1983Q1 (red bars), in ppts. Vertical line at first quarter of Obama and Reagan administrations. Source: BEA, 2011Q1 2nd release.
For 2009Q1-11Q1, the sum contribution from defense spending is 0.83 ppts. For 1981Q1-83Q1 (i.e., in the Reagan years), the corresponding figure is 3.1 ppts.