The economic data arriving during the last week have been deeply discouraging, though are slightly less grim than some may have been concluding.
Let's start with the last week's GDP numbers. The initial "advance" estimate announced July 29 suggested that U.S. real GDP grew in the second quarter at an anemic 1.3% annual rate. As if that wasn't bad enough, the revised figures announced by the BEA last Friday put the growth rate at only 1.0%. However, as noted by Calculated Risk, Economist's View, and Justin Wolfers, there was some consolation in that last Friday's numbers also provided the first read on a separate calculation of GDP that comes from data on income people are earning as opposed to data on goods and services that are being produced. The two measures in principle should yield exactly the same number, and the difference is simply reported by the BEA as a "statistical discrepancy". Federal Reserve researcher Jeremy Nalewaik has argued that the income-based measure of GDP (referred to as gross domestic income, or GDI) may be a slightly better preliminary indicator of business cycle turning points. The value of GDI is simply defined as nominal GDP minus the reported statistical discrepancy, expressed in real terms using the GDP deflator. The new BEA numbers imply that real GDI grew at a 1.5% annual rate in the second quarter. I think a reasonable way to treat these preliminary numbers is to use an average of the reported GDI and GDP growth rates, which works out to 1.26%, or about where we thought we were based on the original GDP report last month. And, if you need reminding, where we thought we were at that time was someplace very discouraging. I'm just sayin' that the new numbers really don't describe anything worse than we already thought we had.
Quarterly growth of real GDP and real GDI, quoted at an annual rate, 2006:Q1-2011:Q2.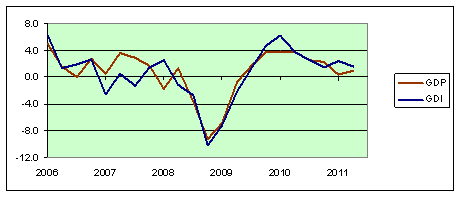 Another disappointment came from the ISM manufacturing survey. Yesterday ISM reported the value of its manufacturing index had slipped down to 50.6 for August, meaning that facilities that reported improving conditions last month just barely outnumbered those whose situation had worsened. That describes a manufacturing sector that is probably still growing, but very weakly. In other words, it's pretty much the same bleak picture as given by the GDP numbers.
U.S. auto sales for August were slightly brighter, up 1.3% (seasonally unadjusted) from July and up 7.5% from August 2010.
One factor holding down GDP growth this year has been the higher oil prices in the first half. However, the response of auto sales so far has not been the typical pattern that would often portend bigger problems ahead for the U.S. economy. This time, because we started from such a low base and because spending patterns had already adjusted to gasoline prices this high or higher, it has been imports rather than domestically manufactured vehicles that have been holding down total sales. One factor in lower imports may have been continuing weak sales for Honda and Toyota due to still-low dealer inventories.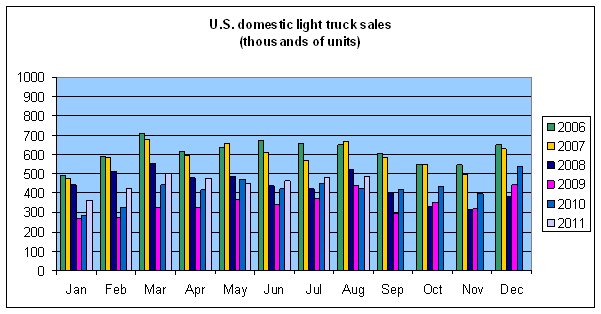 And today we received the very unsettling news from the BLS that there were no gains at all in the number of Americans reported on nonfarm payrolls in August. Bill McBride notes two reasons that number, too, is not quite as bad as it sounds. First, the Verizon labor dispute, now settled, may have reduced reported August employment by 45,000 jobs. Second, the BLS's separate survey, which polls households rather than establishments, registered a gain in seasonally adjusted August employment of 331,000 workers. Again, such tweaks perhaps nudge the economic picture from "awful" all the way back up to "grim".
The collection of discouraging data led me to revisit adaptations of the criteria that UCLA Professor Ed Leamer suggested for recognizing a recession. If we'd seen no growth in nonfarm payrolls for an entire year, rather than just one month, that would be a good indication that we were already into a recession. But at this point we're still up 1.3 million jobs from August 2010.
100 times the 12-month change in natural log of seasonally adjusted nonfarm payroll employment, from FRED,
with NBER recessions as shaded regions and dashed line at 0.0 threshold.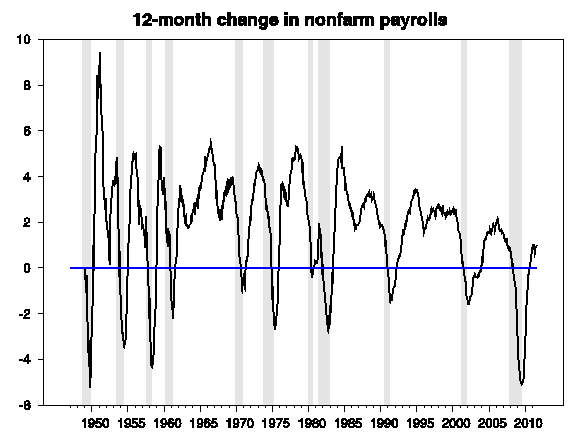 Another recession indicator we could look for would be a 0.4% drop over 6 months in the household employment measure. With today's report, this measure is up very slightly from where it stood in February.
100 times the 6-month change in natural log of civilian employment,
from FRED, with NBER recessions as shaded regions and dashed line at -0.4 threshold.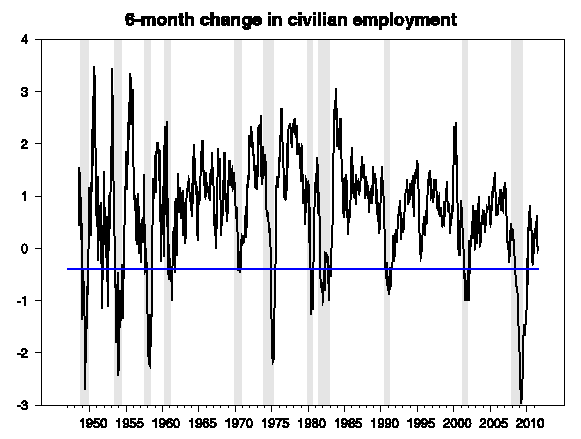 Another thing we'd expect to see if we were already in a recession is a steep rise in the unemployment rate. Leamer suggested that a rise of 0.8 percentage points over the space of 6 months would be a recession signal. We've seen a bump up since February, but it's only 0.2 percentage points so far.
The 6-month change in civilian unemployment rate,
from FRED, with NBER recessions as shaded regions and dashed line at +0.8 threshold.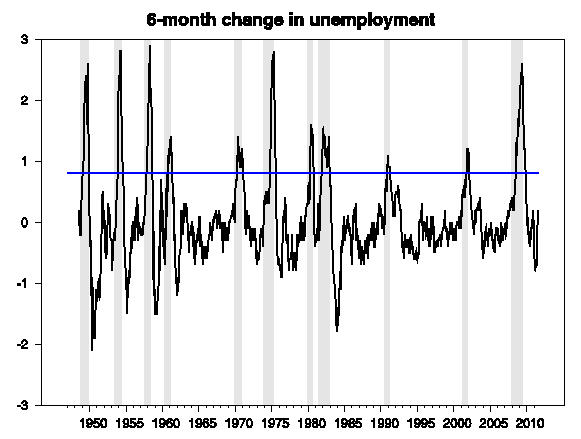 Finally, in a recession we would see more than a 3% drop in industrial production over a 6-month period, in contrast to the 1.5% gain since February.
100 times the 6-month change in natural log of index of industrial production,
from FRED, with NBER recessions as shaded regions and dashed line at -3.0 threshold.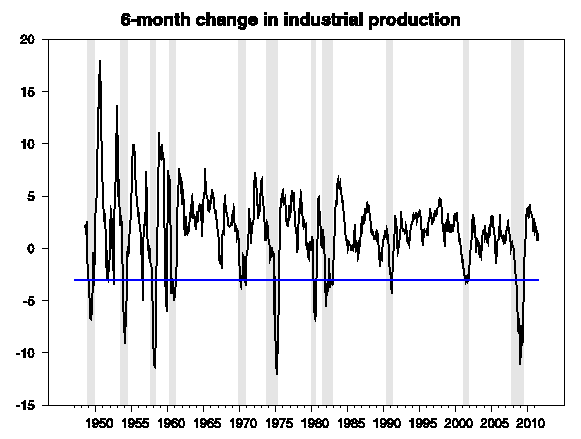 None of this is intended to deny the basic reality of all these indicators– we've been making painfully little progress in recovering from a very depressed situation. But, so far at least, the trend remains one of disappointingly slow improvement rather than indications of another turn down.
And my prediction for the second half remains where it has been– another 6 months of disappointingly slow growth.