Here I offer a few reactions to some of the comments that President Barack Obama and Governor Mitt Romney made about energy policy in their debate last night.
Governor Romney: the proof of whether a strategy is working or not is what the price is that you're paying at the pump. If you're paying less than you paid a year or two ago, why, then the strategy is working. But you're paying more. When the president took office, the price of gasoline here in Nassau County was about a buck eighty-six a gallon. Now it's four bucks a gallon.
Average U.S. price of regular gasoline, all formulations, in dollars per gallon, weekly Jan 10, 2000 to Oct 8, 2012 (data source: EIA). Vertical line denotes inauguration of President Obama.


Notwithstanding, the price of gasoline during Obama's term in office has never been as high as it was in July of 2008. To suggest that the drop in price in the fall of 2008 was largely due to policies of President Bush is rather farfetched. President Obama had what I regard as the appropriate rejoinder:
President Obama: Well, think about what the governor– think about what the governor just said. He said when I took office, the price of gasoline was 1.80 (dollars), 1.86 (dollars). Why is that? Because the economy was on the verge of collapse; because we were about to go through the worst recession since the Great Depression as a consequence of some of the same policies that Governor Romney is now promoting. So it's conceivable that Governor Romney could bring down gas prices, because with his policies we might be back in that same mess.
Moreover, if you look not at the price of gasoline in the United States, but instead the price of Brent crude oil traded in Europe, the picture looks remarkably similar to that of gasoline above.
Price of Brent crude oil, in dollars per barrel, weekly Jan 7, 2000 to Oct 5, 2012 (data source: EIA).

Indeed, if you multiply the Brent price by 0.025 (to make an approximate conversion of barrels to gallons) and add 84 cents (for the average U.S. tax and mark-up), the price of U.S. gasoline and price of European Brent look almost indistinguishable.
Black line: retail price of U.S. gasoline (dollars per gallon). Blue line: 0.84 plus 0.025 times the price of Brent.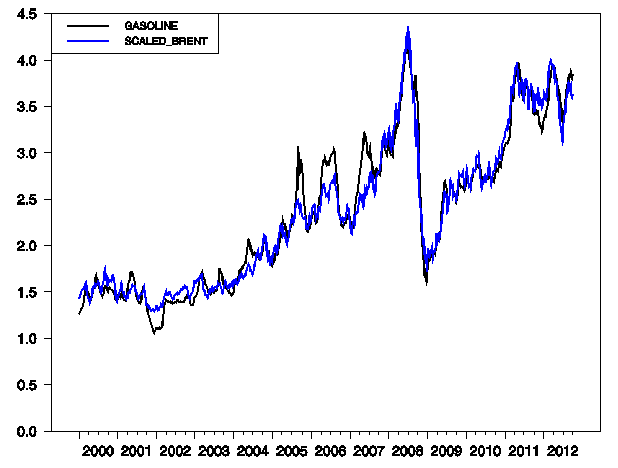 Crude oil production from U.S. fields in 2011 was 5.7 million barrels per day, only 7.6% of the world total. It's hard to see how one could claim that modest changes in U.S. production could make that big a difference for the world price of crude oil. And if you don't change the world price of crude oil, you're not going to change the U.S. retail price of gasoline.
Later in the debate, the President made the following observation:
here's what I've done since I've been president. We have increased oil production to the highest levels in 16 years.
Total oil production can be measured in a number of different ways. If you look at just field production of crude oil plus lease condensate, the number has risen since 2008 but is still below the level achieved in 2001, as seen in the top panel of the figure below.
Top panel: U.S. field production of crude oil, including lease condensate, in thousands of barrels per day. Bottom panel: natural gas plant liquids, other liquids, and refinery processing gain. Data source:
EIA.


The gains are more impressive if you include natural gas liquids (which are not currently a significant transportation fuel), biofuels (which have a huge energy requirement to produce), and refinery processing gain, as shown in the bottom panel.
Governor Romney responded to the President's claims as follows:
Governor Romney: And the president's right in terms of the additional oil production, but none of it came on federal land. As a matter of fact, oil production is down 14 percent this year on federal land, and gas production is down 9 percent. Why? Because the president cut in half the number of licenses and permits for drilling on federal lands and in federal waters.
Top panel:
number of new federal onshore leases issued per fiscal year, 2001-2011. Data source: BLM.
Bottom panel:
number of federal offshore tracts leased per calendar year, 2001-2011. Data source:
BOEM.


Actual production would follow new leases with a lag. Field production from federal leases was 300,000 barrels per day lower in 2011 compared with 2009, while field production on other lands was up 600,000, enough to compensate for the decline in production from federal leases and account for the modest increase in total U.S. field production since Obama became president.
Top panel:
Production of crude oil from federal onshore leases, in thousands of barrels per day. Data source:
Office of Natural Resources Revenue.
Middle panel: production of crude oil from federal offshore leases in Gulf of Mexico and California. Data source:
EIA.
Bottom panel: field production of crude oil from other sources (calculated as total field production minus first two entries). Data source: EIA.


I agree with Governor Romney that the increase in U.S. field production since 2009 could not be attributed to policies implemented by the President, and that in fact the President's policies slowed the increase relative to what it would have otherwise been. I also agree with the Governor that if the President did more to encourage domestic oil production, it would be helpful for the balance of payments as well as generate some additional growth in U.S. income and employment. But to give the impression that more aggressive federal leasing could bring the price of gasoline back to $2/gallon is somewhat ridiculous.