The BEA released today its estimate of 2013 first-quarter real GDP, which grew at a 2.5% annual rate from the previous quarter. That's below the average 3.1% growth rate since World War II, but better than the 2.1% average since the recovery began in 2009:Q3.
Quarterly growth of real GDP at an annual rate, 1947:Q2-2013:Q1. Horizontal line depicts historical average 3.1% growth.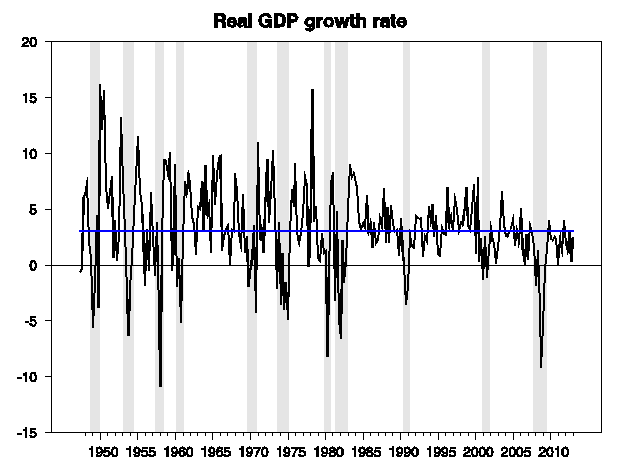 The ongoing slow growth has brought our
Econbrowser Recession Indicator Index to 9.2%, up slightly from our previous reading of 8.2%. For purposes of calculating this number, we allow one quarter for data revision and trend recognition, so the latest value, although it uses today's released GDP numbers, is actually an assessment of where the economy was as of the end of the fourth quarter of 2012, for which the growth rate is now reported to be a decidedly worse-than-mediocre 0.4%. The index would have to rise above 67% before our algorithm would determine that the U.S. has entered a new recession.
GDP-based recession indicator index. The plotted value for each date is based solely on information as it would have been publicly available and reported as of one quarter after the indicated date, with 2012:Q4 the last date shown on the graph. Shaded regions represent the NBER's dates for recessions, which dates were not used in any way in constructing the index, and which were sometimes not reported until two years after the date.

One percentage point of that 2.5% growth came from restocking inventories. In other words, real final sales grew at an even more mediocre 1.5%. Strong growth in consumption spending was offset by declines from the public sector, with lower defense spending subtracting 0.6% from the growth rate by itself, and declines in other categories of federal, state, and local spending subtracting an additional 0.2%.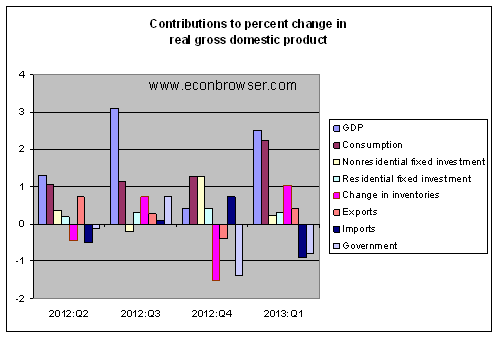 Let me call attention to one often-overlooked detail of the fiscal drag. The numbers that go into the GDP calculations just reported are direct government purchases of goods and services, which fell by $19 B between 2012:Q4 and 2013:Q1 (measured in nominal dollars, reported at a seasonally adjusted annual rate). But what many people think of as "government spending" includes not just government purchases of goods and services, but also government transfer payments. These rose by $35 B between 2012:Q4 and 2013:Q1. Although the latter don't figure directly in GDP, they influence it indirectly. Insofar as many of the recipients of transfer payments have a high marginal propensity to spend out of that income, the transfer payments helped support some of the growth in consumption spending in the first quarter.
The graph below displays the longer term trends for these two components of government spending. Government purchases of goods and services (the blue line) fell significantly as a percentage of GDP from 1991-1997. They rose in 2001-2002, and again in 2008-2009. These have been falling as a fraction of GDP since 2010, and are now back to 2007 levels, or about where they were in 1994. By contrast, government transfer payments rose from 5.2% of GDP in 1965 to 12% in 1995 and 16% at the start of 2010. They've since declined to 15.4%, still above the 14.8% level of 2009:Q1.
Blue line: government consumption expenditures and gross investment as a percent of GDP,
from FRED.
Red line: government current transfer payments as a percent of GDP,
from FRED.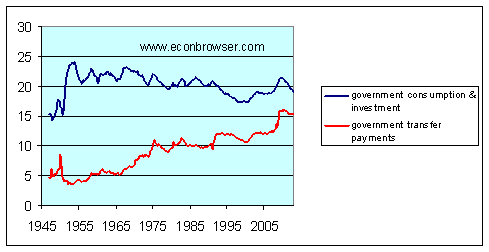 Although many analysts have been describing the decline in government purchases of goods and services during the last two quarters as reflecting austerity policies at the federal, state, and local levels, another relevant factor is that spending on goods and services is being crowded out by the budget demands of making growing transfer payments. This is part of a broader pattern that has characterized the last four decades, and is something that seems likely to continue over the next decades as well.