The IMF has just concluded its Article IV consultation with the US. The concluding statement observes:
In particular, the automatic spending cuts ("sequester") not only exert a heavy toll on growth in the short term, but the indiscriminate reductions in education, science, and infrastructure spending could also reduce medium-term potential growth. These cuts should be replaced with a back-loaded mix of entitlement savings and new revenues, along the lines of the Administration's budget proposal. At the same time, the expiration of the payroll tax cut and the increase in high-end marginal tax rates also imply some further drag on economic activity. A slower pace of deficit reduction would help the recovery at a time when monetary policy has limited room to support it further.
On the fiscal front, the IMF staff recommends:



Repealing the sequester and adopting a more balanced and gradual pace of fiscal consolidation in the short term;

Expeditiously raising the debt ceiling to avoid a severe shock to the U.S. and the global economy;

Implementing a comprehensive and back-loaded set of measures to restore long-run fiscal sustainability;





…
This point is highlighted by the slowdown in growth. Monthly indicators of growth have flattened.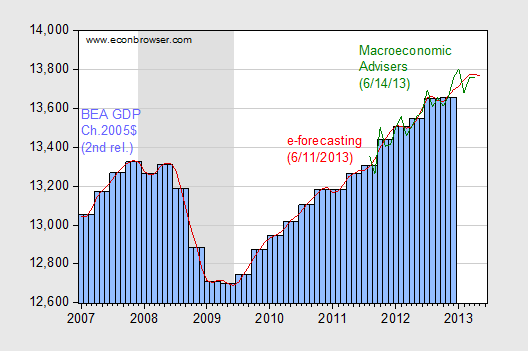 Figure 1:
GDP (BEA 2013Q1 2nd release) (blue bars), monthly GDP from e-forecasting (red line), from Macroeconomic Advisers (green line). NBER defined recession dates shaded gray. Source: BEA, e-forecasting.com, Macroeconomic Advisers, and NBER.
See also Lowry/Economix.