I find it strange that self-avowed patriotic Americans are willing to shut down the government, breach the debt ceiling, and throw the world economy into tumult, when those same self-avowed patriots have been asserting that policy uncertainty has slowed down the economy. Let's stipulate for the sake of argument policy uncertainty has been an important determinant of slow growth [0]; when do we see the spikes in policy uncertainty?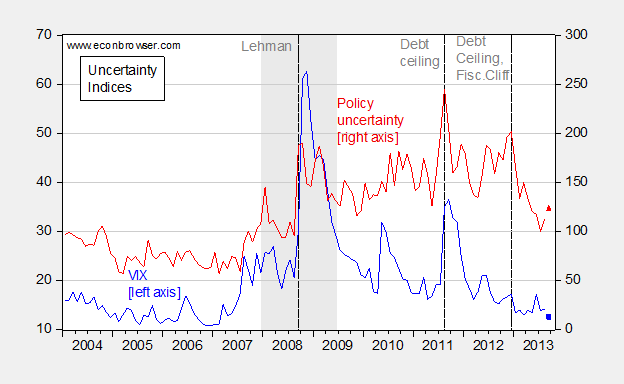 Figure 1: CBOE VIX (blue, left axis), Policy uncertainty index (red, right axis). September VIX observation is for 9/19; September Policy Uncertainty observation is for week ending 9/22. NBER defined recession dates shaded gray. Source: FRED, and Baker, Bloom, and Davis via http://www.policyuncertainty.com.

In other words, going to the debt ceiling precipice again will, if we take the conservatives' assertions at face value, possibly throw the economy into another slowdown or even recession, using their own logic. Of course, internal consistency has never been a particularly prominent characteristic of those arguing for breaching the debt ceiling.
When will Treasury hit the ceiling? The Bipartisan Policy Center estimates it will occur between October 18 to November 5.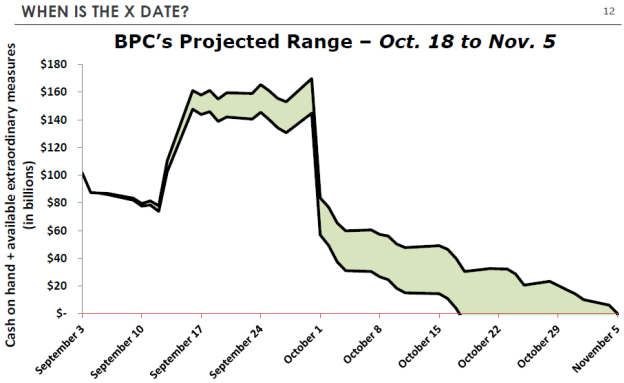 Figure
from
Bipartisan Policy Center
.
It's possible that Treasury could technically default (defaulting on vendor payments, but not on debt related payments). Note, this is default. The Bipartisan Policy Center (BPC) observes that a more plausible option might be to delay payments until sufficient funds come in. They provide an example of how that would work if X date happens to be October 18th.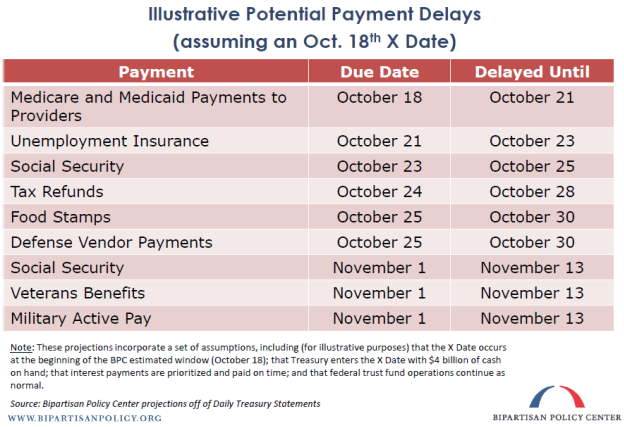 Figure
from
Bipartisan Policy Center
.
Notice over time how the delays become longer and longer.
Even prioritizing the payments to only cover debt related payments (so technical default) would encounter problems over time. "Treasury must "roll over" well over $370 billion in debt that will mature this year during the Oct 18 – Nov 15 period." If interest rates rise to account for an elevated risk premium, then a larger amount will be required. There's also the possibility that the issues would be undersubscribed, forcing use of cash, or debt default (in addition to defaulting on payments to vendors).
Even if the debt ceiling is raised, the resulting uncertainty could raise borrowing costs; GAO estimated elevated costs of $1.3 billion for FY2011 from the 2011 crisis. BPC estimates the ten year cost at $18.9 billion using the same GAO methodology.
Here are some discussions by Jim regarding the 2011 debt ceiling crisis: [1] [2] [3].
Update, 9/24 5:45PM Pacific: From Tankersley/Wonkblog, indications of increasing risk associated with debt ceiling crisis: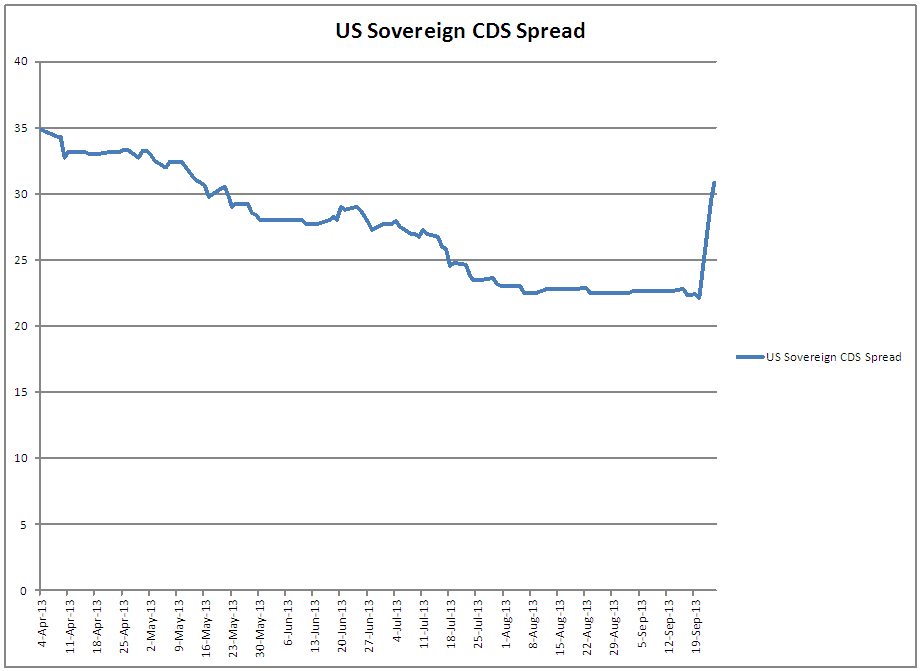 Figure
from
Tankersley, "Markets are starting to worry about the debt ceiling, in one chart," Wonkblog/WaPo (9/24/2013)
. Original source: Markit.
Update, 9/25 11AM Pacific: Reader Rick Stryker argues that it's all elevated tax policy uncertainty since Obama was inaugurated (and implicitly it's all ACA driven). Well, there has been a lot tax provision uncertainty, and it would have been a lot less had Republicans agreed to the measures forwarded by the President. But, I did think it useful to consider exactly how each of the components of the uncertainty have changed, in percent terms, over the past 18 years. The results are interesting, and shown in Figure 2 below: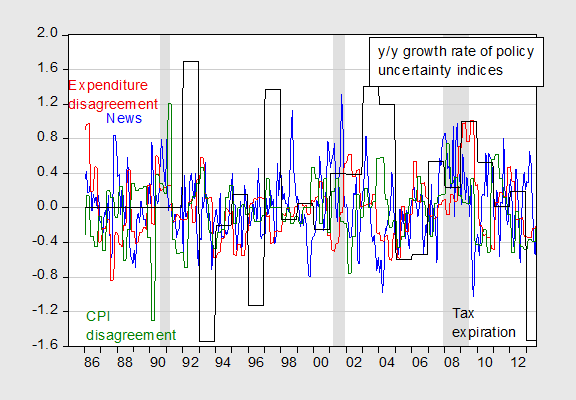 Figure 2:
Year-on-year changes in log of policy uncertainty components. News component (blue), forecaster disagreement on expenditures (red), forecasters disagreement on inflation (green) and expiration of tax provisions (black). Source:
Policy Uncertainty
and author's calculations.