Updated, includes summary of an econometric analysis of impact of austerity in the UK
Prime Minister Chancellor of the Exchequer Osborne has lauded the recent UK growth numbers as validation for the policy of austerity [1] (recently relaxed, although he doesn't mention that).
Paul Krugman refers to the the Three Stooges in explaining the deficiencies of this logic. And Richard Portes (head of CEPR) states:
"The current policies have been disastrous…My view is pretty much the view I had a little over three years ago when I said the austerity program would be a disaster. And it has been. It has been responsible for the painfully slow recovery."
So who is right? Well, I think it useful to compare the US and the UK. The former embarked upon a policy of fiscal stimulus, and then retrenchment, but nothing compared to the retrenchment implemented in the latter. And in the US, per capita GDP growth was much more rapid than in the UK.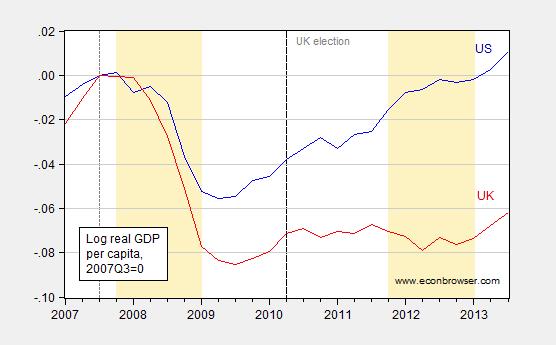 Figure 1: Log per capita US GDP, in Ch.09$ (blue) and per capita UK GDP, in Ch.2010£ (red), all 2007Q3=0 (short dashed line). Long dashed line at 2010Q2, election of Osborne. UK population is annual midyear data from IMF WEO, interpolated using quadratic match. OECD defined UK recession dates shaded light tan. Source: BEA, ONS, IMF WEO database (October), OECD via FRED, and author's calculations.
The gap between the US and UK per capita income series is 7.3% as of 2013Q3. So, the current growth in the UK is merely digging that economy out of the big hole dug for itself in the vain search of expansionary fiscal contraction. [2].
For a longer perspective on UK per capita GDP — and how big a break the current trend is — see this Simon Wren-Lewis post (actually, Mainly Macro is the best blog on UK macro, so always good to refer to).
Update, 12/28, 7AM Pacific: Oscar Jordà reminds me of his work with Alan Taylor. From VoxEU:
In a new paper we exploit a treatment-control design using statistical techniques designed for situations, experimental or otherwise, where underlying allocation bias may prevail (Jordà and Taylor 2013). This turns out to be a serious problem here, as in many other macroeconomic contexts where endogenous policy actions epitomise the "insufficient randomisation" problem.

…
To provide illustration, we apply our estimates to make an (out-of-sample) counterfactual forecast of the post-2007 path of the UK economy without the fiscal austerity policies imposed by the coalition government after the 2010 election.
Two assumptions may be needed to make this exercise relevant. First, we assume that the UK had fiscal space and was not forced to do austerity; this may be defended in that real GDP is now worse than was expected in 2010, and debt to GDP higher than expected, yet gilt yields remain ultra-low in real terms (and at their lowest nominal level in their 280 years of recorded history). Second, we assume that policymakers care about timing fiscal adjustments so as to mitigate damage to the real GDP path of the economy; this is, at least, an oft-stated goal of most policymakers.
The results are presented in Figure 1, where we show actual and forecast paths for UK real GDP from 2007 (the business cycle peak) through 2013. How much of the poorer outturn can be attributed to the fiscal policy choice of instigating austerity during a bad slump? The answer, using our model as described above, is about 60%. Without austerity, UK real output would now be steadily climbing above its 2007 peak, rather than being stuck 2% below.
Figure 1. UK actual path and counterfactual path without austerity

The residual relative to the forecast could be accounted for by various omitted factors, as has been noted (Davies 2012), such as export patterns in the Eurozone and idiosyncratic UK sector shocks. There could also have been over-optimism in the 2010 forecast. However, a major caveat suggests that we likely have a biased underestimate of the effects of current UK austerity. This caveat is the zero lower bound, when fiscal multipliers are known to be much larger in both theory and evidence. Our UK out-of-sample counterfactual does correspond to a 'liquidity trap' environment, but our in-sample data overwhelmingly do not.5 Thus our estimate of austerity's effects in the UK is probably conservative.
Update, 12/29, 11:15AM Pacific: Steven Kopits still asserts the fiscal austerity story doesn't work, and cites the cyclically adjusted balance figures. I don't understand his argument; let me present two graphs to show why I don't understand his argument. One is the level of the primary (ex.-interest payments) cyclically adjusted budget balance to potential GDP ratio, from the IMF Fiscal Monitor, and the other the first difference, for the US and UK.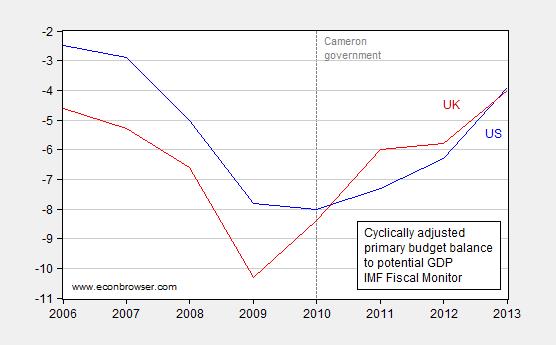 Figure 2: Cyclically adjusted primary budget balance as a share of potential GDP, in percentage points, for US (blue) and for UK (red). Source: IMF Fiscal Monitor (October 2013), Statistical Table 2.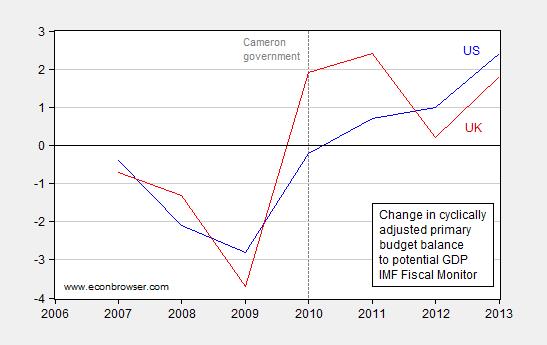 Figure 3: Change in cyclically adjusted primary budget balance as a share of potential GDP, in percentage points, for US (blue) and for UK (red). Source: IMF Fiscal Monitor (October 2013), Statistical Table 2, and author's calculations.
The UK moves from a bigger structural deficit to rough equality by 2010; given the Cameron government is elected in the middle of 2010, this is a pretty remarkable pace of consolidation. Then in 2011 it moves to more than entire percentage point's worth of GDP smaller deficit. The changes in 2011 and 2012, shown in Figure 3, are pretty remarkable. In 2012, in accord with IMF suggestions (I'm not claiming the Cameron government took the IMF advice; they relented for their own reasons), the UK moved toward a more expansionary fiscal policy toward the end of the year. So I am not surprised that from the middle of 2013, growth resumed — it's a pretty standard neoclassical synthesis story.