Today, I gave a presentation in the Wisconsin Alumni Association's Global Hot Spot series, entitled America's Macroeconomic Policies and the Global Economy. One figure from the presentation bears highlighting.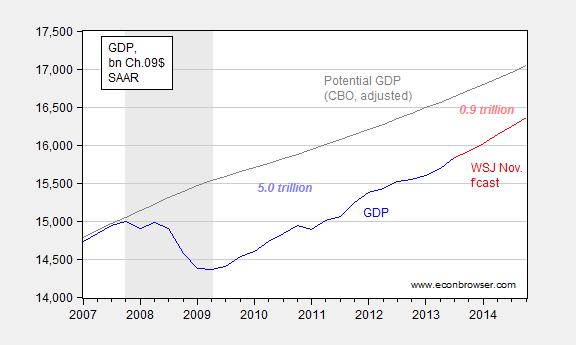 Figure 1: Real GDP (blue), mean survey forecast from November WSJ (red), and potential GDP from February 2013 (gray). Potential GDP in Ch.05$ adjusted to Ch.09$ using ratio of 2011 actual GDP. NBER defined recession dates shaded gray. Source: BEA, CBO, WSJ, NBER, and author's calculations.
The figure in light blue italics is the cumulative loss in Chained 2009$ from 2007Q4 to 2013Q3. The figure in pink italics is the cumulative loss incurred from 2013Q4 through 2014Q4, assuming the WSJ mean forecast holds.
Note that the potential GDP series is my adjusted series. CBO has not released an official series consistent with the recent BEA benchmark, which incorporates intellectual property; it may be that I have over-estimated potential relative to what CBO is planning to publish, but the general magnitudes are likely similar.
Could we do more to close the gap? I think so — see here; and also here, regarding extending emergency unemployment benefits.