If China's oil demand keeps growing at its current rate, it could produce some real problems. But I see a number of reasons to expect that the growth will slow down significantly.
China accounted for over a third of the global increase in petroleum demand over the last 3 years. The Oil Drum calls our attention to this article by Mike Watkins at TrendVue:
Using statistics from British Petroleum's 2005 Statistical Review of World Energy, I calculate the average (over a 10 year period) consumption growth for China (7.904%) and the US (1.484%), and extrapolating demand growth using these numbers, China will surpass the US as the world's largest energy consumer by 2023.

This startling outcome seems unlikely as China's GDP will still fall far behind the US at that stage. Yet Chinese demand growth doesn't have to increase at such a rate to put a severe strain on world crude capacity. Even nominal energy consumption growth suggests that China and the US collectively each new year will require an additional 600 thousand to 1.2 million barrels per day.
It is intriguing to try to extrapolate historical patterns like this, but it seems a safe bet that the realization will be characterized by substantially slower demand growth than the straightforward calculation suggests. First, as Watkins points out, it is hard to see where such increases in petroleum production are physically going to come from. Long before these projections could become a historical reality, price increases would choke back demand to force it to keep in step with more finite global production.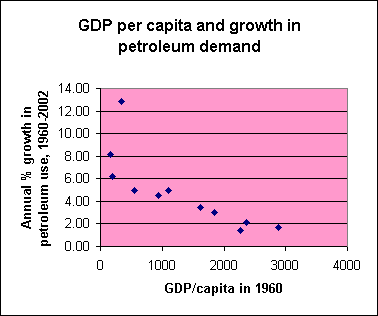 align="right" vspace="4" hspace="10">
Even in the absence of any price increases, however, it seems likely that future Chinese growth in petroleum demand is going to slow down considerably. For one thing, I am not among those who expect China's real GDP to continue to grow near double digit annual rates for the next 20 years. As a statistician, if I'm trying to predict China's economic growth rate for a long period into the future, I would look not just at the recent past of China but further at the broad experience of any of a number of countries over time. What's been happening in China is quite unusual in a broader historical context, and from a purely statistical viewpoint, you'd have to expect its future growth rate to be less of an outlier than the last 20 years have been.
Furthermore, if the growth rate of China's petroleum demand does not slow down, that would represent quite a different pattern of energy use than we've seen elsewhere. The above diagram compares the average annual growth rate in petroleum demand over 1960-2002 for 11 different countries with the level of GDP per person in that country in 1960. There is a fairly strong correlation– the richer the country was in 1960, the slower in percentage terms its petroleum use has grown over the last 40 years, with the richest country at the start of that period (the United States) exhibiting one of the slowest growth rates of petroleum use.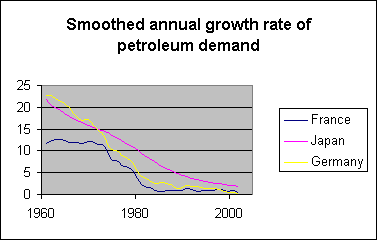 align="left" vspace="4" hspace="10">
Not only did oil demand grow more slowly in the richer countries, if you follow an individual country as it becomes richer, you see the growth rate of petroleum demand slow down in that country. The graph at the left summarizes the experience for France, Germany, and Japan over the last half century. The annual growth rate of petroleum use shown here has been filtered with exponential smoothing (decay factor = 0.9) in order to emphasize the broader trends and smooth out the cyclical fluctuations. It's apparent that as each of these countries grew richer, its growth in petroleum demand fell off quickly.
Does that put us out of the woods? None of this means that petroleum demand actually falls, only that the rate of increase coming from China should slow down. And Watkins leaves us with this sobering observation:
Note we've only been talking about one rapidly developing economy– China. We've not said word one about India. And what of other nations, some of them net exporters now?
Good question, Mike.