That was the question that a reporter from Reuters asked me this morning. Here is what I answered.
A growing economy wants to consume more oil each year than the year before. If the price of oil rises sufficiently, it can offset that tendency so that oil use is actually lower than the year before. But just how high do prices have to go in order to accomplish that?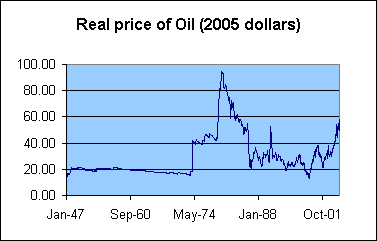 Suppose you
go back to the 1970's and adjust the price of oil for the inflation that we've seen since then in order to think about the price in current dollars. In today's equivalent dollars, oil prices would have amounted to $40/barrel in 1976. In response to the twin supply shocks coming from the Iranian revolution and the Iran-Iraq war, oil rose to a current equivalent of $95/barrel in 1980. We then saw world oil demand decline from 63 million barrels a day in 1979 to 55 million barrels a day in 1983. Certainly the twin economic recessions contributed to that decline in oil demand along with the high price of oil, though economists are still debating the extent to which those recessions were themselves caused by the oil shocks.
That episode saw an 86% (logarithmic) increase in the real price of oil, and a 14% (logarithmic) decrease in the quantity consumed. If prices had not gone up and if there had been no recession, we might have expected to see a 12% increase in petroleum demand from 1979 to 1983. So, in that episode, an 86% price increase was associated with a drop in oil consumption of 26%.
Comparing that experience with the current data, oil prices have risen from a base of around $30/barrel (measured again in 2005 dollars) in 2003 to $61 today, which represents a 71% logarithmic increase. There are a couple of features of the current environment that differ from 1980. First, I do not yet see a recession, which was quite important in bringing oil demand down in 1980, currently on the horizon. Second, the tremendous growth of petroleum demand from China that we're currently observing did not have a parallel in 1980. Even so, it seems to me that the price increases that have already occurred should prove to be enough to make global petroleum demand stop rising and start to decline.
But the question is when. Those demand changes in part will result from adjustments in the kinds of cars consumers buy and equipment firms purchase. Most people won't buy a new car until they really need one, so the changes can take several years before they show up in petroleum demand. The effects of the price increase so far should already be in the works, even though we may see demand rise for a while further before it starts to come back down.
And the current market atmosphere suggests that things could get pretty exciting while we're waiting to see if I'm right about that.