Commodity traders can have as hard a time as any of us trying to predict oil prices. But it's interesting to see what the current price structure tells us about what traders believe brought about the current high prices and what may be in store for us next.
One can enter into an agreement, brokered through the New York Mercantile Exchange, to sell 1000 barrels of oil some time in July at a price agreed to today, an agreement described as the July 2005 futures contract. Actually, it's been possible to write July 2005 futures contracts for a year and a half, locking in the delivery price way in advance. For example, you could have found someone in January of this year willing to sell a July 2005 futures contract for $42 a barrel, which, had you been on the buying side of the deal, would have left you sitting pretty today. You'd be picking up 1000 barrels in a few weeks for $42 each, and could sell them right away for immediate delivery to somebody else on what's called the "spot" market for likely over $52 a barrel, earning yourself $10,000 profit on each contract you purchased.
Of course, the person on the selling side last January of the July 2005 contract would be none too happy about it today. Had they known in January how things were actually going to turn out, they never would have agreed to the deal. Most likely the other party to the deal expected oil today to be selling for about $42 a barrel, and was quite surprised (not to mention greatly annoyed) to see it go over $50.
Some oil suppliers may have wanted to hedge away any downside risks, and have been willing to sell a July futures contract for $42 last January even though they expected the July spot price to be $44, thus guaranteeing themselves an adequate margin. Alternatively, some buyers (such as airlines) might have wanted to buy a contract for $42 even if they expected the price to be $40, to insure themselves against any risk of big losses on fuel costs. But for each of these hedgers, there are plenty of speculators more than happy to take the other side of the deal if the speculator expects to make a profit. For this reason, the forces of supply and demand usually drive the futures price to a consensus value as to where traders expect spot oil prices to go in the future.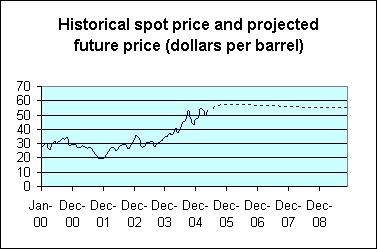 As of today, one could write not only a July 2005 futures contract, but a contract for delivery of oil as far ahead as December 2011. The prices of a set of such contracts can be viewed daily at TFC Commodity Charts . For example, the July 2005 contract traded today for $54.28, the December 2005 contract for $57.58, and the December 2006 contract for $56.93, suggesting that the market is betting on oil prices to continue to increase through the rest of the year but then to start coming back down. The graph at the right shows the historical path of spot oil prices up through today along with the projected path of oil prices from here on that is implied by today's futures prices.
One possibility that has run through many of our minds is whether the oil price run-up over the last two years might be the first signs of an inevitable eventual decline in annual global petroleum production resulting from exhaustion of the world's oil fields. Energy Outlook, Daily Kos, Angry Economist , and WhirledView, to pick a random selection, have discussed this, and indeed there are entire blogs (e.g., The Oil Drum ) and metadirectories like Hubbert Peak and The Dry Dipstick devoted to this theme.
If this were the concern motivating today's oil buyers and sellers, however, we would not be seeing a projection of declining oil prices going into the future but instead a rising price path reflecting investors' understanding that oil would be becoming an increasingly scarce and valuable resource in the years ahead, according to the principles first articulated by Hotelling in 1931 (see for example Brown and Wolk, 2001 ). It also is hard to square with the fact that we observed a dramatic acceleration rather than deceleration in global petroleum production in 2004.
The pattern in the futures prices instead suggests that the consensus opinion on the part of commodity speculators is that we are going to see either supply increases or demand decreases a year or two down the road. Optimism about Iraq I suppose is one scenario that might be used to motivate the first view. But I'm inclined instead to look for developments coming on the demand side.
Energy users anywhere in the world are going to respond to the incentives brought about by higher prices, changing their daily methods of transportation and production when it becomes apparent that the old way of doing things has become too expensive. But making these changes takes time. For example, you don't throw out your old car, but when it comes time to buy something new, most people will worry more about fuel efficiency when they're paying $3 a gallon for gas than they did when it was $1.50. It seems particularly likely that China, whose burgeoning demand has been driving oil prices up these last two years, will find ways to make some needed adjustments in the near future; Energy Outlook has some interesting analysis on this possibility.
None of which is to say that the peak oilers have it wrong. Indeed, given enough time, they're bound to be right, as oil production can't geologically continue to increase every year forever. And certainly commodity traders can make mistakes, as the poor folks who sold the $42 July 2005 futures back in January found out, and perhaps those promising today to sell oil for $55 in 2009 will discover a few years down the road. But what does seem apparent is that the concerns of the peak oilers are not the same as the concerns of those currently willing to cut trades on the NYMEX. And if the former are persuaded that the latter have it all wrong, my advice is, rather than try to educate the ignorant, settle for taking their money. But watch out. Those capitalists might be sharper than you think.